One thing I love about internet is that anyone can turn his passion into profit on it. No matter what skills do you have, you can make money online with it. I have seen ideas turning into reality on internet. Looking for ways to make money online from home with little or no investment? No worries, You are at right place. I am writing about 20 ways to make money online from home in this post. Some are easy while some requires core skills. You can choose what suits you better.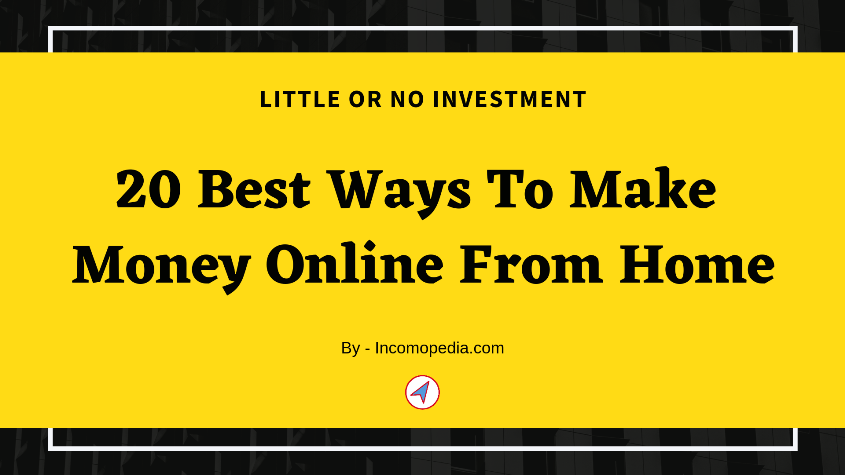 Remember you won't become millionaire overnight. Patience and continuous effort is always required no matter what you do to make money online. Don't stick to one method, try different from the list to make multiple sources of money. Little money from all will add up fast to make big amount. Let's take a step forward.
Top 20 Ways to Make Money Online From Home With Little Or No Investment – 
---
1. Start a YouTube Channel
1,300,000,000+. Isn't it a big number? Well, This is how many people on earth use YouTube. Making money on YouTube is easy. You just have to upload unique videos on your YouTube channel. Once you have at least 1000 subscribers and 4000 public watch hours in last 12 months, you can apply for YouTube partner program. YouTube will review your request to find out if it is worth giving a try. Once your channel is approved, you can make money by showing google ads with your videos.
How to Start Youtube Channel To Make Money | Step By Step Guide
I strongly believe everyone has a talent. It can be anything. You can review a product, share a recipe, teach an English lesson, share something funny or a do it yourself guide or whatever but unique in your video. A 7 year old kid was paid $22 million last year. You can be next YouTube super star.
---
2. Buy/Sell Digital Properties
When I say digital properties, I mean websites,apps and domain names. Now there are some popular places on internet where one can buy or sell a website/domain name. Auction Websites like Flippa.com, freemarket.com and namepros.com allows you to buy/sell websites and domain names.
Browse auction websites and find an undervalued relevant website for sale. Buy it at a fair price , Add some more posts, tweak design, promote a bit, find a buyer and sell it at higher price. It's like buying old house at cheap price, repairing it, painting it and selling at higher price to make profit. This was just one idea. Some people do domain flipping to make money.
---
3. Make Money Blogging
Blogging without a doubt is very potential way to make money online. Making money from blogging basically involves 5 steps –
Setting up blog
Writing great content
Promoting blog
Engaging with Reader
Turning Traffic into Money
How To Build a Blog to Make Money
At the very first, you have to think about a niche or a topic your blog will revolve around. Register a domain name, buy hosting and set up blog. Keep writing articles regularly and working on design of the blog. If content is original, it would definitely attract visitors. Patience is the key and content is the king. Interesting content will eventually find its audience. It might take some time you get first dollar in your account. Once you have visitors, there are several ways to turn your traffic into money. Advertising and affiliate marketing are two very popular ways to generate money from a blog.
---
4. Paid Survey Websites
Taking surveys and getting paid is perhaps the easiest way to make extra money online from the comfort of home without any special skills at all. There are some reliable survey websites you can become part of. Once you are in, you get regular survey invitations through emails you are supposed to attempt whenever you get free time. For your time and effort you put in completing a survey, survey websites pay you money.
30 Best Paid Survey Sites To Make Money Online
Here are few tips how to get most out of survey sites –
Don't limit yourself to just one or two survey websites. Instead be a part of several so that you never run out of survey invitations and always have a lot of surveys in your mailbox to choose from.
Keep an eye on emails so that you never miss an opportunity.
Be organised and use password manager to save time.
Fill up profiles. It takes little time but earns you more survey invitations over time.
---
5. Get Paid to Write
Internet won't work without content. It constantly needs writers who can write valuable content and come up with something new always. There are hundreds of websites looking for great writers and they are even ready to pay up to $500 per article. You got the writing skills, you can write for them. Or you can choose another path to turn this skill into money. Like you can start your own blog or you can write a book and sell in on sites like Amazon. Internet is full of success stories of people who made millions by selling eBooks online. You can also start a content writing business with a team.
50 Best Sites that Pay Money for Writing Articles($25 to $500 Per Post)
---
6. Play Quizzes To Make Money
We all love quizzes. Don't we? What if I say you can make money by playing quiz? Yes, there are some quiz apps on Playstore you can install and play quizzes on to get paid when you win. What can be better than making money while playing. Students preparing for various competitive exams can test their knowledge by taking quizzes. They intentionally put lot of questions in quizzes from  current affairs.
5 Best Quiz Apps that Pay Money When You Play and Win
Some quiz apps even allow you to directly compete in a quiz with other online players. So quiz apps can be a great source of extra income whiling enhancing knowledge.
---
7. Make Money Typing
We type a lot while chatting. Have you ever thought you can make money online by typing? In order to make money by typing, you need to become a part of some genuine captcha entry jobs websites.
7 Catpcha Entry Sites That Pay for Typing | Data Entry Jobs
Once you are in, you will be served images/captchas and are expected to type whatever written on the images. One of the major reasons why they pay is that there is a lot of data written specially handwritten on books which they want to digitize. Accuracy and typing speed will decide how much you can make in an hour. On a typical captcha entry website, around $1 is given for 1000 words.
---
8. MicroJobs Websites
As the name suggests, A micro job website offers small tasks anyone can complete and get paid. There are several such websites on internet and you will find two kinds of people on all of them. Employers and Workers. Employers are one who posts small tasks and Workers are one who complete those tasks to get paid.
10 Best Microjobs Websites in 2019
An example of small task can be subscribing an Youtube channel, liking a photo on Facebook, following an account on Instagram or signing up a website etc. You can see completing such tasks does not require any special skills. Anyone can complete tasks and get paid. Each task is listed with an amount. When you complete a task, the amount associated with the tasks is credited to your account which you can later withdraw via various payout options like PayPal, Bank Transfer etc.
---
9. Get Paid To Teach Online
We all are aware of traditional teaching in classroom. But do you know there are online tutoring platforms where teachers and students worldwide can connect to each other. You can become teacher on such platforms and help students in their homework to get paid.
Top 15 Online Tutoring Websites
Foreign languages are in demand. If you are expert in a language, you are more likely to get accepted as a tutor by a tutoring website. Maths also has always been tough for students. Process is simple. You apply for tutoring website by submitting a form containing all your details like qualifications. They review your profile and either reject your application or accept your as an tutor. Once you are accepted, your profile will be visible to students and they can choose you as teacher. You get paid for lessons. An average tutor makes $5 to $20 per hour.
---
10. Sell Photos Online for Money
If you have a camera and got eyes that can see opportunities to capture great moments, you can turn your photography passion into profit. There are some good stock photography websites where you can submit your best shots and get royalty payment for each photo sold.
8 Best Sites to Sell Photos For Money
A lot of people keep searching photos for their blogs, Magazines, brochures or posters and might be interested into photos you uploaded. Everytime a photo is sold, you get some percentage of the sale value. Once you reach minimum withdrawal threshold, you can request your payment via available payout options depending upon the stock photography site you are working with.
---
11. Become a Transcriptionist
Transcription is the process of listening to an audio or video recording and typing what you just have listened. In other words, transcription is converting an audio into text. So you have got an idea what a transcriptionist actually does. If you have this skill of converting audio into text, you can become transcriptionist on various transcription job sites and get paid for your efforts.
20 Transcription Websites | Get Paid to Convert Audio/Video into Text
Some most common areas where transcription is needed are – Medical, Court proceedings, Seminars, recorded speeches and events. Fast typing and good knowledge of grammar will be a great help. Since you are going to listen and type at the same time, it will test your patience and multitasking nature. On an average, a transcriptionist make around $10 per hour.
---
12. Get Paid to Test Websites
A website is important and one of the best marketing tool for any business. It brings potential customers to a business. You lose customers, you lose money. So a business would want to make sure that its website is easy to use, responsive, has a good design and enable customer to connect with them without any problem. But they can't do it themselves. They need real people in big numbers who can visit their website and review it. This is where "get paid to test" websites or usability research platforms comes into play. They connect website developers, designers, owners and coders with real users like you and me.
10 Sites that Pay You for Testing Out Websites and Apps
You can join 'get paid to test' websites where you get paid for testing websites and apps out. Take part in tests, visit website like you would do in real life situation and share all the goods and bads you experienced while you were on the website under test. This will help developers making the web easier and you to make some money for your efforts. A typical test takes around 5 to 25 minutes to be completed and rewards you with $5 to $10.
---
13. Make Money While Shopping Online
Have you heard of a famous proverb – A Penny Saved is a Penny earned. Making money while shopping does not mean that you must shop to make money. Shop when you need it but you probably are missing out the chances of saving money while shopping. Yes, you can save money almost every time when you shop online by taking just one extra step. The extra step is using a cashback website before you purchase.
3 Best Cashback Websites in India
7 Sites Giving $5 Sign Up Bonus
Ebates, TopCashBack and Mypoints are the names of leading cashback websites. When you go to an eCommerce site through a link given on cashback site and shop something, cashback website automatically add some cashback in your account which you can withdraw later. There are some popular browser extensions too that automatically apply applicable coupons when you are on a shopping website and give you points every time you shop online which can be converted into money. Honey is a great example of such extension. So next time you shop online, don't forget to take this extra step to save extra money. Saving money is making money in a way.
---
14. Make Money On Facebook
Facebook is third most visited website in the world with more than 2.32 billion monthly active users.
Top 10 Ways to Make Money From Facebook
In order to make money from Facebook, you must have a Facebook page or group with lot of followers. Once you got that, you can do following things to make money on facebook –
Recommend products and services to your followers to get commission as profit.
Drive your Facebook page traffic to your blog and generate advertising income from blog
Post sponsored content
Become a video publisher
Sell products on Facebook store
If nothing works out for you, sell your Facebook page and make money out of that.
---
15. Affiliate Marketing
Affiliate marketing is bloggers favorite, one of the most profitable and rewarding activity they do to make money online. Affiliate marketing is recommending products and service to people, and when they buy, you make commission as profit. Good part of this process is that products and services you recommend need not to be yours. Let me explain how it works.
You sign up for an affiliate account on Amazon and generate an affiliate link for a product worth 500 Rupees. Post the link on your Facebook page with 10000 followers. Let's say the commission on the product per sale is 2%. Even if 100 out of 10000 followers buy the product, your total commission becomes 1000 Rupees for doing almost nothing. Hope you have got what you can do with affiliate marketing. Only investment in this business is time and efforts you put in making your web property popular. Owning a website or blog can be helpful but not necessary. You can start with a  Facebook, Twitter or Instagram page or an YouTube channel.
---
16. Become a Freelancer
According to a recent study, 40% of American workers will be independent contractor by 2020. There are more than 57+ million freelancers in USA alone. Freelancing is trading your skill and time for money. In other words, a freelancer is one who do a job for a fee; hourly, per task or per word. You must have got some skills people would love to pay for. If so, luckily there are many freelancing websites you can join to become part of Gig economy. Guru, Freelancers, Fiverr, Figure8 are some to name in online freelancing world.
Again there are 2 kind of people you may find on a freelancing website. Employer posts a project explaining his requirements. Freelancers apply for the project explaining why should they hire them. Employer then reviews all the applications and assign the task to someone he finds most suitable for the project. Freelancer completes the assigned project and get paid.
---
17. Sell Your Products and Services Online
A seller lists a product on an e-commerce website. Someone living a thousand miles away browse the website at midnight while in his pajamas and place order for that product. Product is delivered to him without the seller need to go out of the home. That's the power of selling things online. If you make something like handcrafted items then You can increase your sales just by putting your products online. You can start selling your services or products online to expand your business.
Some people buy products in bulk from Alibaba at cheap prices and sell it on other commercial websites like Amazon, Flipkart etc at higher price. Selling on an E-commerce website involves registering for a seller account, filling up business profile and tax information, listing products with proper pricing and keeping orders ready to be picked up by courier. Usually when a buyer places order for your product, you are notified by e-commerce platform your product is listed on and you just have to pack the product and keep it ready for the delivery. Courier partner of e-commerce site picks up the product from you and delivers it to the customer. E-commerce website deposits the payment of the order in your account.
You can also choose to sell the stuff you no longer use on site like eBay to make some extra money.
---
18. Develop a Mobile App
Do you have a mind blowing idea in your mind that you think people would love? Think of creating an app around it. You will require little or no money if you are skilled enough to create it your own otherwise get your app developed by some app developer. You can Explain your ideas to your friends and family members, they might support you financially if they love your idea. Once you have your own app on Playstore, there are tons of different ways you can monetize it and make money even while you are sleeping.
---
19. Become Website Developer
Every business wants to have a website today. Reason is simple. Website gets visitors and turn them into customers. More customers, more money. No one wants to miss this opportunity so website development is in demands. If you know how to code, you can start selling this skill online for money. Set up your profile on various freelancing website like Freelancer, Guru or start a gig on Fiverr. Ask your clients to give you rating. Good rating will help you bring new clients.
---
20. Miscellaneous
Many more are still left to mention. Some considerable are here.
Get Paid to Search – Join Bing Rewards and you will get points to search through their search engine Bing. Points can be redeemed for various rewards later.
Get Paid to Unlock Mobile – The app slidejoy pay you money when you use their screen lock instead of default screen lock.
---
Hope you have understand there are always more ways to make money than one can think of. Don't be overwhelmed by the list above, instead make a list of your skills and see how can you apply them to one in the list. Ask yourself a question- What would I love to do?
It will be very nice of you if you can share this post on social media with your friends.