This Page is specially designed for the Aspirants who are preparing for Airports Authority of India's JE (ATC) Exam. AAI JE(ATC) exam is conducted to recruit Air Traffic Controllers in India for civil airspace management. We keep this page updated with AAI ATC News, Notifications, Updates and Important Links such as AAI ATC Recruitment, Exam Dates, Admit Card, Answer Key, Results and other important stuff.
---
ATC News, Notifications and Updates
April, 2019 :
Download AAI JE ATC Final Result for advt. no. 2/2018
Feb, 2019 :
Schedule For Documents Verification And Voice Test (FROM 25th FEBRUARY TO 1st MARCH, 2019) for the post of ATC under Advt. No. 02/2018 . Don't forget to have a look at the important documents given at the end of the file which are supposed to be presented at the time of verification.
The link for downloading the call letters for documents verification will be sent to the shortlisted candidates on their registered E-mail IDs very soon. The final Selection and Appointment will be based on the merit of the candidates in online examination subject to successful completion of documents verification.
Download AAI JE ATC Result  Against Advt No. 02/2018
December, 2018 :
Objection link has been opened for CBT held on 29th and 30th November, 2nd and 3rd December. You can post objections to the questions/answer keys till 15th December. Objection Link
Candidates who appeared for ATC exam under advt no. 02/2018 now can check their response sheet by logging into here
November, 2018:
Admit cards/ Hall Tickets are out for various Junior Executive online examination under the advt. NO. 02/2018. Login Here with Application number and password and click on Hall ticket to download admit card.
If there is something wrong with your admit card, you can visit one of their facilitation counter. Find your nearest Facilitation center here
October, 2018:
TENTATIVE DATES OF COMPUTER BASED ONLINE TEST FOR RECRUITMENT TO THE POSTS OF MANAGERS AND JUNIOR EXECUTIVES IN VARIOUS DISCIPLINES ADVT. NO. 02/2018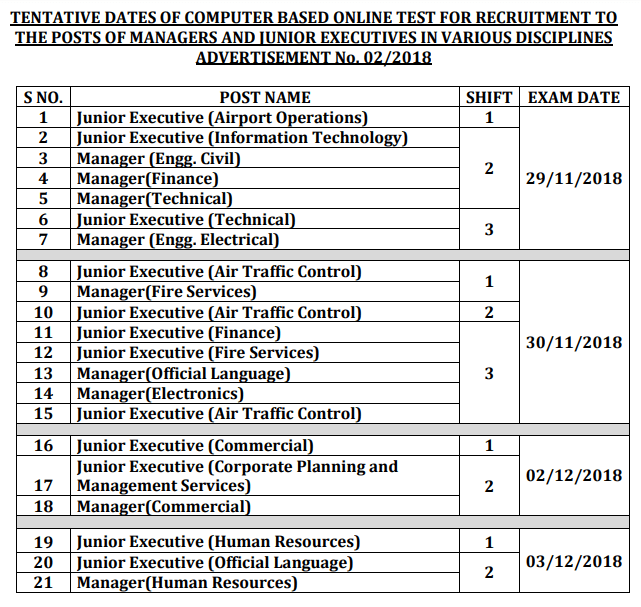 July, 2018:
March, 2018:
Advt. No. 07/2015 : Third Selection List. Here is the list of 17 candidates provisionally selected for the post of JE(ATC) on the basis of online test(24/04/2016) and interview(27/02/2017 & 28/04/2017). More info
Advt. No. 01/2018 : AAI is inviting applications from eligible candidates possessing valid GATE‐2018 Marks for the posts of Junior Executive (542 Posts). Posts Details are given below –
To check Eligibility Criteria, Selection Process and Pay Scale, Please Download the Official Notification of AAI Recruitment 2018 : 542 Junior Executive Posts . You can start applying online from 28/03/2018. Last Date for Online Applications is 27/04/2018. Application Fee is 300 Rupees. SC/ST/PWD/Female candidates are exempted from payment of fee.
September, 2017:
Airports Authority of India has released a notification to invite the applications(for the posts of Junior Executive) from eligible candidates having valid Gate-2016 marks. Download Official Notification Here to check if you are eligible or not. Total no. of vacancies are 200. 
Willing Candidates can register online from 18-09-2017. 
August, 2017:
Recommended resources to prepare for AAI ATC Interview and Voice test are –
July, 2017 :
AAI has scrapped the concept of interview at JE level posts. For more information about this read this circular 
June, 2017:
Willing Candidates need to send acceptance letter latest by 09 June, 2017 to AAI.
Joining letters (For the post of JE(ATC) under Advt. No. 07/2015) have been issued through email. Date of Joining is 28th June.
May, 2017:
Those who could not find their Roll No. in the list, need not to lose heart. As it has become almost a custom for AAI to release second or sometimes even third list. So wait for candidates (first list) to join AAI and if all the candidates do not join then certainly there will be second list. Good luck to all unlucky fellows of first list. Stay tuned for updates.
Download List of Candidates who have been provisionally selected for the post of Junior
Executive (ATC) under Advt. No.7/2015 on the basis of the Normalized marks of Online test
held on 24.04.2016 and marks of interviews held from 27.02.2017 to 18.04.2017
April, 2017 :
Final Result(Advt. No. 7/2015) is expected by May end. We will update we get any reliable information.
February 2017 :
They are already asking 2100 candidates to appear in interview for 400 posts. 

Why do they need to issue second list for interview? There will not be any second list for interviews. Second list is generally declared by any recruiter after completion of interview round. That also when selected candidates in first list do not join the organisation.

Interview and Voice Test are expected in April. Keep checking updates on our page. AAI will send email to candidates who have qualified the online exam. Email will include details such as date and time of interview & voice test, documents to be brought while appearing for interview etc.
December 2016:
Considering ATC shortage in India, AAI might recruit 1000 more ATC officers during next 5 years
November 2016:
Advt. No. 02/2012 & 02/2015 : Final Result of Direct Recruitment to the post of Junior Executive (Commercial) in AAI
Result of AAI ATC Exam held on 26 April 2016 is expected to be declared in December 2016. AAI recruited 400 ATC Officers through exam conducted on 26 Dec. 2015, who are undergoing training at various Airports and AAI Training Institutes. So it is not feasible to recruit further unless these 400 trainees complete their training. The training of all these candidates is expected to be over by June 2017, so keeping that fact in mind AAI is delaying the result of April'16 ATC Exam. Interviews are expected in February 2017. Stay tuned for more updates.
 October 2016:
General : 70-75
OBC : 68-72
SC : 60-65
ST : 58-62
 September 2016:
 August 2016 :
 July 2016:
Result of ATC Recruitment Advt. No. 07/2015 (Exam held on 24 April 2016) is expected by August.
Date of joining for JE ATC (Advt No. 03/2015): 25 July 2016. Call letters have  been mailed to the selected candidates.
June 2016:
As expected by Incomopedia.com, result of Advt. 03/2015 (exam date 26.12.2015) has been declared by AAI. Check the result here: AAI JE-ATC Result Advt. No. 03/2015.

 Joining by last week of July 2016.

AAI is likely to declare the result of JE-ATC Recruitment Advt. No. 2015 (exam held on 26 Dec. 2015, 400 posts) by last week of June and joining is expected by end of July or August first week.
May 2016:
AAI has cancelled the recruitment for the post of Manager (Civil/Electrical/Operations), Advt. No. 03/2016, due to administrative reasons. However JE-Finance vacancies are not cancelled which were announced in the same advt. No. Read the notice here.
April 2016:
AAI has doubled the number of vacancies for the post of JE (ATC) against the advt no. 07/2015. Now 400 JE-ATC vacancies are to be filled. Read the notice here.
ATC Exam 2016 – View Your Marks and Answer Sheet Here
Second Phase of Interview: AAI has uploaded another list for additional candidates for the second phase of interview to be held at AAI Corporate Headquarters, Rajiv Gandhi Bhawan, New Delhi from 18 April to 13 May, 2016. Total 1231 candidates have been called for this phase. It will delay the declaration of final result, which can now be expected to be declared by June, 2016. Click here for Second phase of Interview Schedule.
Corrected Answer-Keys: Taking the concern of candidates regarding incorrect evaluation of answers-sheets against the exam held on 26.12.2015, AAI has reviwed the evaluation and cosequently it has uploaded the corrected answer-keys for Morning and Evening shifts on its website. Revised answer-keys can be accessed here: Edited Answers (Shift 1)         Edited Answers (Shift 2)
March 2016:
Another great step by AAI to present transparency in Recruitment of JE-ATC. AAI has given a link to check the normalised marks of the candidates who appeared in the JE-ATC Exam conducted on 26 Dec. 2015. You need to enter your Application Number & Date of Birth. Check your marks by clicking here.
February 2016:
To everyone's surprise, AAI has announced the Interview schedule for recruitment against advt no. 03/2015. The possibly reason for expeditious scheduling of interview is due to shortage of ATC Officers in India. All the candidates are required to attend interviews in New Delhi only. (Additional Information: For candidates, not from Delhi, please use Delhi Metro for Interview venue and get down at Jor Bagh Metro Station. Use Exit Gate No. 2 and you will be in from of AAI Headquarters.).

All the very best !!

As reiterated by INCOMOPEDIA time and again that result will be declared in February, 2016, AAI has declared the result of ATC Exam held on 26.12.2015. Also the expected cut-off marks by us matches with the cut-off decided by AAI. Check result and cut-off marks here.
January, 2016
Result of the exam held on 26 Dec. 2015 will be declared in February 2016.
Online Application has been started FOR THE POST OF JUNIOR EXECUTIVE (AIR TRAFFIC CONTROL) UNDER ADVT.NO. 07/2015. Apply Here  
AAI Management has recently amended the eligibility criteria for the post of Junior Executive (ATC). Now all the B.E./B.Tech. candidates irrespective of their branches are eligible to apply for JE(ATC) post. Other conditions like age limit, nationality etc will remain same. (Read it here: AAI Circular )
December, 2015
First Article of the AAI JE ATC Interview Series that covers General Awareness about Civil Aviation Sector, has been published. Stay tuned and subscribe for the next article.
All the candidates who are to write the ATC exam on 26.12.2015 can practice the mock test available at AAI's website to get familiar with Online test process.
Those candidates who appeared in the JE-ATC exam conducted on 26th April, 2015 (Advt. No. 02/2014). Second list has been published by AAI on its website. 48 candidates have been selected in this list. You can find the list here
Online test for the post of JE (ATC) (Advt. No. 03/2015) will be conducted on Saturday, 26th December, 2015 in two sessions (Morning/Afternoon).  Candidates can download their admit card from 15th Dec. 2015 onward. For details please refer this Link.
To overcome the acute shortage of ATC Officers in India, AAI has announced to recruit 200 more ATCOs in the year 2016. Notification (Advt. No. 07/2015) has been published on the website, however dates are yet to be finalized. (Considering the chronic issue of ATCOs' shortage, Vacancies are likely to be doubled).