Video is considered as the most engaging type of content and the reason is obvious. Our brain is programmed in such way that we remembers much more of a message when we watch it instead of reading. People are spending 88% more time on website having videos and videos are being shared 1200% more than images and text. This crazy love of internet users for videos has opened doors for video creators. There are a lot of popular video sharing platforms like YouTube which can not survive without new video content everyday. That's why they need video creators like you.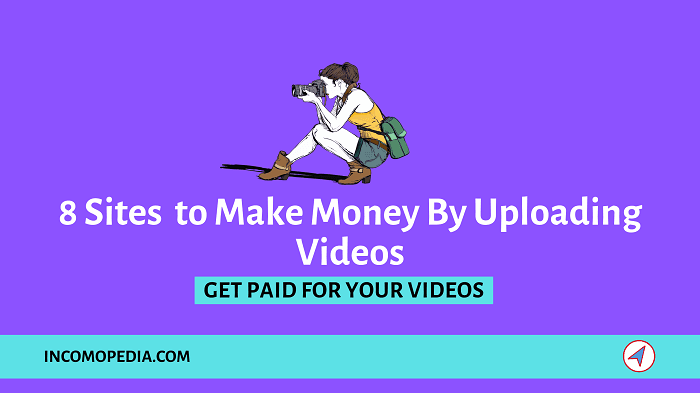 Read 4 points below to get basic understanding why video sharing platforms pay you money for your videos and how it all makes sense –
You create and publish useful, unique and entertaining videos to attract viewers
Video sharing platform serves advertisers ad with your videos to viewers
Advertisers pay fee for their ads to video sharing platform
Video sharing platform pay a part of this money to you for your efforts.
It's simple. You bring viewers/traffic to video platforms so that they can earn money from advertisers and share part of profit with you. There are a lot lot of such platforms. Some like YouTube have strict guidelines for video publishers while others are little easy to work with. We will also discuss important details like minimum payout, subscribers/views requirements, payment schedule and content policy for each platform. Try out these yourself, find out which works for you the best and share your experience with us through comments.
8 Popular video sharing platforms which pay money to video creators –
---
1. YouTube
YouTube with more than 1.9 Billion logged in users, the second most visited website after Google has already paid out more than $2 billion to people who upload videos on it. The best part of YouTube is that most of the content on YouTube is free and one can learn almost anything without spending money. And this part of YouTube is actually good for video creators because they can create a video on almost any topic. Tremendous global reach makes YouTube attractive host for videos. No matter what talent you have, just create some videos around it and publish on your YouTube channel. You will surely find your audience. I have seen people changing their fortune with YouTube.
400 Hours of content is being uploaded every minute by YouTubers. Some YouTubers are more famous than TV and Movie Stars.
Traffic/Subscribers Requirements – 4000 Watch Hours, 1000 Subscribers and Linked Adsense Account
Minimum Payout – $100
Payout Options – Bank Transfer
Payment Schedule – Net-30
Make Money With Youtube Partner Program
---
2. Facebook Ad Breaks
With over 2.41 billion monthly active users, Facebook is biggest social media platform which allows users to make money with their videos using video monetization program Ad Breaks. Ad breaks are short advertisements shown during a video. Publishers and Creators have an option to include short ads in their video contents and control the placement/position of ads. But there are certain criteria you must fulfill before you can onboard to Adbreaks.
You must have a page with over 10000 followers
In last 60 days, there should be at least 30000 views (only 1+ minutes views are counted) on videos which are longer than 3 minutes.
And obviously you need to meet monetisation eligibility standards
10 Ways to Make Money On Facebook
You can take the advantage of the fact that Facebook receives 8+ billion average daily video views.
Eligibility Requirements – A page with 10000 Followers and 30000 views*
Minimum Payout – $100
Payout Options – PayPal and Bank Transfer
Payment Schedule – Net-30
---
3. Vimeo
Vimeo, the ad free video platform with more than 80 Billion creators can be considered as perfect place for professional video makers. It offers advanced tools for short movie makers, digital marketers, Film production houses and anyone to create portfolio of their work. There are 2 ways you can make money with your videos on Vimeo –
Sell or rent your videos on demand – You can sell or rent your videos directly to your fans at your own price and in the region you want. After transaction fee, you get 90% of the revenue this way.
Vimeo OTT(Launch a video streaming service) – Vimeo offers every tools like video player, intergrated CMS, indepth analytics, migration service, payment processing etc that is needed to launch your own video streaming service. Vimeo OTT allows you to turn your viewers into paying subscribers. You can make money by creating pay per view videos/events like a movie ticket.
Eligibility Requirements – Vimeo Pro Account and Copyrights of Videos
Minimum Payout – Amount accumulated during a month
Payout Options – PayPal
Payment Schedule – Net-30
---
4. Dailymotion
European Video Sharing Platform Dailymotion has also a partner program like YouTube which allow anyone to monetize his videos. If you have a website you can embed your Dailymotion's videos or their recommended videos widget on your website after website verification and make money for every view videos generate. Worst part is their payout schedule. They almost take 4 months to send your payment after you hit minimum payout threshold i.e. $100. Dailymotion shares 70% of the ad revenue with its creator.
Traffic Requirements – Not Specified
Minimum Payout – $100
Payout Options – PayPal and Bank Transfer
Payment Schedule – Net-120
Monetize Content on DailyMotion
---
5. Twitch
Owned by Amazon, Twitch can be a perfect platform for game lovers to turn gaming passion into profit. For those who don't know what Twitch is, it's a platform where gamers can stream while playing games. Twitch is popular among gamers but variety of content such as music, art, talk shows can also be streamed. You can decide how many ads should appear during 1 hour of your video streaming. Apart from Advertising revenue and affiliate revenue, you can get sponsored offers from game creators once you have sizable following on your channel.
In order to qualify for their affiliate program, you must stream at least 500 minutes every month on 7 different days, 50 followers and 3+ concurrent viewers. When your fans cheers you with emoticon and gifs, you get 1 cent for every item.
Traffic Requirements – Not Specified
Minimum Payout – $100
Payout Options – PayPal, ACH, Wire Transfer and Check
Payment Schedule – Net-15
---
Miscellaneous
Here are some other considerable names –
6. Twitter Amplify – Twitter Amplify Publisher Program is currently only available to US publishers working with twitter partner managers. Payments are processed(Net-60) via Direct Deposit and PayPal. Minimum Payout is kept $100.
7. Amazon Video Direct – Amazon Video Direct allows publishers to get royalties on videos. They accept almost all kinds of content including short movies, TV/web series, digital shorts, music/News/Sports/educational videos, fitness programs. Minimum payout is $100.
8. Envul – Envul allows publishers and creators to upload videos and enable monetization. You can earn up to $3 for 1000 video views depending upon the location of your viewers. Stats are updated in real time. Good thing about Envul is that minimum withdrawal threshold is only $20. Payment is processed on 3rd of each month via PayPal.
---
Conclusion – With advent of affordable smartphones and fast internet in almost every home, people are moving from text to videos. Videos are going to more popular than ever. In fact by 2020, more than 75 percent of the world's mobile data is going to be VIDEO. So if you are passionate about something, better make some useful videos and turn your passion into profit by uploading them on video sharing websites. If you are one like me who is not comfortable with videos, not to worry, you can read 20 ways to make money online and choose what suits you the best.