With over 1 Billion users, YouTube is one of the best destination to make money online. By the time You finish reading this paragraph, more than 300 hours of video would have been uploaded to YouTube. YouTube is really big and so are the chances of making money here. You might not believe that the Channel PewDiePie made 15+ billion in 2016. There are many more YouTube stars who make billions every year uploading videos on YouTube. In this article we will discuss every little thing that you need to get started with YouTube in order to make money.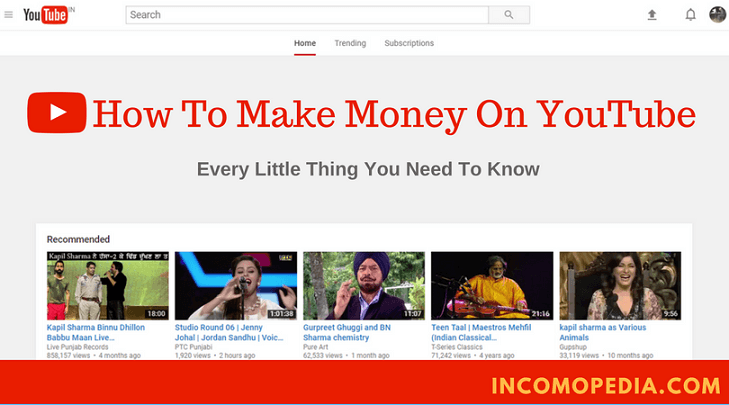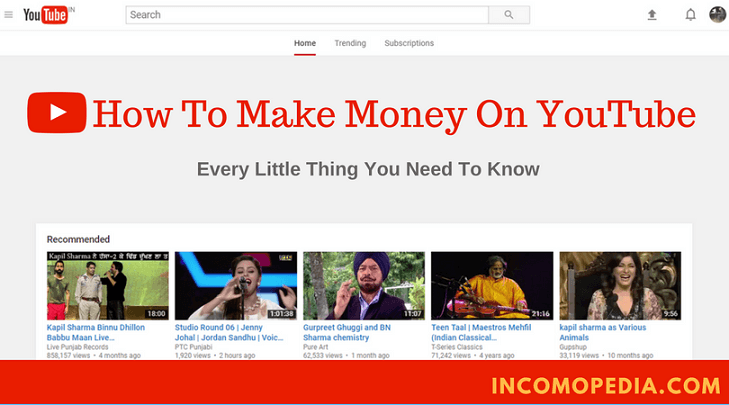 You might not be a millionaire overnight but won't it be a great help if you could make your living and some extra money from YouTube. I am 100% sure that with continuous efforts, dedication and patience everyone can make good money on YouTube or any other online business. Let's Discuss Why YouTube is so popular for making money –
---
Why YouTube is a Great Place to Make Money?
1. YouTube is Big
How Big is YouTube? Well  1,300,000,000+ people use it. 5 Billion+ Videos are being watched everyday. About 30 million people visit YouTube Daily. All this make sure that as soon as you upload a video on YouTube, it would be available to billions of users.
2. Zero Investment
Google is already paying $6,350,000,000 every year to run and maintain YouTube for you. So you do not need to spend any money for domain name or hosting like you do when you set up a blog/website. In this way you can start making money on YouTube without any investment. All you have to do is to spend time to create great content.
3. Setting Up YouTube Channel is Easy
Setting up YouTube channel is very easy if I compare with setting up a blog. You do not need install themes and plugin here. YouTube has already a great user interface. Users can navigate YouTube in different 76 language and local version of it is available in more than 88 countries.
4. Getting Adsense Approval is Extremely Easy
Google Adsense has always been very strict on approving blogs and websites. Even after writing 100's of articles, Many many bloggers struggle to get their Adsense application approved. In countries like India and China, your blog needs to be at least 6 months old to become eligible for Adsense. On the other hand, you can get Adsense ads on your YouTube Channel with the very first video. Although lifetime 10000 views are now required before you can apply for Adsense on YouTube. Now you need to have at least 1000 subscribers and 4000 watch hours in order to apply for Adsense.
---
How to Make Money On YouTube?
Before you can make your first dollar from YouTube, you are required to follow some steps almost every YouTuber follow. Here is your to do list –
1. Find Your Niche/Topic
This is the first and most important part of the game. Topic/Niche means what you are going to offer on your YouTube Channel. There must be something you always talk about. There must be something that you are passionate about. You must find your interests and passion. Like if you always talk about phones and your opinions matters to your friends, family while buying a new phone, then you can start reviewing phones on your YouTube channel. If you like cooking, you can start making videos of your recipes to upload on your channel. Are you Good at Teaching? Record some lectures and upload on YouTube. I know this is overwhelming and there is a lot of competition in every field/niche but believe me, at the end, your passion is going to win over competition.
Here are some tips you can follow to find your field –
Make a list of your interests and hobbies
Is there anything your friends often seek your opinions about? If there is, it can be the topic of your channel.
Do you help people solving some specific kind of problems? Because you can help many more by making "how to solve…" videos.
Now if you have a certain topic in your mind and you have to decided to make videos about that, then you are ready to move to 2nd step.
2. Set up YouTube Channel
Do you have a gmail account? If no create one, If yes then follow these steps –
Create Channel
Go to YouTube.com and click on Sign in Button
Login with your gmail credentials.
Click on My Channel from the left panel and a box will be opened as shown below if you are doing this for the first time. Fill up the detail and Click on Create Channel. You have successfully created your channel.
Channel Name
Select a unique channel name reflecting your brand and relevant to your niche. Attractive name always have benefits.
Add Channel Description
Channel Description tells your visitor who you are and what do you offer. You get an opportunity to tell people what can they expect from your channel. In order to add channel description, do the following –
Click on My Channel from the left panel. You will be redirected to your channel page where you get a box to add description.
If you are confused what to write, you can see description of other popular channels. Here is an example Channel description from Discovery Network –

Upload Channel Icon and Channel Art
Channel Icon and Art help making a channel unique, memorable and  distinguishable. Channel icon and art should be relevant to content you often post. You can simply get more attention by looking amusing, good and interesting. There are websites available that might help you creating an attractive logo and art. To upload Channel Icon and Channel Art, Click on My Channel and at the top, you have pencil like edit buttons to upload icon and art.
Get a Custom YouTube Channel URL
Click on my channel and look at the address bar in browser. You will see URL something like https://www.youtube.com/channel/UC2wCYhYREnUgAxmA4-aEng . This is YouTube Default URL for Your Channel. Is it easy to remember? Obviously not. This is why you need to have a custom URL for Your Channel. You can get custom URL by following these steps-
Click on the top right channel icon>>Setting/Gear Icon. You will be redirected to YouTube Account Setting page.
Click on advanced and you have an option there to set custom and easy to remember web address that would look like Youtube.com/user/YourChannelName
Note: You must have at least 100 Subscribers, Channel art, Channel Icon and your account must be at least 30 days old before you can get a custom URL.
3. Make and Upload Some Great Videos
Making Videos
You must create quality content if want your videos to stand out in the crowd. Once you have a topic in the mind, search what others are doing in the same category. There might be other similar videos already, so you have to add your own flavor to videos to make them unique and useful. You might need some editing skills. Here are some tips that will help you making good videos –
Get proper tools. A good camera for recording and microphone for audio.
Research what kind of videos people are liking. Make and post some.
If you are making long videos then you can consider creating an Intro for your videos.
Choose a location with good lightening for shooting videos.
Ask your friends to contribute
If you are doing a How To.. Video related to computer then you use screen recorders
After shooting videos, you will need editing software to give final touch before uploading. Here are some popular names youtubers often use – Sony Vegas, Window Movie Maker, Photoshop,  iMovie, Blender and Final Cut Pro
Making videos seems difficult at first and your first video might suck but you will notice an improvement in your skills as time passes. It happens with everyone.
Uploading Videos
Once you have created your video, its time to upload it on YouTube. Type anything on youtube and search. You will get a list of similar videos but only few get top spots in search results. If you want to see your video in first few search results, then pay attention to some important optimization options while uploading the video. Follow these steps to upload and optimize your video –
First of all, give a relevant filename to your video before uploading.
Never upload copyrighted content. Original work is required to make money.
Login to YouTube and click on the arrow like upload button at the right top of the screen. 
Browse and Select the video you want to upload
While your videos is uploading and processing you have several things to do. Give a suitable Title. Make sure it have at least 5 words. Don't forget to add target keywords. For an example if you are reviewing Bluehost then add "Bluehost Review" in the title.
Write a great description telling what the video is all about. After all Google and YouTube determine the content of a video by looking at your description. Add target keywords in first few lines and repeat keywords 3-4 times if video description is long enough.
Add suitable Tags. Tags are relevant keywords to your video. Your video have more chances to come in related videos if you are using right Tags keywords.
Upload Custom Thumbnail. If you don't upload any thumbnail then YouTube will use thumbnail from the video itself and that might not be suitable. I would suggest you to create custom thumbnail for every video as users decide what to watch by looking at thumbnail.
Click on Publish button. Congratulations. Your video is now available to billions of internet users. You can edit your video by visiting dashboard. YouTube editor have several useful editing features like increasing brightness, contrast, hue or slowing down the video etc.
That's All. Your video is now uploaded and optimized. Don't forget to serve videos at regular interval.
4. Promote Videos and Engage With Viewers
You are expected to share your videos on your social media accounts. Always reply to comments. Gain trust of your audience. Build Community.
5. Monetize Videos / Apply for Adsense
It's time to make money. This is all we love. There are several ways you make money from your youtube videos. Primary and most popular is Adsense. So without wasting a single minute, check out below points about how to get adsense ads enabled on your channel –
Log into Youtube account and Click on Creator Studio by clicking on top right channel icon.
Click on the Channel from left panel. You will see boxes. Third one is for Monetization. Click on Enable to Enable Monetization as shown below.
You have to follow 4 steps. Read and agree to the YouTube Partner Program terms in first step.
Sign up for Adsense. If you already have an Adsense account, then you can connect your YouTube channel to it. While signing up for Adsense, fill all the details accurately. Verify your phone number at the end.
Once you have connected an Adsense account, set monetization preferences.
You have successfully applied for Adsense. What's next?
If your channel has crossed all time 10000 views then your channel will go under review instantly. If you have less than 10000 total views then your channel will be automatically reviewed upon reaching the target. A little change here. Now you need 4000 watch hour + at least 1000 subscribers in order to apply for Adsense. Give YouTube up to 7 days. You will be notified by an email once you are approved for showing ads along with your videos.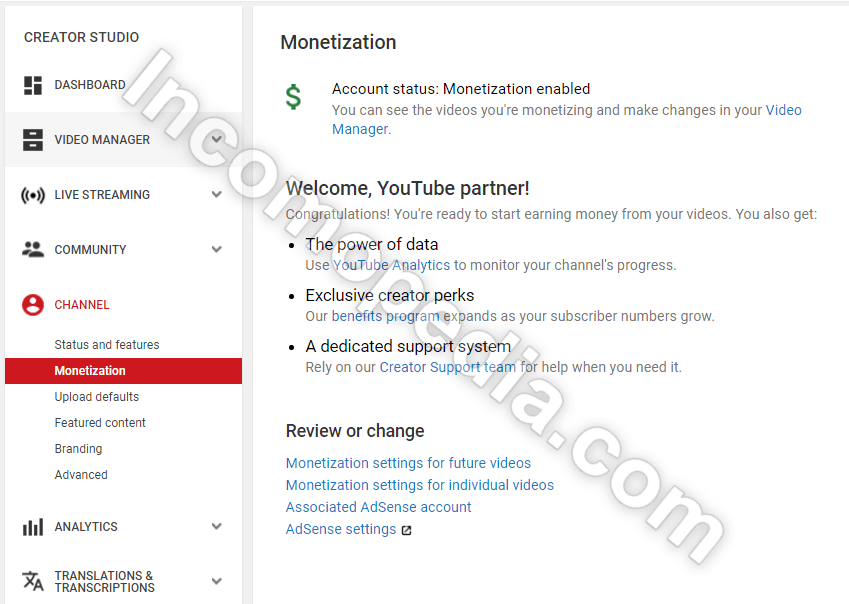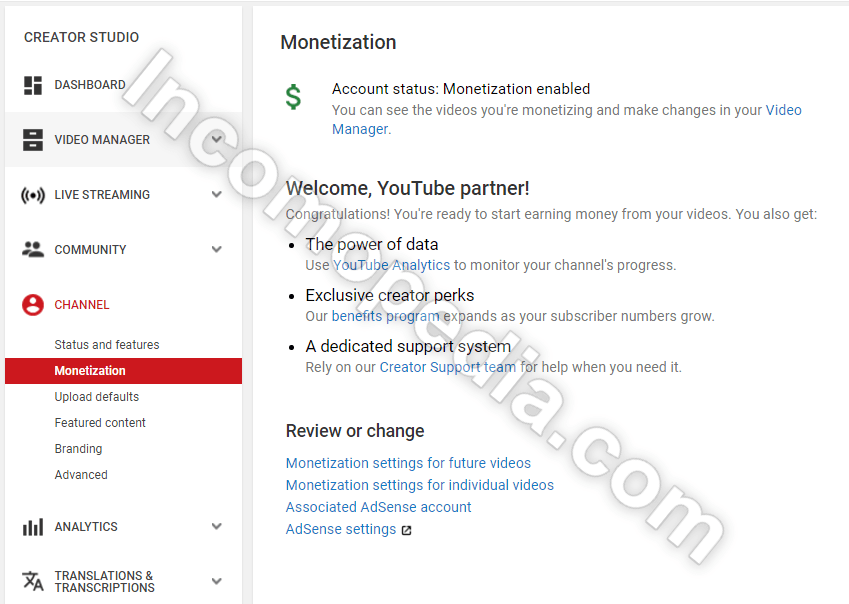 Even if you don't get approved, you still have chance to make money with following other ways –
Divert Your YouTube Channel Traffic to Your Blog
Insert your blog link in video description and send YouTube traffic to your blog where you can turn traffic into money by various options.
Affiliate Marketing
You can include your referral links in video description. If viewers follow your link and buy something from the target website, you will get handsome commission.
Promote Your Products
If you create your own products, you can review the products and get some sales.
Sponsored Content/Paid Reviews
Once you become popular you can attract sponsored content. Sponsored content along with your videos can pay you much more than Adsense.
You can also Become YouTube Influencer. 
---
Commonly Asked Question About Youtube Monetization
1. How Much Time Adsense Take to Approve Channel After Applying?
I applied on Saturday evening, next day was Sunday and my application was approved in the evening on Monday. Usually and Usually, YouTube takes 2 days to approve Adsense application. It might take up to 7 days in some cases and even more than 7 days in rare cases.
2. How Much Money One Can Make on YouTube?
No one can answer this question exactly. Since your earning depends on many factors like location of viewers, niche of video, keywords, competition etc , its hard to predict earning exactly. Viewers from Tier 1 country like USA, Canada, UK earn you big numbers while you get very low CPM for your Asian viewers. Normally you get somewhere between $1 and $4 for 1000 views. When I say 1000 views , I mean 1000 monetized views because YouTube don't play an ad every time viewer watch a video. So only no. of times ad played is important.
3. How to Monetize all the Videos in one go?
If you have a lot of videos and want to monetize all at once then follow instructions below –
Go to Creator Studio and Click on Video Manager 
Select all the videos on the first page, you will notice a notification "All 30 videos on this page are selected. Select all your videos" . Click on 'Select all your videos' and a drop down menu will be appeared. 
Select Monetization from drop down menu and Click on Submit finally.
It would take some time to process all the videos and You can not do other editing during this process. All your videos will be monetized one by one.
4. Can I Upload Other's Video On My YouTube Channel?
Not until you have permission.
5. Can I Upload Clips of Movies on YouTube Without Violating Copyright?
You should not upload copyrighted content on Your Channel. If you do this then your earning might go to original creator account(If original content holder wants). Although you can cut very short clips out from different movies and make a new video by combining all for fair use. Don't forget to give credit to original creator. Add your own creative element to clip, transform it and show its different aspect to the users.
---
This is all for this post. Share it with your friends you find it useful.