Internet is full of opportunities everywhere, Flipkart is one. More than a billion use Flipkart to shop but how many of you know Flipkart can be used to make money as well. Not just one, we will discuss 4 ways you can make money on flipkart. Some are as easy as playing games while some requires skills. Without wasting any more time, lets find out how can one make money on Flipkart.
4 Ways to Make Money On Flipkart –
1. Play Games on Flipkart
What can be better than making money just by playing games? Flipkart recently has made a lot of changes in their app to keep its users engaged somehow. Flipkart is offering different types of interactive games you can play and win various rewards including Gift vouchers, products, supercoins and gems. You get a chance to convert your gems into supercoins every Friday. 10000 gems are equivalent to 50 supercoins=50 Rupees. Open their app and visit game section to play games.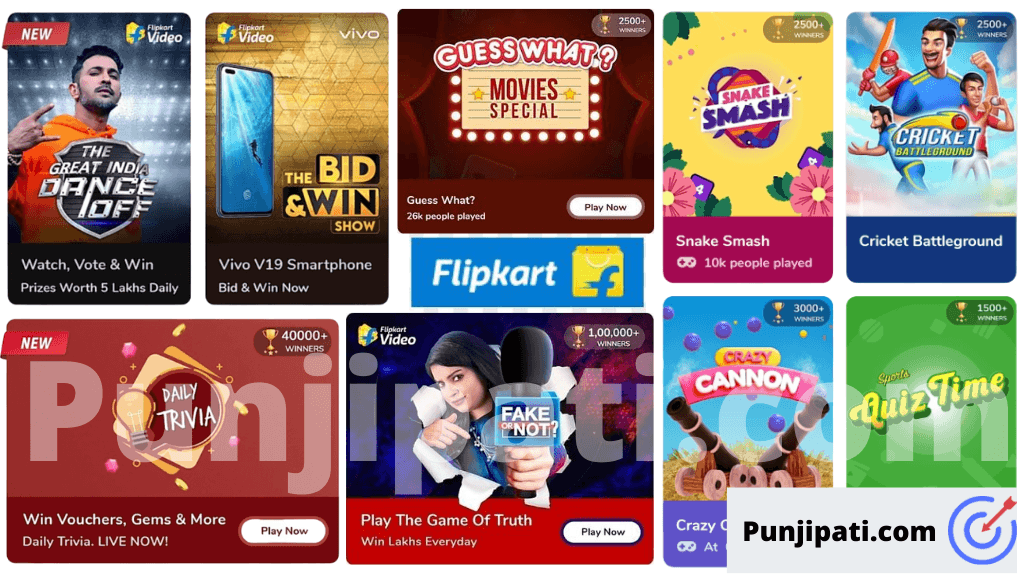 Let me share my strategy for different games so that you can make some easy money on Flipkart  –
Fake or Not – The host shares 5 stories with you and you have to tell if the story is fake or not fake. If all of your answers are correct , you will win something for sure. 50 players win gift vouchers worth INR 1000 each, 3000 win gift voucher worth  INR 50 each and remaining wins supercoins. The new game becomes live at midnight everyday. Since stories remains same for everyone, people who play first share answers daily online. So you can find which story is fake and which is not before playing this game.
Daily Trivia – You have to answer all the 5 questions correctly to win gift cards, gem and more. A lot of blogs and news websites publish answers daily. Just read them before you attempt questions.
The Great India Dance off – The newest entry in game section. This interactive game show let you choose your favorite dancer in a dance face off. If your choice becomes India's choice, you will win something for sure.
Crazy Cannon – 250 gems can be won if you complete all 16 stages. Try to keep your cannon in corners. You will know how it works and be able to play very well in couple of games. Apart from this, 3 tournaments are held everyday at 9AM, 6PM and 9PM where you have to score highest to win one big prize. Other 2500 players win gems.
Quiz Time – 10 questions and 10 seconds for each. Try to be correct at least 7 times in order to win something. Fastest fingers will get bonus. They give a hint before game started. You can make a quick search about hint term to get relevant information which can be helpful in answering one question.
The Bid and Win Show – There is no strategy for this game but what I have seen so far is that Winning Bid is selected from somewhere on the right half slider. 10 winners get a chance to win product of the day, 50 win gift vouchers worth 1000 for each and remaining winners win gift voucher of 100 Rupees.
Guess What? – No strategy. You have to be fast in identifying person in the image and then solving puzzled words. Quick answers get bonus. One winner gets a big prize while all other winners are given gems.
Snake Smash – It hardly takes 6 minutes to complete 10 stages for 300 gems. If you want to win big, score big. And to score big, you will need to sacrifice some gems for upgrade like score multipliers. Let the snake die sometime so that you can fully utilize both free and paid lives.
Cricket Battleground – You are supposed to score higher than other players in tournament. Using 5 lives, you can try to score big. One who score highest wins a product while other winners get gift vouchers and gems. You can check your position on leader-board at any time of the day. Top players usually score 250 to 260. In this 3 overs game, you should target at least around 110 runs(without winning bonus) in order to win a prize. Last over is crucial because you get double of what you score. Winners probably hit a 4 or 6 on every ball. React very fast while facing a fast bowler or you will miss the ball(keep the fingers closer to buttons), react normal while facing medium pacer and hit with little delay a slower ball.
PowerPlay With Champions – An interesting and fun prediction game where you have to predict 6 questions about next IPL match. You win something even if you guess 3 out of 6 right. Predict before every match and you might win big at the end of the tournament.
2. Become a Seller on Flipkart
If you have a shop or sell anything offline, only people who visit your place can purchase. Do you know Flipkart has more than a billion users. Now you can imagine the growth of business if those Flipkart users from anywhere in country can place orders for your product. This will be only possible if you become a seller on Flipkart. All you need is a bank account, GSTIN and a Product to sell. In order to sell products on Flipkart right from your doorstep, one need to follow these easy steps –
Signing Up – To become seller on Flipkart click here. Click on register now. Fill up mobile number, email id and sign up. Verify your phone number with OTP.
Uploading Documents and Getting Approval – There are some compulsory documents you will need to upload such as GSTIN(GST indentification number), a cancelled check with your account details and sample signatures. You will also need to verify your bank account. Once your documents are verified, Flipkart will approve you as a seller and you can start selling.
Listing Products – You need to list at least one product. Listing includes writing every detail about product.
Fulfilling Orders – You will be notified when you receive an order for a product. All you have to do is pack the product and mark it as 'ready to dispatch'. Flipkart's courier partner will pick up the product from your doorstep and deliver it to the customer. You can manage orders from seller dashboard.
Payments – Payment will be settled by Flipkart with in 7-15 business day after product is dispatched.
You might have a lot of questions in your mind. To make it easy for you, here are some important FAQ –
You don't need to courier products to Flipkart. Their logistic partner will pick up the product from your doorstep once it is packed and marked as 'ready to dispatch'.
You decide the price of product.
There is no charge for listing the products.
You need to list at least one product in order to start selling.
Flipkart does not provide packaging material but you will be trained and helped at every stage. You will know where do you get packaging material.
3. Become An Affiliate
Next time you see any product review on YouTube, notice the product link in video description. You will find it is not an ordinary link. Yes, when you shop the product through the link, Youtuber gets a certain percentage of price paid as commission. Such links are called Affiliate links.
If you have a web property such as a website or an YouTube channel, you can create affiliate account on Flipkart. Place links of products on website/YouTube with products review. Every time someone clicks on your links and purchase a product, you will get commission based on type of product. You can find out commission structure for various product categories by log into your affiliate account. Affiliate marketing is no doubt one of the best way to make money. You can also track how your links are performing, what has been bought through your links and every other important stat in analytics.
4. Use Cashback Websites
Do you know you can save some extra money every time you shop on Flipkart. Yes, you heard it right. A cashback site contains affiliate links of online stores. You just have to click on a store (in our case Flipkart) link and shop as you usually do. Based on product type, a cashback will be deposited in your cashback site account which you can withdraw using different payout methods. Some popular cashback sites are Topcashback, Cashkaro and Coupondunia.
My favorite is Topcashback because there is no minimum payout threshold and have great payout options such as bank deposit, Paytm and Amazon Pay gift cards. So next time you shop on Flipkart, you can save extra money by few extra clicks. Saving money is also making money.
This is all for this post. If you find it useful, please share with your friends.