Why would someone pay you to test out his website? OK, Let me explain why this actually make sense . Websites are very important and perhaps the most powerful marketing tools available for any business. As Websites bring potential customers to businesses so they want to make sure their website is easy to navigate through, has a clean design, aesthetic look and content  and most importantly their customers are connecting with them easily without any problem.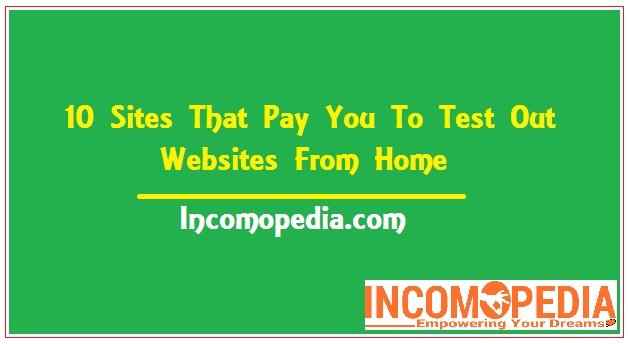 These type of test let the Website designers, coders and owners see what kind of problems real users run into on their sites or applications.  Being a blogger , It's vital for me to know that my website is user friendly or not. You lose your customers, you lose money. So this is the reason why company pays someone to test out their websites for different purposes.
To be eligible for these "get paid to test out websites" jobs you need to be internet savvy and fluent English speaker.  A typical test takes 5 to 25 minutes to be completed and once you tell them what you think about their website, you get an average of $5- $10 per test.
Check out these 10 "get paid to test websites" to start with –
---
1. User Testing
To this date , Over 700,000 tests has been taken by UserTesting.com users for companies likeEbay, Microsoft, Yahoo, Dropbox, Twitter, Wikipedia and Facebook. They are open to almost all countries testers. New users are required to complete a sample test and fill out basic demographic information to be able to access actual tests notifications in mailbox. A typical UserTesting's Test consist of 20 minute recording + 4 follow up written questions and pays $10 on successful completion .
---
2. TryMyUI
A typical test takes up to 20 minutes to complete and you get paid $10 for each test you complete. To be able to get invited for the usability tests you need to complete a qualification test after joining the TryMyUI. A usability tests usually consists of video(of your screen), your recorded voice and written test as you use a website. They make payment through PayPal every friday.
Payment Methods :  PayPal
---
3. WhatUsersDo
A typical WhatUsersDo Test usually last up to 20 minutes and pays you up to 8 £/€/US$ on completion. To become a tester on this UK based site , you must pass their approval process and once you are an approved tester , you get an email notification whenever the test is available for you.  They record screen movements and your voice as you complete the test. On completion you will have to upload the test.
Payment Methods : PayPal (on the 25th day of each calendar month)
---
4. Enroll
To this date 126,186 tests has been taken on Enroll by the international members.  Enroll yourself and help companies making their website/app more interactive and beautiful .After registration, you'll start receiving emails when tests are ready for you. An Enroll User can take the test on any device – phone , Tablet , Laptop whatever you like. You get your reward according to the length and complexity of the test.  Payments are made through PayPal.
---
5. Feedback Army
You can't join FeedbackArmy directly on their website. You will need to sign up through Amazon Mechanical Turk (Mturk) to complete their available Tests. Mturk is a micro job site Read more about it here. Their tests consist of 10 questions. Once you answer all the questions through Amazon Mechanical Turk and the requester/client  approves your work, you get the money into your Amazon Payment account.
Payment Methods: Amazon Payment Account
---
6. Userfeel
To become valid Userfeel tester , you must pass the initial sample test. Once you are approved you get $10 for each successfully completed Test.  The site owners rate you after each test you complete and your rating will determine how many assignments you will be invited  for. The minimum payment threshold is $10 and they send payment at the end of every week.
---
7. Userlytics
A typical Userlytics Test takes about 10 to 20 minutes to complete and pay you $10 to $30 or even more depending upon its nature. Not only Userlytics but almost all website testing Sites requires testers speaking and sharing their thoughts aloud during the entire test. Everything will be recorded i.e. screen , your commentary and even your facial reactions.
---
8. TestingTime
You just need to fill your profile carefully while joining TestingTime. They will invite you instantly if your profile matches the requirements of website/app owners. They often invite one or two times in a week and  a typical test session take about 30-90 minutes. Depending Upon the length of the session you can get paid up to  €50.
Payment Methods: Bank Account , PayPal
---
9. uTest
uTest is one the largest get paid to test website with 200000+ testers worldwide. To become uTester you simply have to fill your personal information, Skills , Test preferences , Prior usability experience etc on sign up form and you are ready to receive notifications whenever an opportunity is available. A typical test pays somewhere between 10 USD to 50USD. They make payment on 15th and last date of every month.
Payment Methods: PayPal , Payoneer
---
10. Startuplift
Staruplift is another good get paid for testing website opportunity. You get $5 for each successfully approved Feedback. Staruplift make payment on sunday every week. Here you get a website URL and assigned tasks that you have to perform on that website and submit your feedback.
---
Windup 
Get paid to test websites opportunities are extremely popular. Obviously testers are more than the projects/websites available. You might not get an invitation for first few days. Don't be discouraged. To make the most out these websites , sign up as many websites as possible so that you never run out of available testing opportunities.