Before going to discussion, I have a question for you. Do you have a lot of patience? If your answer is NO , you can skip the whole discussion and choose some other online work for you. Joining survey websites is not a get rich quick program, you need to have a lot of patience specially if you are from India as you will not have surveys to do all the time. Most of good survey sites are for people living in US ,UK and Canada. There are very few sites which are available for international users. My advice to people who wants to join survey sites –
Don't just join 2 or 3 survey sites , join 10-15 survey sites instead. Doing this you ensure that you will have something to do all the time .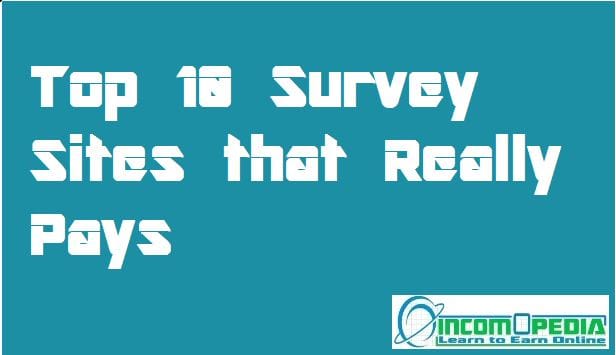 Lets discuss how much one can earn from survey sites. This is how it works according to me-
Suppose if one joins 10 survey sites and he is making INR 500 from each then he can accumulate 10*500=5000 INR per month which can be considered a good  amount for student to begin with.
Here are 10 best survey sites in India – 
---
1. Toluna
Toluna.com has become one of my favorite survey site. Its more like a social networking website as you can follow people ,they can follow you back and even you can post messages on their wall. You can express yourself by creating polls and topic on their website . Toluna has been very consistent in terms of both paying and providing surveys. There are 3 types of opportunities to make money on Toluna-
By participating in paid survey or profile survey
By creating quality contents(polls and topic)
By inviting friend to sign up Toluna
Payment Methods for Indian users-
Paypal (if you want to feel some hard cash)
Gift vouchers (Flipkart, Amazon and Shopper Stop etc)
---
2. ValuedOpinions
ValuedOpinions is owned  by Research Now, a leading online fieldwork .  After joining Valuedopinions you will be invited to participate in various online  surveys through emails according to  your interests you provide in your profile. You will receive  INR 30 to INR 60 for every typical survey you complete. Reward will be credited to your ValuedOpinions account within 28 days. The most surprising thing happened to me was the mail containing Flipkart voucher with PIN that I received just after 5 minutes of redemption request.
Payment Methods for Indian users-
Flipkart E-Voucher
Amazon Gift Cards
---
 3. iPanelOnline
iPanel is an Asian professional online sample collecting company for market survey ranked within the top 10 of the sample companies  throughout the world. You will receive  points instantly typically between 1-100 for each survey you complete and 1 points = 1 INR.  You receive 1 point everyday  just for login and another 1 point for publishing your just 1 line opinion. They also run special lucky draw every week.
Payment Methods for Indian users-
Paypal
Gadgets (camera, ipod ,laptop etc)
---
4. Swagbucks
Swagbucks.com is owned and operated by Prodege and it enables users to earn virtual currency called Swag Bucks(SB)  by performing a variety of online activities such as searching , shopping , taking surveys , playing games and watching videos etc. You need minimum 700 SB in your swagbucks account to be eligible for withdrawal through Paypal. 700 Swag Bucks equals $5. You get 1 SB daily for answering poll and more by searching through their search engine.
Payment Methods for Indians-
Paypal
Variety of rewards (includes gift vouchers , game cards , gadgets etc)
---
5. Opinion World
With over 15 million members, Opinion World is in business since a long time and pays 25M per month to its Indian members. You can make up to 300 points per survey. Once you cross 500 points, you can place a request for reward. Good part of this process is that the Gifts cards are sent almost instantly or with in few hours. You can expect 50 to 80 rupees for every survey of 15 to 20 minutes.
Payment Methods for Indians-
Gift Vouchers(Flipkart, Bata, Big Bazar Shopper Stop etc. )
Amazon Pay Gift Card
---
6. TellyPulse(StarPanel)
Star Panel(Telly Pulse) was started in 2011 and is owned by Star India Pvt. Ltd. It was created in cooperation with the market research company Nepa India Pvt. Ltd , who is currently managing this panel. The panel will use your email address you registered  with to send surveys on various  topics. Along with the link to the survey, the email will provide you with information on the length of the survey and the reward you will receive for completing it. In general a survey takes 5-10 minutes to be completed. I found their surveys easiest to complete as most of time they send interesting survey about TV channels and shows.
Payment Methods-
Flipkart E-Voucher
BookMyShow
Join Star Panel(Telly Pulse)
---
7. The Panel Station
Panel Station is a diverse community of over 1.4 million consumers from world's fastest growing economies – India, Brasil, Russia, China, Mexico, Argentina, South Africa, Indonesia, Turkey, Philippines, Poland, South Korea, Taiwan, Chile, Nigeria, New Zealand, Colombia, Australia, Singapore and Thailand as  mentioned on their about us page. My experience with them have been great so far. They have completely changed their reward system recently and much more. You need to accumulate  3000 points to redeem for a reward  and 3000 points equals 300 INR. Don't forget to download their apps if you want to make 1000 free points every month without doing anything.
Payment Methods for Indian users-
E-Voucher (Flipkart, Paytm, Freecharge , Amazon.in)
PayPal (

Recently added

)
---
 8. OpinionBureau
OpinionBureau is an online survey community website which provides you a platform to voice your opinion and get paid for participating in online survey. According to about us page of their website , their website is owned and operated by Internet Research Bureau Pvt. Ltd. ("IRB") which came into existence in the year of 2011 in New Delhi (India). Usually you won't get survey invitation in your mailbox, you need to login their website manually to check out for available surveys. They will pay you  typically 50-100 INR  for each survey you qualify and complete. The minimum redeemable amount is INR 250 . You get INR 100 just for signing up and INR 25 for completing profile.
Payment Methods-
E-Vouchers (Flipkart, Paytm, Freecharge)

Paypal (recently added)
---
 9. (LifePoints Panel)GlobalTestMarket
It was founded in 1999 and hence one of  the oldest and best site for paid online survey. GlobalTestMarket is powered by GMI (Global Market Insite, Inc.), one of the world's leading providers of market research. GMI serves more than 1400 clients in more than 60 countries worldwide. Most of the surveys are on topics such as Global Issues, Restaurants, Automobiles, Consumer products, Current events ,Electronics Gadgets . GlobalTestMarket will reward you typically 15-140 points for every online survey you complete and sweepstakes entries for your time if you don't qualify. To get $10 via PayPal you need 806 LifePoints.
Payment methods for Indian users-
E-Voucher (Myntra, Lifestyle, Flipkart, Makemytrip and Shopperstop)
Checks
Paypal
---
 10. Viewfruits
Viewfruit India Panel is a new survey panel for Indians. Once you register and start participating, you will receive 100 to 5000 points for each survey completed. 500 points = $1. You can also earn points by referring friends. You can redeem once you get to a  minimum of 1500 points(2500 Now).
Payment Methods for Indian users-
---
11. Streetbees
Streetbees is another genuine survey app based in London. As soon as you join, you get 50 Rupees as sign up bonus which are transferred in your paypal Account without any manual withdrawal request. Surveys on streetbees are called stories which can be completed with in 5 minutes and submitted for approval. Once a submitted story or survey is approved, the payment for the survey will be automatically transferred to your PayPal account. You might not get regular surveys but you can invite your friends. For each friend, you will get 50 Rupees.  At the end of first activity, they will ask you to enter your PayPal email address.
Payment Methods for Indians
Download Streetbees App   (Enter 9991BQ as referral code to get First 50 Rupees)
---
Known Scam Survey Websites 
Not every survey site pays. Some websites pay at starting but stop paying eventually. Scam survey sites extract money out of you instead of paying you. I myself have been part of scammer websites and don't want you to waste your valuable time on those. Here is the list of scam survey websites –
If you are struggling with online survey sites, if your earning is not increasing, if you are getting screened out from surveys too often, read how to increase your paid survey sites earning.