Air Traffic Control is one of the most stressful jobs in the world. The ATCOs (ATC Officers) who work in a team ensure that aircraft reach their destination safely and with least possible delay. But "safety" does not happen by accident, it requires dedicated efforts of the controllers who work round the clock to ensure that aircraft are well separated in air as well as on ground. Considering this highly responsible and strenuous job, it is imperative that ATCOs should be well paid to compensate the stress, shift duties and affected social life.
In this article, I will try to present a basic idea of an Air Traffic Controller's salary in India. Airport Authority of India (AAI) inducts ATCOs on the post of Junior Executive (Air Traffic Control) or simply call it JE (ATC). First let's see what different designations & associated pay-scales (which form the basis of the total salary) of ATCOs in AAI. A tabular form will be good enough to represent this hierarchy which starts from Junior Executive (ATC):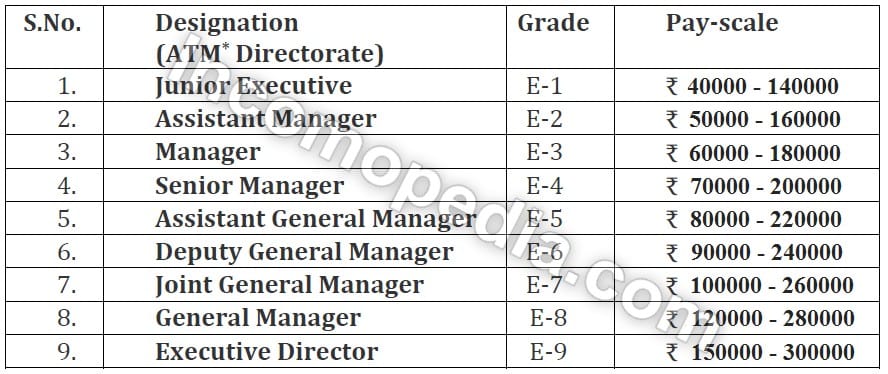 *ATM: Air Traffic Management. In the modern world, Air Traffic Control is getting replaced by Air Traffic Management which is wider term. ATM basically stands on four pillars viz. Air Traffic Control (ATC), Aeronautical Information Service (AIS), Air Space Management (ASM) and Air Traffic Flow Management (ATFM).
Let's start this with the controllers who are at the bottom of the rank-ladder i.e. Junior Executive (ATC). The average salary of a JE (ATC) can be approximated to INR 65000 (approx. 1000 USD), although it depends on various factors. I will explain all these factors which affect the total salary of any ATC Officer in AAI.
As evident from the above table, the basic pay of JE-ATC is INR 40,000. Apart from the basic pay, JE (ATC) is entitled to following emoluments.
---
A. Dearness Allowance (DA):
It varies from time to time and is decided by Ministry of Finance, Govt. of India. It is also called Industrial Dearness Allowance (IDA). As on the date, AAI is paying IDA@ 3.8% which comes to be INR 1520.
---
B. House Rent Allowance (HRA):
It depends in which city an ATC Officer has been posted. Rate of HRA can be summarised with this table:

So assuming that after the initial training, JE-ATC is posted to Mumbai. Then s/he is entitled for HRA @ 24% of basic-pay i.e. INR 9600.
---
C. Consolidated Perks:
It is another big chunk of an Air Traffic Controller's salary. All the employees of Airports Authority of India are paid with consolidated perks which is fixed at @35% of the basic pay. So in case of JE-ATC, it stands out to be INR 14000.
---
D. Medical Allowance:
Medical allowance is paid every month and it depends on which designation you are. JE (ATC) is entitled for INR 3000 per month.
---
E. Rating Allowance:
Here comes the real reward of being an ATC Officer in India. Before discussing this allowance let me explain a bit about the term "Rating". Rating is an authorization to work independently on a particular position in Air Traffic Control. Rating allowance is a bit tricky and can be understood as "qualification" allowance.
There are different working positions in Air Traffic Control e.g. Tower Control, Approach Control, Area Control etc. In order to work independently on any position, an ATCO has to first undergo written test(s) (which includes layout of airport, jurisdiction under that particular position, standard operational procedures that are airport specific etc.) Apart from the written test ATCO has to do training under the supervision of a senior ATCO who is called On-Job Training Instructor (OJTI). After this training, there is one practical examination, in which Training In-charge (ATM) will judge whether you are capable of performing independent duty with confidence or not.  Once the ATCO successfully clears these hurdles, s/he is authorized to perform independent duty on the particular channel and is called "rated" controller. After acquiring the rating ATCOs are entitled to the rating allowances.  Rating allowances are revised from time to time.
---
F. Stress Allowance:
Stress is very familiar word in the world of ATC. The ATC officers who perform duties on channel undergo tremendous amount of stress. This stress takes toll on the health of ATCOs and AAI tries to compensate this with stress allowance. Stress allowance depends on the traffic density at the airports an ATC officer has been posted. I am taking example of metro cities like New Delhi and Mumbai where stress allowance is equal to 100% of the rating allowance. Suppose you get INR 2000 as rating allowance, then an amount of INR 2000 will also be paid as "Stress Allowance".
---
G. Night Allowance:
As the ATC Officers need to perform the graveyard shift as well so they are also paid night allowance which is a meager amount of INR 1000 approximately. It is INR 185 per night duty performed. In a month ATCOs need to perform 6 to 7 night shifts.
---
H. OJT and CATC Instructor Allowance:
–  OJT Instructors are qualified ATC Officers who impart station-level training to the ATCOs who are undergoing training to acquire rating of a particular ATC position. It amounts to be INR 3000 per month irrespective of the ATC position for which OJT Instructor is imparting the training.
–  Civil Aviation Training College is a premier institute for ATC training in India. The instructor (highly-experienced and senior ATC Officers of AAI) who take theory and practical classes (for the trainees from India and sometimes also from other countries like Afghanistan) are also paid allowances known as CATC Instructor allowance. Same is applicable for the instructors of AAI's other two training institutes at Hyderabad and Gondia. There are two categories for this: Radar Instructors' allowance and Non-Radar Instructor allowance.
---
I. Proficiency Allowance :
For JE level, proficiency allowance is around 3000. For JE-ATC posted at metro stations, there is another equivalent allowance to proficiency allowance. An ATCOs will get either of these allowances.
---
J. Deductions:
Now comes the bitter but unavoidable term i.e. deductions, which means a small amount that is deducted for CPF, Income Tax, Gratuity, Social Security Schemes and Pension (do remember all AAI employees get Pension after retirement).  For JE-ATC, this can be approximately INR 8000 (Income tax will be depending on how much savings you are filing in the income tax form).
So let's sum up all these components to get an idea of salary of JE (ATC):
Net In-hand Salary = (Basic Pay+ IDA + HRA + Consolidated Perks + Medical Allowance + Night Allowance + Proficiency Allowance – Deductions) + admissible Rating and Stress Allowances.
So the net salary (excluding Rating and Stress allowances) will be like:
INR (40000+ 1520 + 9600 + 14000 + 3000 + 1000 + 3000 – 8000) = INR 64120.
Remember that this is the salary without two important allowances viz. Rating allowance and Stress Allowance.
---
Some important points to be noted:
There is annual 3% hike in the basic pay.
HRA will not be provided if you are staying in AAI's residential accommodation or while JE-ATC is undergoing initial training.
Rating Allowance will be paid only after acquiring the said rating (once posted on an airport after successful completion of the initial training at AAI's training institutes).
Apart from these allowances, employees also get Diwali Bonus in cash (3.5% of Annual Basic Salary).
Shoes and liveries allowances are also paid once a year which is approx. INR 4000.
As per Govt. of India's policy, the ATC Officers who are posted in North East Part of the country are entitled for NE- Allowance which is equal to 12.5% of the basic salary.
So this is all about the Air Traffic Controller's salary for the rank of JE (ATC), but you can easily calculate salaries of other high-ranked executives in the ATM Directorate of Airports Authority of India. For an experienced ATC Officer who has acquired all the ratings, the salary comes out to be approximately 1.5 to 2 Lakhs as s/he will also be having higher basic-pay and associated allowances.
I must say that AAI is paying a handsome amount to those who are putting endless efforts for making Indian skies safer for all of you. Finally I am ending my article with this funny quote:
"The most powerful three words other than 'I Love You'  is  'Salary is credited'."