Let us start with some newspaper headlines covering a time-span of last 6-7 years. Airports Authority of India (AAI) or to be specific Air Traffic Controllers' shortage has always been in the limelight. It appears to be a chronic issue for the state run undertaking working under the aegis of Ministry of Civil Aviation, Govt. of India. Shortage has led to unnecessary burden on ATCOs which may lead to a disaster someday.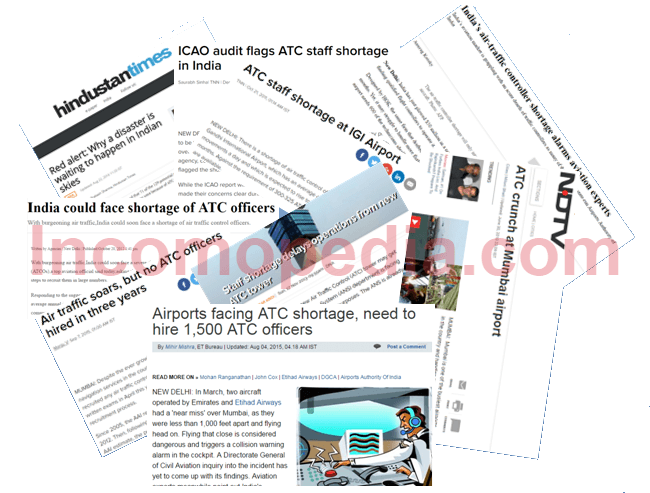 Aviation in India is on rise over the last decade which includes development and expansion of airports, surge in number of air-passengers and entry of private airlines. Government of India has signed bilateral agreements between India and other countries to allow aircraft to fly within each other's territory, leading to better connectivity with these countries. Relaxation in 5/20 Rule has made it easier for private airlines to open more sectors. This year, Ministry of Civil Aviation also released its Civil Aviation Policy which aims at providing last mile connectivity to unserved or under-served airports. To cater this growth and development, there has been an obvious increase in the aircraft movements.
So we can see there is a remarkable growth achieved by Indian aviation industry which is expected to be continued in next decade as well. But the number of Air Traffic Controllers who are vested in the responsibility to make aviation safest mode of transport has not increased proportionally to this exponential growth of aviation sector.
AAI and ATC Recruitment (2012 – 2018)
ATC Recruitments (2012-2015)
In 2012, AAI recruited around 180 ATC Officers and then AAI went into hibernate-mode. No recruitment was done in 2013 and 2014, however at the same time, the number of aircraft movements rose from 1478811 to 1603021. Here is the data available on AAI's website showing this rise.


In 2014, USA's Federal Aviation Administration (FAA) downgraded India's aviation safety rating. One of the reasons for this downgrade was shortage of Air Traffic Controllers. FAA raised the question about India's oversight processes not meeting global standards. In 2015, FAA restored the ranking owing to some corrective actions to address shortcomings.
ICAO Safety Panel audited various airports of India in Nov-Dec, 2015. ICAO Panel found that India is facing acute shortage of ATC Officers and red-flagged it. In its final report, the panel made this issue a "serious safety concern." This report was an alarm for AAI as it has the responsibility to recruit suitable number of ATCOs for smooth and safe operations.
ATC Recruitments (2015-2018)
2015: The rising media reports and ICAO Safety Panel's report lead this Mini-Ratna PSU to finally wake up. AAI announced recruitment of JE-ATC for 200 post. Exam was conducted in April, 2015 and subsequently 200 ATC Officers were recruited. But due to no proactive approach by AAI in last 2-3 years, this recruitment served little purpose to cover the ATC crunch in the country.
In December 2015, another exam was conducted by AAI to recruit 400 ATCOs. Some of these officers joined AAIs training institutes while others were sent to various airports for On-Job training (OJT).
2016: In the beginning of 2016, the total strength of ATC Officers in India was approximately 2200. This year, AAI once again conducted online exam in April for the recruitment of 200 ATCOs. The number of ATCOs to be recruited was later revised to 400.
2017: As there was mass recruitment in 2015, it resulted into delay of result declaration of exam held in 2016. Result of the 2016 recruitment process was declared in 2017. These selected candidates were imparted ab-initio and OJTI. So there was no recruitment done in 2017.
2018: Recruitment advertisement was out on 3rd July, 2018. Exam was held in November 2018 for 200 JE- ATC posts. Result of exam was declared on 2nd Feb, 2019. Total 584 candidates were called for Voice Test and Document verification. The recruitment is currently being processed.
By end of 2018 recruitment process, AAI will be having around 3600 ATC Officers.
But are these 3600 ATC posts sufficient? The straightforward answer will be NO. Because to cater the recruitment to world's fastest growing aviation industry, India requires at least 4000 ATC Officers By 2020. AAI needs efficient and well planned recruitment of ATC Officers so that these Guardians of Sky can work in most efficient way, providing safety to all the aircraft under their control.
Future ATC Recruitments
By analyzing all this progress, Incomopedia expects that there will be more recruitment of ATC Officers in the coming years. From 2015-17, AAI had mass recruitment to bridge the gap between required and available ATC manpower. From 2018 onwards AAI has curtailed the vacancies and future recruitments are to be done in phased manner.
In 2019 and 2020, it is expected that AAI will recruit 200 JE-ATC candidates, each year. This will help AAI to have adequate ATC manpower to manage the Indian airspace in a better, efficient and safer manner.