There are several alternatives sites to Microworkers to list but I have selected only 5 sites and I have a good reason for that. I got payment proofs of all the alternative sites I am listing here .
Its real easy to make money online by doing mini jobs. Crowd sourcing is getting popular . A lot of people are willing to join crowd sourcing sites and the reason is quite obvious ; doing small tasks require either less skill or no skill ,one just have to follow the instructions to get paid.  And I believe , this is good . It is good to multiply the earnings, by exploring new ways of online income. There are a lot of sites that are offering micro jobs but all are not genuine.
Microworkers has been one of my favorite micro jobs site. Read here – Microworkers Review with payment proof  . It is a good platform for extra earning for the people all around the world. I believe you also have been there and thats why you want to discover more sites like Microworkers.
I am listing here 5 best legitimate alternatives to microworkers that really pays-
---
1. Rapidworkers.com
Rapidworkers is a service of UnikScripts, Inc.  . Their website is pretty similar to Microworkers and has almost same features and working interface yet lake some essential features. Like Microworkers , there are two kind of people at Rapidworkers- Employers and Workers . This is an example task at Rapidworkers –

See the image above  – The task is available to all the international members. Worker will get $0.10 if he completes the task in satisfactory manner . The task will take 3 minutes or less to be completed. The withdrawal rate is very low here .You can place a withdrawal request if your balance is over $4.00 + 6% fees. It takes less than 7 days to process a withdrawal request. Payment methods – Paypal and Payza Minimum Withdrawal Amount – $4
Here is the payment proof –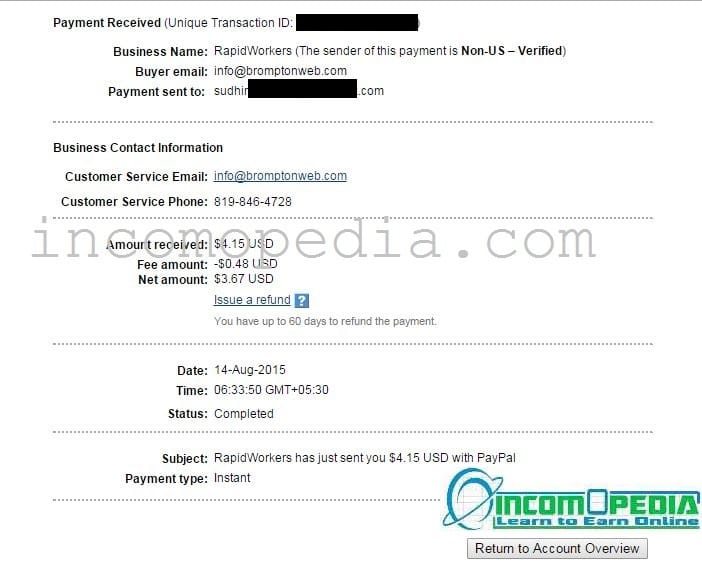 Join Rapidworkers
---
2. Crowdsource.com (Onespace)
Crowdsource is a legit micro jobs website. They also post their tasks on the popular Mturk means what you can do through crowdsource , can also be done through Mturk but in my opinion you should do tasks on crowdsource as it got a great working interface . You can do small tasks like image tagging, categorization , transcription , survey , writing etc which don't take much time and skills. The best thing about crowdsource is that there is no withdrawal limit. There are currently 269 qualification tests like Quality assurance  Specialist , Junior copy writer , Senior copy writers. More the test you qualify , more the work available to you . Crowdsource is working across 180 countries.
Note: Crowdsource and Mturk are no longer working together. Crowdsource is now Onespace.com. 
Payment methods – Paypal Minimum Withdrawal Amount – No Limit (do a task worth 1 cent and you will get 1 cent transferred in your Paypal account) Here is my Payment proof –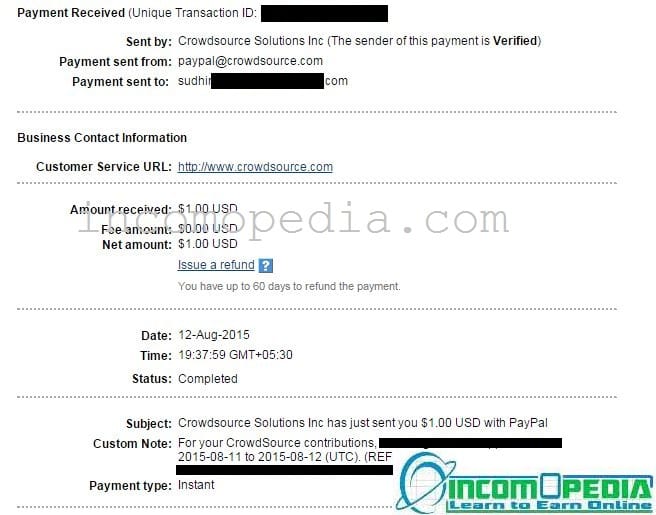 Join Crowdsource/Onespace
---
3. Amazon Mechanical Turk (MTurk)
MTurk is a crowdsourcing online marketplace with millions of users worldwide . They guys are perhaps the best in this field. Mturk is a website of Amazon web services. Like almost all the micro jobs site , there are two kind of people –
Requester – Requesters are those who post Jobs known as HIT's (Human Intelligence Tasks) such as writing articles, Categorize questions , image tagging or choosing best among many pictures etc. A requester may accept or reject the work submitted by the worker after reviewing the submission.
Workers- also called Turkers . Workers accept the jobs and complete to get paid.
There are a lot of odd jobs to do and hence easy to make money . This is  perhaps the best legit alternative to Microworkers having vast opportunity to make money online.
Payment methods- Amazon gift card or Amazon payment account and Direct deposit
Note– Indian members have the option to receive a direct deposit denominated in Indian Rupees into their bank accounts
Minimum Withdrawal Amount- No Limit
---
Shorttask.com (
Update – It's a big Scam

)

Shorttask is pretty much like Mturk in term of user-interface. People who post jobs are called "Seekers" and who complete the tasks are called "Solvers". ShortTask has over 125,000 workers and more than 5000 Seekers  in its database. At the time of writing this post , 1990 jobs are available. Short Task enables millions of workers  to select tasks of their choice and their own time frame to complete the task .

I have heard a lot of bad thing online about Shorttask, still I am mentioning it in my list as its working fine for me. You must meet the minimum withdrawal amount to get paid and the withdrawal limit is Just $10 now only.

Update – Like most other people who tried shorttask.com , I too didn't get my Payment. Don't Join this. 

Update: Finally Finally , after waiting a long time of 6 months ,  I got a message "You have received payment from ShortTask". But still it does not make ShortTask a reliable source of income. Join it on your own risk. Also there are not many employers left to hire you.
Payment Methods- Paypal
Minimum Withdrawal Amount- $10
---
4. Clickworker.com
Clickworker is in the business since 2005 and more than 830111 workers (from 136 countries) are working with them. No doubt they are genuine guy . Their website got everything that make them legit. They welcome every worker who is interested in writing ,translation, research, collecting data etc. As a clickworker you work independently , you set your own working hour and you get to choose the assignment you are interested in .
The simple task such as categorization and picture classification doesn't require any formal qualifications so everyone can complete such tasks but for other task that really need special skills , you have to prove your qualification by taking assessments .
Payment Proof-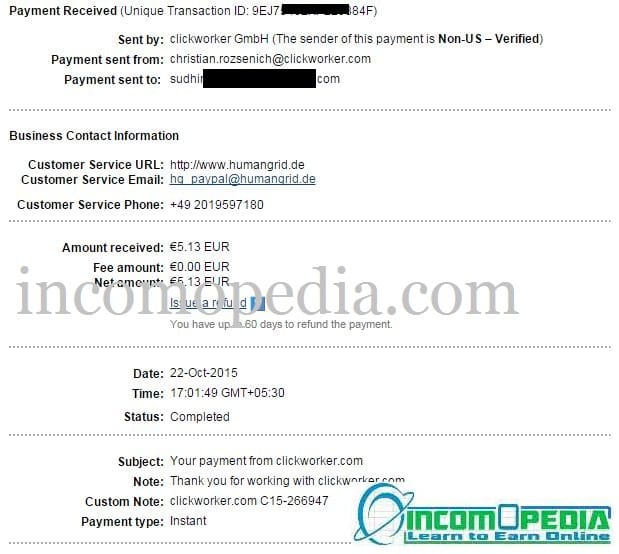 Payment methods – Paypal (they make payment every week from Wednesdays-Fridays)
Minimum Withdrawal Amount -$5
---
5. Remotasks
With a lot of prestigious clients like UBER, Google , Gusto etc , Remotasks offers various tasks primarily related to Image annotation, content moderation, cuboids, image tagging etc. Remotasks is undoubtedly highly reliable alternative of Microworkers. If we talk about payments, Remotasks makes payment on every Friday and there is no minimum payout requirements. Whatever you earn throughout the week will be sent to your Paypal account on Friday morning.
Payment Proof –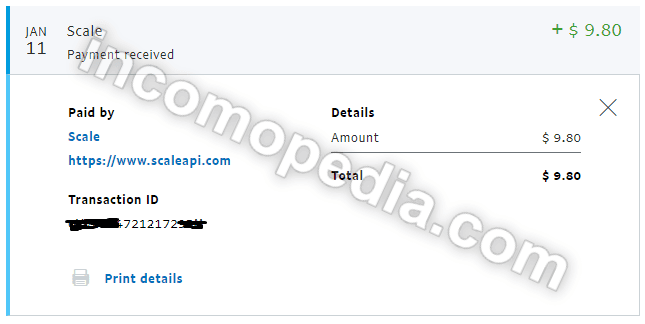 Payment Options – PayPal
Minimum Withdrawal Amount – No Minimum Payout Threshold
---
6. PicoWorkers.com
This newly launched site is creating a lot of buzz these days. It's new but paying to workers regularly and have potential to become a good alternative of Microworkers. The concept is same, Employers are there to post tasks and workers to complete those tasks. On following instruction properly and submitting correct task completion proof makes you money. The interface of Picoworkers is very similar to the Microworkers. When you sign up, you get $2 which gives you a chance to become employer. Yes the sign up bonus can not be withdrawn, you can only spend those $2 for giving tasks to other people.  There are not much employers there but the site is growing and expecting good in near future. They usually take 10 days to process withdrawal request.
Payment Proof –
Payment Options – PayPal | Amazon Gift Card | Payza | Skrill | Crypto Currency | Paysafecard.com and US Bank Cheque.
Minimum Withdrawal Amount – $5
---
7. Spare5
Spare5 can be another alternative to Microworkers as workers on Spare5 also get paid for tasks they complete like on Microworkers. However the nature of tasks Spare5 offers is entirely different. Spare5's most clients are from automotive industry which are working on self driving cars. They provides data to Spare5. Spare5 then converts the data into tasks and serves to workers. Workers complete the tasks and earn money as reward for their time. Workers may get few cents to few dollars depending upon the difficulty of the task they are attempting. It's like making money while shaping the future of artificial intelligence. Payments are processed on every Friday.
Payment Options – PayPal
Minimum Withdrawal Amount – $1
---
So this was all for this post. If you want to suggest any other good legit site , you can do it through comment.