In my last post, I discussed everything that a newbie wants to know about Microworkers Read here. Today, I am going to review another microjobs platform, Rapidworkers, which I recently received a payment from. Rapidworkers can be considered an alternative to Mturk and Microworkers. Even though there aren't many tasks to complete on Rapidworkers, it can still be a good place to make some extra cash.
In this post, I will cover the following topics –
What is Rapidworkers and How does it work?
Is it just another scam or a legitimate website?
How much one can earn at Rapidworkers?
How to withdraw from Rapidworkers?
Pros and Cons of Rapidworkers
Rapidworkers.com Support
How your location may affect your earnings?
Should You Join Rapidworkers?
---
1. What is Rapidworkers and How does it work?
Rapidworkers is a service of UnikScripts, Inc. and is free to join. The website is pretty similar to Microworkers and has almost the same working interface although Microworker's website is somewhat more innovative and professional. There are two kinds of people at Rapidworkers –
Employers –  Employers are the people who post tasks for workers. When a worker accepts and completes a task, the employer reviews the task and checks if the worker has done it correctly or not. If the employer is satisfied with the work then he rates the task as satisfied and pays money for that task. Employers get their work done here.
Workers – They are the people who complete tasks for money.


This is an example task. In the picture above- the employer is asking the worker to do a sign-up task. The task should take 3 minutes as shown in the picture above. The task is available for international members and 18 people have completed the task already. You get $0.10 for this task if completed successfully.
Employers post a variety of tasks including –
download a file, android or iOS app
Write a review
Like a Facebook or Twitter page
Comment/like a YouTube video
Sign Up tasks
Search and Click
You may also like – Microworkers Review with payment proof
---
2. Is Rapidworkers Scam or Legitimate Website?
Rapidworkers is definitely a legitimate platform to earn money. Recently I got paid from Rapidworkers within 1 day of the withdrawal request. Here is my Payment Proof –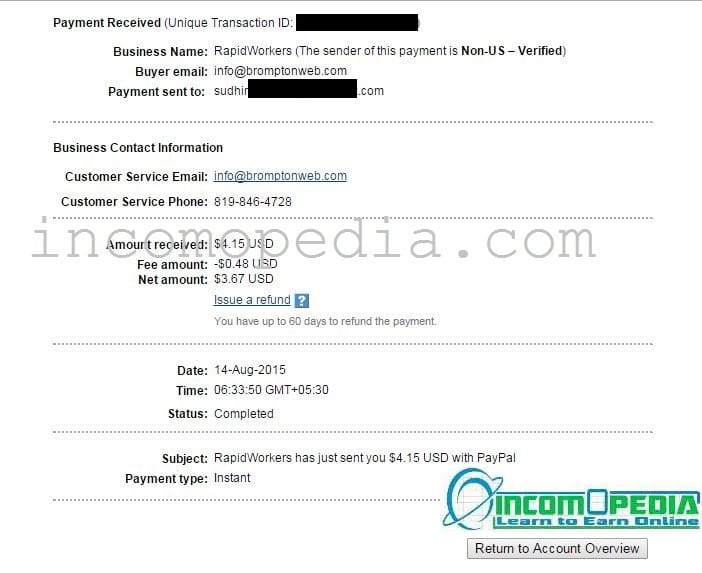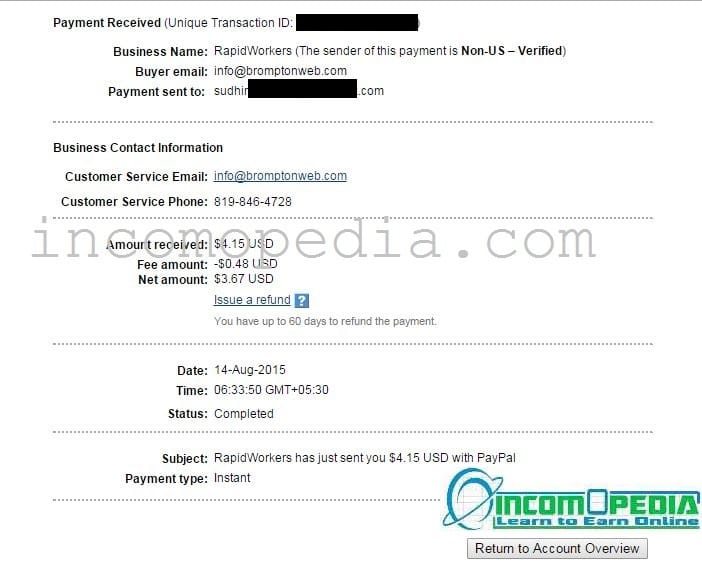 Here is another Payment proof that makes Rapidworkers a legitimate website –

You can even match the total withdrawal amount in this picture with the Paypal transaction in the first payment proof.
---
3. How Much Can You Earn With Rapidworkers?
That entirely depends upon your location, the time you give, and the skills you got. People from UK, USA, Australia, Canada, Norway, and NZ have always more opportunities and high-paying tasks. If you are from any other country then it's going to be certainly difficult for you. Still, you earn 1-3 USD per hour. You get $1 just for signing up.
---
4. How to Withdraw Earnings From Rapidworkers?
Payments are sent via PayPal & Skrill. Their withdrawal threshold is very low and that can be a real advantage for international members. You can place a withdrawal request if your balance is over $8.00 + 6% fees. Steps you need to follow for withdrawal-
Click the Support tab/Submit button/then select PayPal or Skrill Withdraw / enter the amount and email to send inbox. Payments are processed (Maximum 1 week after placing a withdrawal request}
You can also use your balance to start a campaign, i.e.,  no need to deposit money separately by credit card or Paypal to start a campaign.
---
5. Pros and Cons of Rapidworkers
Rapidworkers has several advantages over some other websites and some disadvantages as well.
Pros-
Quick start, no need to qualify for any assessment/test
Faster payment (within 1 week after placing the withdrawal request)
Free to join for all
Support popular Payment methods – Paypal and Skrill
The withdrawal limit is low ($8 )
Good support
They pay you $1 just for signing up
Cons-
You don't have a lot of jobs to do all the time
The website has an unprofessional look and lake some essential features
Lower pay rate compared to similar websites for most the tasks
A lot of negative reviews recently
---
6. How Your Location May Affect Your Earning?
People from UK, USA, Australia, Canada, Norway, and NZ have always more opportunities and high-paying jobs. If you are from any other country then your journey is going to be certainly difficult. You can see the difference in the picture below –
Tasks available to the USA workers-

Now see tasks available to International Workers-

Paying Rates here are dreadful.
---
Should You Join Rapidworkers?
There are better alternatives to Rapidworker like Clickworkers, UHRS, and Picoworkers you should consider. Rapidworkers is definitely not for people like me. I no longer recommend it especially after a lot of negative reviews about it recently. Only join it if you have nothing else to do. You can pick one of these 20 legitimate ways to make money online. Give Rapidworkers a shot in case you have no or little skills, choose tasks properly that you can finish, and share your earning experience through comments.