People have never stopped thinking about the ways to get rich quickly. No doubt, Joining Paid Survey Sites is one of the most popular way to make money online. And I hope you would be able to increase your earning double as much by following these tips.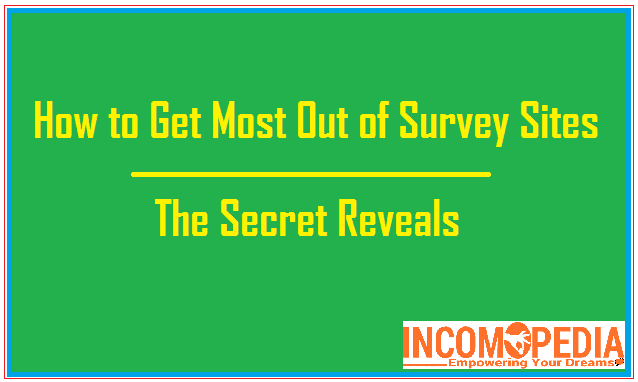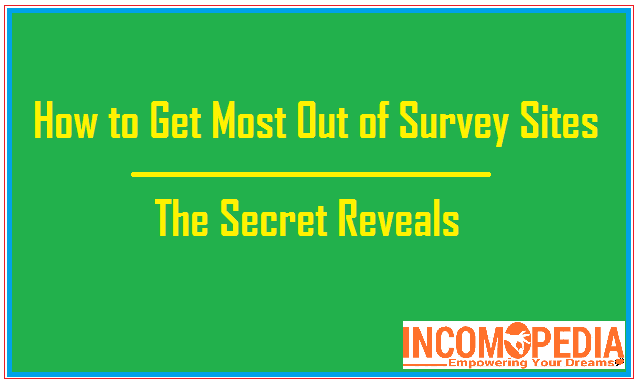 Out of 3 kinds of people who join paid survey sites, first kind of people join survey sites and hope they will make a lot of money but instead of making money they end up being scammed. If you are one of those, read my this post – How to search legitimate work-from-home online jobs .
Second type of people make research and join legitimate survey sites but get frustrated very soon on being disqualified  from those big money surveys and ultimately they put themselves out of this business. If you are one of them,  this post is for you. Yes, you are the one I am looking for, to make you the third kind of people who have a lot of patience, who are determined, organised, obstinate, disciplined and are the only(out of three types) who are currently making considerable money from survey sites.
In this article I will explain both ethical and unethical  ways to get qualified for almost all the survey invitations. Researchers spend a lot of money to get valuable feedbacks from you so don't you think you should answer their questions honestly. Believe me , for personal satisfaction , being honest is the best practice.
Get Most Out of Survey Sites without Lying
Like most of other jobs, a good strategy always helps in being optimized and efficient and at the end of the day making more money quicker from paid survey sites. Here are some tips –
---
1. Be Organised
Create a dedicated email ID for survey sites you wish to join. This will not only help you in keeping survey invitations separate from your personal things but also help later when you will need to search a particular email for information like the date you completed a survey or the date you applied for a reward. You can only understand the importance of these little information when you don't get reward for a survey or your withdrawal request is pending since last 2 months.
When you have many accounts on several survey sites , it becomes difficult to remember so many usernames and passwords. To avoid this problem you can use a free password manager or save passwords in browsers so that you can login quickly. Save your time by filling out form automatically using Chrome Autofill feature. To become more efficient, bookmark login pages of all your survey sites or Keep survey sites links at home screen of your browser.
---
2. Keep an Eye on Emails and Respond Quickly
Have you ever got any such message – "Thanks for your willingness to participate. Unfortunately, we have already filled our target response limit."  or "We have reached our target number of participants and the survey is now closed." This was because you were too late to respond. Researchers often target a specific area and specific no. of people for their study. For an example , a questionnaire requires 100 North Indian Males and you are a right match but If you don't respond quickly, another 100 matches will complete the survey and you will eventually be disqualified.
Turn on notification for new emails in your smartphone so that you never miss a survey invitation. You should check your inbox at least 5 times a day. Also keep checking  those survey sites manually for new surveys which don't send email notifications for new surveys. Take a survey on right time or someone else will. So moral of the story is "act fast or be ready to repent."
---
3. Keep Your Profiles Updated
Filling up all those profiles should be your first step after joining any survey site.  Tell them everything about you i.e. what devices you own, For what things you are sole decision maker etc.. If a surveyor requires car owners, how would he come to know that you are the right candidate for the survey if you have not provided this information that you own a car in your automobiles profile.
. It hardly takes 20 minutes to fill up all the profiles of a survey site and it gives you a huge long term benefit. These value added information help them choosing the right candidates for a survey.
---
4. Get to Know Your Family Members and Friends Better
Some survey websites like ViewFruits always give an opportunity to invite other family member or relative for a survey in case you are not eligible.


You can forward those survey links to any of your family member , friend or relative. Talk to your friends, family more often. Know their shopping habits, their likes/dislikes etc. Know what products they own and their reviews. It will help you to attempt a survey on behalf of them as it might not be possible for your friend/relative to sit in front of your monitor to complete the survey at that moment.
---
5. Increase Your Knowledge In Every Subject
Be versatile. Try different stuffs. Don't stick to just one brand. Read latest magazines. The more knowledge you have of different subjects, more survey you get qualified for and  lesser time you take to finish the survey. Also deep knowledge of subject makes you able to answer easily, provide valuable feedback and eventually fetches you more surveys. So try to make yourself accomplished in different subjects like automotive, IT, Internet things, Mobiles etc. to maximize your earning from survey sites.
---
6. Shop(Specially online) Whenever You get a Chance
People these days are making more of their purchases online than offline. Almost half of the total surveys I get are interested in knowing about my shopping experiences, habits and reviews about various online shopping portals. So Do shopping whenever you get a chance so that you have something to share in such surveys. If your friend needs a product, tell him that you will get it for him online. Also buy your household stuff yourself as it will enhance your knowledge about products, buying experience, latest trending models of those products etc.
---
7. Stay Informed about Current Events
Researchers often seek public opinions on current affairs specially about sports events. When something big happens, someone is always there who wants to know your opinions. For instance I was getting a lot of surveys from Nestle India during Maggi ban in India.  So stay updated with current affairs and be prepared to qualify for such surveys.
---
Make More Money by lying and Cheating on Surveys
Although you can make decent money from online survey following above tips but if you want to make more money, then qualifying surveys by lying comes into play. But remember one thing, When you qualify for a survey by lying on, it becomes really hard to answer throughout the survey because questions won't be relevant to you. The survey becomes boring and most importantly you might lose peace of mind.
Knowing the intention behind question from surveyor perspective can help you understand what answer you are to select for a given question to qualify a survey. Almost same kind of questions are given in the screening phase of a survey and those questions decide if you are a right candidate or not for the survey. So here are those few questions and intention of researchers behind them –
---
1. "Do you or anyone in your household work for any of the following organizations?"
This is a tricky question always asked from surveyor. If you select any of given industries, you will be eventually disqualified. Among the options you will find the industries like "Advertising agency", "Market research agency", "Public Relations",  or "Media" etc.  and the industry related to survey you are going to take.
Look at 6th option. Isn't it indicating that survey is about clothing/fashion and the researcher don't want you to belong to clothing industry because he knows you might give biased answers. Also if you belong to clothing industry, you can easily answer all fashion related questions even if you have never tried products being discussed in survey. Researcher would also be not interested in inviting persons from an advertising agency/media etc because they might misuse his advertisement video for their own benefits.
So Selecting "None of these" will take you to the next question.
---
2. "Are you the chief wage earner in your household?"
"Yes" works in most cases. Often the chief wage earner in the household are found to be sole decision makers or affect others buying decision at least. Decision makers are the persons researchers are interested in.
---
3. "What is the education level of the Chief Wage Earner in your household"
Don't select "illiterate" or "School up to 4 yrs or 5 to 9 yrs" as illiterate persons or very less educated people are usually not the desired candidates for any research.
---
4. "How often do you browse/access internet on any of your personal device? "
If survey is about online shopping or anything that has only to do with internet, Don't select "less than once a week" or "never" etc. for this question. You must be someone who browse/access internet at least once a day for qualifying the survey in my opinion. The reason is obvious. How can you be an online shopper if you have never ever accessed internet?
---
5. "Are you the primary shopper or (sole decision maker in purchasing) in the household?"
Why would a researcher waste his money to interview someone who has neither purchased nor have affected someone else decision in purchasing the object being discussed in the survey .
Although it would be difficult to complete a long survey about Washing Machine if you have never shopped one but you must select "Yes" in the answer of above question if you don't want yourself to get screened out of survey.
---
6. "The next time you purchase ______, will it be NEW or USED?"
This question is usually asked when the researcher(or a brand) is involved in manufacturing a new product. Higher are the chances that the product is not yet manufactured or if manufactured then not yet launched. They want to know public opinions what kind of features they are looking in their new product or how much money they are willing to spend for that product.
Always select "new" whenever they ask if you prefer a new or used, because they has nothing to do with the people interested in buying used stuff.
---
7. "Have you ever shopped online ?"
Your answer must be "yes". In almost all the cases this question is asked to check if you have shopped online or not. If you select "no" then you will be screened out from the survey because there will be nothing relevant left to you in rest of the survey.
---
8. "Which of these Brands would you Never consider purchasing?"
The question is tempting. Never say "no" to any brand on the list of options. Chances are that a brand on the list have been very bad to you in the past or you just hate a brand. You don't have to take out your anger on a brand while attempting a survey otherwise they might consider you prejudiced or narrow-minded who is not willing to welcome improvement at any cost.
---
I don't recommend lying on surveys in any way. Market researchers spend a lot of time and money to get valuable feedback. Believe me, true feedback are like Gems while developing any product.
So this was all for this post. Don't forget to share this article if you find it interesting.