Now when I am using Google Adsense since last 1 year, its right time to explain how I solved "Site does not comply with Google policies" problem when I was being rejected again and again. Believe me, It is worth making effort to get your blog approved by Google Adsense.  Adsense is much better and reliable than other advertising networks out there specially for small blogs. To maintain quality, Adsense has been very strict on reviewing blog in past couple of years.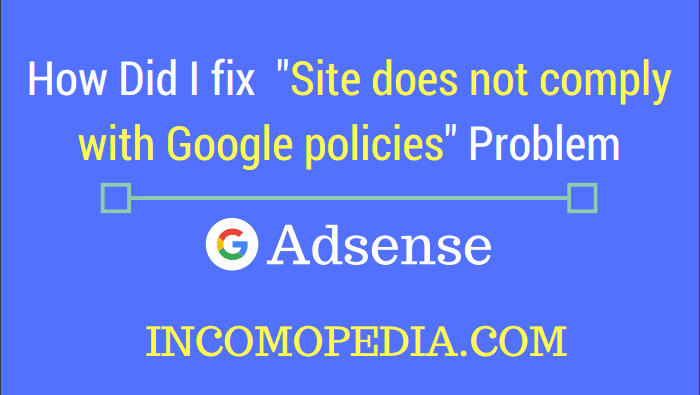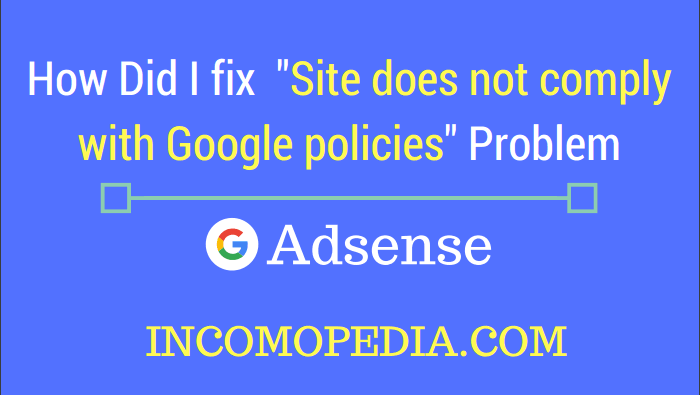 Let's have a look on this hint-less email I was getting often –
Hello,
Thank you for your interest in Google AdSense. Unfortunately, after reviewing your application, we're unable to accept you into AdSense at this time.
We did not approve your application for the reasons listed below.
Issues:
Site does not comply with Google policies
———————
Further detail:
Site does not comply with Google policies: We're unable to approve your AdSense application at this time because your site does not comply with the Google AdSense program policies or adhere to the Webmaster Quality guidelines. It's our goal to provide our advertisers sites that offer rich and meaningful content, receive organic traffic, and allow us to serve well-targeted ads to users. We believe that currently your site does not fulfill this criteria.
Actually the problem with this email is that it does not give exact information on what the problem is actually. But if you carefully examine your blog, You can find what is wrong with your blog. Before I tell you what was the problem in my case, let me explain the common 8 issues why Google Adsense might be rejecting your blog –
---
1. Copyrighted Content
You don't deserve making money by copying others content. Some people feel comfortable using images from google but that's not the case. If you use someone's content then at least give him proper credits. Google Adsense is very strict on copyrighted content so remove any copyrighted or plagiarized content before applying for Adsense.
---
2. Prohibited/illegal Content
Prohibited content includes Hacking or cracking content, Pornography related stuff, tobacco, drugs and alcohol related content, gambling content, weapons and violence related material or any other illegal content listed here. These types of content are just not acceptable. Period.
---
3. Important Pages(About Us, Privacy Policy, Contact Us)
Google might reject your application if you don't have some important pages that every site should have. Write About Us page and tell your readers and google what you do. You can generate a privacy policy page using online privacy policy generator. Don't forget to write Terms and Conditions page you are selling a product or service. Contact information(address, email or phone number) are very essential to build credibility and trust among your readers or consumers.
---
4. Unique and Quality Content
We already have discussed that copyrighted content is not acceptable. Write something unique that really add value to the internet. There is no point in discussing a topic that has already been written so many times on the web until you add your personal experiences to the post. Write posts in detail. Google likes lengthy and informative posts. Do not post reproduced content. Your blog must have original content and language that google support. Write great articles and link to great articles. Do not host bad outbound links to your website. It is not good for your reputation. Do not promote anything that hurts Google's Products.
---
5. Website Design (User Interface and Navigation)
Blog structure matters a lot. If your website is taking decades to load then it's neither useful for your readers nor any advertiser. Check your site score on site like GTmatrix and Google page speed insight and look for what is making your site slow. Google do not like broken links. Remove all the broken links from your blog. You can use online broken link checker or suitable plugin to do this. Use a clean and responsive theme with a lot of white space. Text/images should not be messy. Your Blog structure should deliver a good overall experience to your readers.
---
6. Website Traffic and its Sources
Some lucky people get approval with less than 100 views per day while established blogs getting 1000+ views per day face rejection. So I would say no. of visitors should not be your primary concern if you are facing the rejection. Make sure you are getting most of your traffic from search engines. Make sure you are not paying money to third party services to get visitors. You must not be using impression generation software, auto-surf program or anything else that is not a natural way of getting visitors to your post. Getting direct traffic from social media sites like Facebook is not a problem.
---
7. Website Age
Is your blog old enough to be get approved by Adsense? To insure quality and interest of advertisers, Adsense has introduced a rule for some countries like India and China that website must have been active for at least 6 months before you can apply. So this might be one of the reason why your application is being rejected.
---
8. Insufficient Content
Well, How much content is sufficient you think? A friend of mine got his blog approved when He was having only 6 posts while I was being rejected even after having around 60 posts. So personally I don't believe that quantity of content is Adsense's topmost priority. Just write some lengthy posts(1200+ words) because lengthy posts are supposed to have more information and thus more useful for readers. Pages should have sufficient text. Blogs based on mostly images, videos or Flash animations might not get approved.
---
How did I Fix "Site does not comply with Google policies" Problem?
I was getting 1500+ hits/day those days from 60+ blog posts. Most of blog posts were popular among ATC aspirants in India. My Adsense application had been rejected 5 times. I contacted a blogger friend who advised me to change theme. I was using the same Genesis child theme that I am using now. I did not follow his advise because I was quite sure that theme could not be problematic. My blog was following all the advises explained in the 8 points above so I was left with no hint about real problem.
Then one day I emailed a south Indian blogger about my problem. She analysed my blog and advised me to "add some technology or health related articles". 
I added 3 posts about stock market and technology on the very next day and applied for Adsense. Here is the reply that I was waiting for so long –

Now let me try to explain how it worked. May be I was writing articles on categories that Google did not had advertisers for. Yes, I am talking about "Niche". 
How Important is the Niche of Your Blog for Getting Adsense Approval?
For a moment, suppose you have a business about Insurances. Would you like to advertise on a blog that is nothing to do with Insurances? Not Obviously. Simply If your blog does not have content relevant to the Adsense advertiser's business then it's not useful for them in a way. So I would say Niche of the blog is really important. At least right niche can make Adsense approval extremely easy. Blogs about Finance, Insurance, retailers, travel, tourism and Education are more likely to get approved by Adsense.
Final words – Google simply wants you to behave naturally. Get natural traffic(organic traffic), natural likes, natural sharing, natural subscriptions and natural discussion. And this will happen only when you write unique, useful, interesting and engaging posts. Analyse your site based on above points and fix the problems you find to get approved. I am looking forward to hear your personal experience through comment box.