If you are wondering how to make money on Facebook, there are a lot of ways to do it. The good news for you is that Facebook has  2 billion+ monthly active users(as of June 2017). So You don't have to worry about traffic like Blog owners. Also It would be great to make some extra money from Facebook which we usually use for none other than killing time. Before we start discussing how you can use your Facebook account/page to make money, let discuss the strategy first that would help you to get started –
Strategy to Make Money On Facebook
Facebook is about connecting with people and Our strategy is to get a lot lot of Facebook page likes/Facebook Group Members or Facebook Friends. More the people connected with you on Facebook, more is the money you can make. Follow these steps do this –
Make Friends, a Lot of Friends 
First of all, make a Facebook Profile if you don't have one. Upload a great cover photo representing your personality. Fill up about section and every other details a good Facebook profile should have. Now Start making friends. Chat. Post interesting content. Always reply to comments and messages. Keep adding friends until you have 5000 friends. 5000 is the limit. You can't add anymore.
Create a Facebook Page and Get a lot of Likes 
At the very first, think about a topic your page will be about. Topic/Niche of Facebook page is very important and a factor that influences your earning. So choose it carefully. Topics such as insurance, Mortgage, Health, Technology might seem uninteresting but you will have a lot of products to promote with very high commission in these categories. On the other hand, Entertainment, Pages about jokes, viral photos are interesting but might affect your earning. Once you have a great topic in your mind, Do the following –
Create a page with captivating name. Attractive and Unique name will be an advantage.
Upload a good profile picture matching your topic/niche and a great cover photo.
Fill up about section with all the details.
Invite all your friends to like your page and ask friends to share your page on their wall.
Post great content. Post Viral photos, Videos, News(relevant to your niche/topic) that are most likely to be shared. Keep doing it regularly. You target should be of getting 10000 likes at least.
Create a Facebook Group and Get a lot of Members
Do the following to make a quality Facebook Group –
Create a Public Facebook Group and Add your friends to your Group
Ask your friends to invite their friends to group.
To maintain quality and to keep spam posts out, you must keep an eye on what members are trying to post. In order to do this, edit group setting. Click to check the box next to Post Approval and Save. Now no post will be appeared until you manually review and approve.
Post interesting content relevant to topic of the group. Keep doing it regularly. You have to add members as many as you can.
So now you have completed your to do list and are ready to make money with your Facebook account, Facebook page or Facebook group.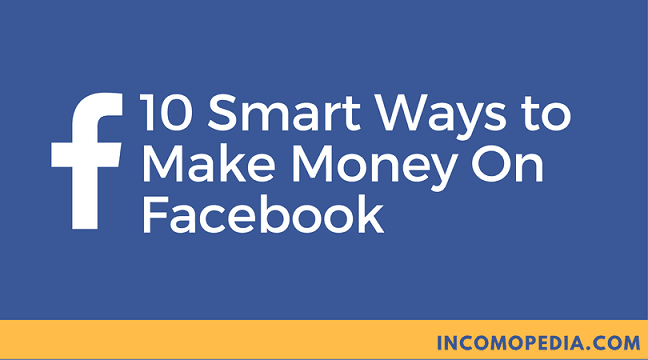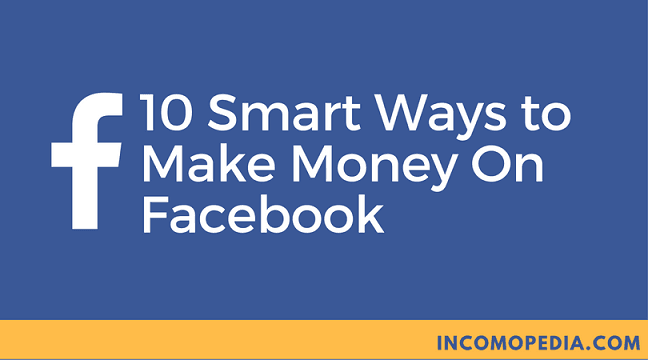 Let discuss how can you monetize your Facebook Assets –
10 Ways to Make Money on Facebook
1. Affiliate Marketing
Now when you have more than 10000 people on your Facebook page/Group, you can post your affiliate links and earn Commission if someone buy a product/service from your link. There are various good affiliate marketing programs out there which you can join and promote their products. Programs like Shareasale are even giving more than 50% as referral commission for some products. That means if someone buys a product worth INR 1000 through your affiliate link, you get INR 500+ in your account as commission.  Here is how to get started with Affiliate Marketing –
Sign up Some Good Affiliate Programs. Amazon Associate, ClickBank, Share a sale, eBay, Commission Junction are recommended.
Find products on these programs relevant to niche/topic of your Facebook page/group
Get affiliate links for relevant products and post on your page/group with suitable description
Always post links of relevant products to get good conversion rate and do not post too much links in a single day. 1 or 2 links a day I think will work well.
Do not forget to share interesting posts in between. I mean there should be a right kind of balance between affiliate links and other interesting posts. Otherwise you will end up losing your page likes.
Wait and watch. Every time someone buy a product/service from your link, you will get your commission transferred to your account. You can notice pattern and products your audience is buying  often and offer more suitable product next time.
2. Driving Facebook Page Traffic to Your Blog
Make a blog. Read how to create a blog and make money. Post blog's article links on your page/group and in this way you can send your Facebook page/group traffic on your blog/website. Now when you are getting visitors on your blog you have several ways to turn your traffic into money. If you do not want to set up a blog, you can contact people already having a blog/website to make an offer.
3. Develop Facebook Apps
Don't be scared by the title. It is not necessary that you can't make money without developing a complex and application oriented app like candy crush. You can make simple apps based upon an idea like Instafit, TimeEgg Timer etc. Let have a look what is there for Facebook App Developers. Visit Advertising Providers on Facebook Platform for App Developers . You can see there is a big list of advertisers to support your developing efforts. You have generally 2 options to make money from Facebook apps – In app purchases and Advertising. In app purchases is still the top revenue source for app developer.
4. Sponsored posts/Promote a Business
When you have a Facebook page with a lot of likes, you get offers from Business Owners or marketers. You get money to publish their posts on your page. So this is how you can promote a business on your Facebook page to earn money. More the likes you have on your page, more the money they would offer. You can build your relationship with Facebook marketers. Let them know you have a popular page.
5. Sponsored Likes and Shares
There are a lot of people doing this today. Go to outsourcing site like Fiverr and you will find some Gigs about likes and shares for Money. You can see how people are getting $5 for 100 likes/shares. If you have Facebook page with large Fan base then you can post your clients photos/photos/video to get likes and shares. This has become full time job for some people.
6. Become a Video Publisher on Facebook
YouTube is not the only way to make money by publishing a Video. Facebook has bring a new system to encourage the businesses to create video contents and host on Facebook. Create some good videos and upload on Facebook. When a user watch your video, he might see a pre-roll advertisement like we see on YouTube. To make it worth trying, Facebook is giving 55% of the revenue generated to the creator of the video and 45% will go to Facebook. Earning will depend on various factors like how many views your video got, how long viewers is watching etc.
7. Selling Your Own Products/ Facebook Store
If you have a store you can promote your own products on Facebook and generate revenue. Facebook has always been one of the favorite place for E commerce brands. What you need is to present right kind of products to right kind of audiences. With so many Facebook users, its easy to bring considerable positive effects to your business.
Facebook pages also have a "Store" Feature. You can create stores, upload your products details like price, features etc and then somehow the product will be added in the cart and user will be redirected to payment page. It requires some technical knowledge but you can use E commerce builder software to make the whole process easy.
8. Make Money Using Facebook Existing Apps
If you can't build a Facebook app yourself then No worries. There are already some apps there on Facebook which you can use to make money. EasySocialShop allow you to import all your products from online store to your Facebook page where you can offer products to your audiences. Add eBay Facebook App to Your FB account you will find your eBay listing on your Page to promote. Wasn't it easy way to promote products? You can use Facebook Store by Storeya to import products from your store under Store Tab on your Facebook page. There are other such apps which allow you to sell products in one or another way.
9. Become a Facebook Marketer/Influencer
If you have a large fan following on your Facebook profile and your views matters for your followers then you are a Facebook Influencer. But this happens when you have great knowledge about a specific industry. Facebook marketing has been one of the top ways for companies and small start up for promoting their businesses. Read about Ben Simkin, Curt Maly, Ryan Stewman and other popular Facebook marketers who have changed the whole game of online marketing. They all have made billions from Facebook marketing. Keep learning new things. Keep reading relevant blogs to acquire that level of knowledge about your industry.
10. Sell Your Facebook Page
Suppose you have tried all the above 9 methods but none worked for you. Don't be discouraged. You still have a last chance to make money. Your effort will not go in vein. Yes, you can sell your Facebook page and earn money. The money you get will depend on various factors such as the topic of your page and The location of your fans. If most of your fans belongs to Europeans or American countries then you can get a lot of money for your Facebook page. You can find buyers on forums.
How Much You Can Earn From Facebook?
A million dollar question. How much you can earn from Facebook page will depend upon various factors such as the Niche of Your Page, Targeted Audiences, Geographical location of your fans etc . As I have already told you that Pages about Insurances, mortgage, auto, health, products etc is likely to earn a lot of money while simple niche like entertainment, jokes, general issues will earn you the least. If you have large fan base from top tier's countries like USA, UK, Canada, Australia, then you might enjoy a lot of commission and money out of blogging. You just have to find suitable products according to your targeted audiences and you will see sales. Since your income will depend on sales and so many other factors its hard to tell exactly how much you can earn on Facebook in a month. It's really hard to give an exact number.
So it was all for this post. Share this post to help your friends. Stay tuned for the next post.