Financial security and independence has become more important than ever and investment in share/stock market can be good way to achieve financial goals. When you invest , you don't work for money  rather your money work and make more money for you. Investment can fight for you against inflation. I believe that you already have decided to invest in share market. Before you actually start this adventurous journey as an investor ,  you need to understand some basic concepts related to the stock  market.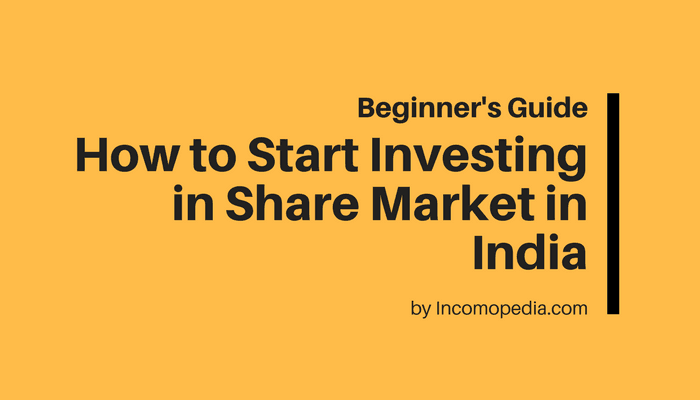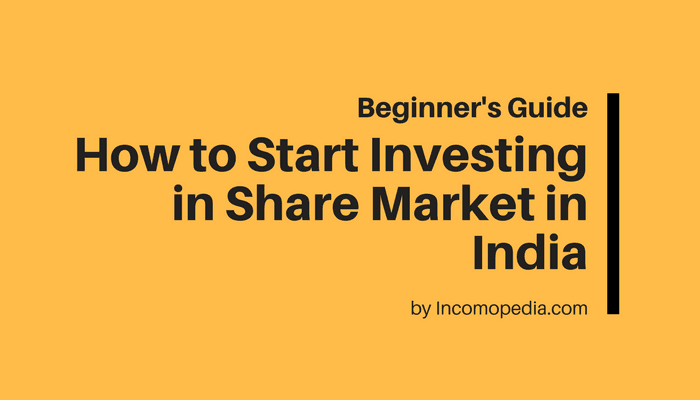 Here are some steps that need to be taken before you can buy Shares for the first time –
Get educated
Determine your financial goals and risks tolerance
Choose a broker
Get a Demat and Trading account
Do some Research work to Identify potential Stock/Shares
Invest
Before we get started Let me answer the question that beginners ask often – What is the minimum Amount I can start investing in share market ? Or minimum amount to enter in stock market ?  There is no specific minimum amount to enter in stock market. Although,  to start investing you need a Demat and Trading account which can cost you a little typically between 350  to 750 Rupees. In my opinion , 5000 Rupees is a good amount to enter and experiment. Even if you lose money, you will end up learning some hard lessons that will make you a better investor.
---
1. Get Educated
As a beginner you should learn some basic terminology used in share market to get an insight that will help you in making better and technically sound decisions about investment. You need to learn how stock market works , why stock prices go up and down and much more. Here are some terms that might help you to get started-
Stock exchange/share market –  an organisation which provides a platform for brokers and traders , to trade a company's share or other securities. Ex.- NSE(National Stock exchange) and BSE(Bombay stock exchange)
Outstanding shares – Total no. of shares of a company held by all of its investors.
Dividends – When growth of a company stabilizes , company can  choose to pay investors back in form of dividends.
Earning per share – Amount that a company earns per share of stock . for example – if a company makes 100 rupees and there are 10 shares outstanding , then one share will be of 10 rupees.
Market capitalization – It is used to get an insight about the size of a company. It is calculated by multiplying current share price and all the outstanding shares.
Read other important aspects and  terms of share market on internet or other reliable sources.
---
2. Determine your financial goals and risks tolerance
You must know what are you investing for. Do you want to buy a car or a home or save for retirement? How much do you have to invest and how much time you have to achieve your goals? Determining your financial goals will help you to make better investment plan and later you will choose the stocks accordingly. Be specific as much as possible while making the list of your financial goals .
Always remember that different risks are attached to investments. You must determine your risk tolerance level and know about what is at stake here. Now you can choose the type of stocks you want to invest in according to return you want. Choose volatile stocks (high risk stocks) for quick and high return or opt for blue chips stocks (low risk stocks) for long term investment.
---
3. Choose a Broker
You can't buy or sell shares/stocks yourself by directly going to stock exchange. You must go to someone who is authorized to do this and that someone is called a Broker. As per SEBI(Security and Exchange board of India) rules , only registered  brokers and sub-brokers are authorized to buy/sell stocks/shares and other securities.  There are more than 8000 brokers and sub-brokers out there registered with SEBI and that makes it difficult to choose a right broker for you. Here are some names of brokers in India –
ICICI Securities , HDFC Securities , Sharekhan , Indiabulls, Motilal Oswal Securities and   Kotak Securities (these are just names and not my recommendations , choose a broker only after a proper research work ) .
You can consider several factors while choosing a broker such as –
Type of a broker – Online/offline Broker | Discount broker | full service broker
Reputation and Quality of service
Brokerage/ Brokering rates –  Different brokers charge different brokering rates typically between 0.50% to 1.5 % when you make transaction. Choose one wisely because it can save you a lot your hard-earned money. According to SEBI guidelines , a broker can charge a maximum of 2.5%  as brokerage.
Flexibility and Convenience 
---
4. Get a Demat and Trading account
Your financials assets (securities or shares) are kept in electronic form and the place where the securities are kept , is called Demat account . Demat accounts is opened with DP (Depository Participant). DP works as an intermediary between you and depository. There are two depositories in India – NSDL (National Securities Depository Limited) and CDSL (Central Depository Services Limited) and more than 250 DPs are registered with them.
Actually you just need to visit the broker you selected in previous step. Often brokers also acts as DP and they provide both Demat and Trading account for you. Trading account is necessary for buying and selling shares.
Get these documents and Visit the Brokerage House for Demat and Trading account –
Proof of residence (Electricity bill/Driving licence/ration card etc)
Proof of identity (PAN card is must)
Bank account details (account statement/cancelled check)
Broker will provide a form for opening Demat and Trading account. Fill it carefully and sign it where ever required . With in a few days after applying , You will get your trading and membership passwords and other details by post and you will be able to login and buy and sell shares through the website or mobile app of your brokerage firm.
Some Brokers and Banks are also offering 3 in one account (Bank account, Demat account and Trading account). You an open all the 3 account with same entity.
---
5. Do proper research work to identify potential stock/shares
Although after opening Demat and Trading account , you can buy/sell shares but it is advised to do a proper research before making such decision. The share market keeps fluctuating and slight mistake will end up losing your money. Proper research is required to identify the stocks which can meet your financial needs.  Seek advise from someone who understand market better than you , may be your broker or a financial adviser . No wise investor invests without research.  People who invest blindly  often end up blaming share market and their fortune.
---
6. Invest
Once you have identified the stocks that can meet your financial goal , you can buy shares through website or mobile app or in some cases just by calling broker. Suppose you have picked up Idea Cellular to invest in 1500 Rupees. Then this is how it goes –
Suppose Current price of one share of Idea Cellular is  -150 Rupees
To spend 1500 Rupees , you have to buy 10 shares of Idea Cellular (150 * 10 =1500) .
The prices of stocks keep changing. Now its up to you whether you want to hold or sell your stocks.
If you sell your shares when the price of a share rises ,  say 160  then you end up earning 100 Rupees [(160 * 10=1600)-1500=100] and if you sell your shares when price of a share go down , say 140 then you end up losing 100 rupees [(140 * 10=1400)-1500= -100]
Note:- No brokerage and other charges were included in the example above.
---
Now you have shares  . What's next ? Yes , Its not the end. You have to monitor the market and manage your portfolio regularly. Buy and sell at right time. Be a good investor and best of luck for your journey.