Searching for data entry jobs online? Well look no further. Digitize India(DEiTY) is an initiative of government of India which offers an opportunity for government agencies to transform themselves into digital enterprises and for digital contributors (people like us) to make money online by doing simple data entry work.
Digitize India Platform (DIP) works under Digital India Programme to provide digitization services for scanned document images/physical documents for any organization. They just want to make all the existing content( in different formats and media, languages) usable.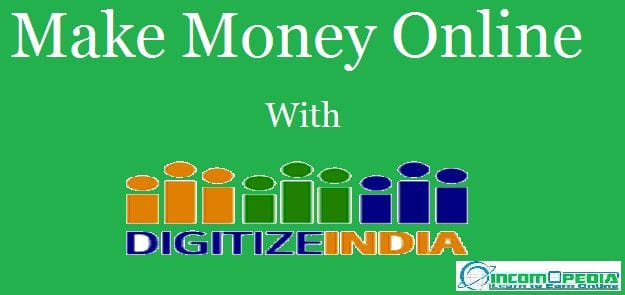 For doing this DIP provides a secure and automated platform for processing and extracting relevant data from document images in a format that is further used for meta-data tagging, IT application processing and analysis. You probably have heard of some other popular crowd sourcing platforms before like Mturk, Microworkers etc , DEiTY works similarly.
You simply type the word which appears on your screen exactly like Captcha typing jobs although here they are called Snippets.
---
How DIP works?
Digital India Platform helps digitizing the documents for willing Govt. organisations. The whole Process takes following steps-
Digital India Platform collects  scanned images from the various Govt. organisations and shred images into snippets with meaning full data.
These snippets are randomly served to the contributors.
Contributors  type the words shown in Snippets.
A match engine check if contributor typed the right word.
Correct entries get reward points for each correct words digitized.
DIP innovative system organizes the snippet text digitized by contributors.
Document are re-assembled and provided back to the organizations
---
Who Can become a Digital Contributor?
Any Indian Citizen who fulfills following prerequisites can apply. A valid Aadhar number is mandatory for sign-up process.
Basic computer literacy
Aadhar number
Bank Account linked to your Aadhaar number
Access to internet
Access to any smart device ( to download their app)
---
How to Make Money online with Digitize India ?
Sign up – Sign up here to become digital agent. Fill all the details such as full name, email , phone number etc on sign up form and submit the form. System will validate your Aadhar number before signing up.
Log into your account by entering username/email and password. You will be redirected to your account dashboard where you will see the available snippet and your work records.
Complete your Profile by clicking on My account on the right top corner.  Complete basic profile by entering valid information such as your state, district, Pin-code, academics etc. Incomplete profile may lead to suspension of your account.
Complete Bank Profile. If your Aadhar is already linked to your bank account then click on Check Status button. The system will automatically verify the bank details. Otherwise go to your bank and get your Aadhar linked to your bank account. This is the only way how it works.
Work and Earn – Go to dashboard and see if any snippet is available to work on.  Once your work will get approved, you will receive points. Usually they provide details of No. of captcha you entered, your accuracy after 1-2 days and you receive your reward after 4-5 days  for that. You can check your earning by clicking on Rewards and redeem your points there. Reward rate is 2 Paisa per character , although your earnings depend on your accuracy levels and speed.
---
How to Redeem/withdraw Your Points From Digitize India Platform
There are two things you can do with your points. You can donate your points being a volunteer or you can redeem/withdraw your points for cash. Here is the process of withdrawing money from your Digitize India Account –
Update Your Bank Profile – Login to your Digitize India Platform. Hover mouse cursor on "My Account" and click on Bank Profile. You don't need to give your account details like account holder name, account number and IFSC etc , just click on "check status" button there. If your Aadhar is seeded into your bank account, it will pickup all the bank details automatically and will show you with what bank account your Aadhar is linked otherwise it will show Error : Aadhaar number is not available. 
Note: If you have not attached your Aadhar with your bank I would suggest you to link your Aadhar through your online internet banking account. Once you submit your Aadhar details in your internet banking account , they will send a message on your registered mobile number that your Aadhar has been seeded into your bank account successfully. Now login back to your Digitize India Account and check status. I hope I will work.
Set a Transaction PIN – Transaction PIN is a 4 digit code you have to insert each and every time while redeeming your points . To set it, click on "Transaction Pin" from My Account Tab. Now click on "Generate OTP" button. An OTP(one time password) will be sent to your registered mobile number. Submit OTP ,  set a transaction PIN and save it after captcha verification.
Redeem Your Point – Click on "Rewards" in order to withdraw your money from Digitize India Account. Further click on "Redeem Your Points" button from the info panel at the right side of screen. Insert the no. of points you want to redeem in the form , add a remark , insert your wallet pin , if you insert correct wallet pin it will show status as correct. Finally click on Submit. That's all you need to do. 
Note: Remember 2 things here. You can't redeem twice in a month and Minimum withdrawal limit of Digitize India Platform is 2500 points. I mean you need to have at least 2500 points to be able to withdraw your money to your bank account.
---
Payment Proof of Digitize India
There were so many comments that Digitize India is not sending their payment in Bank account. So one day I typed 3395 snippets with an accuracy of 86 to collect 3064 reward points. I applied for withdrawal (2500 Reward Points) on 10th October, 2016.


After waiting  23 days, Digitize India deposited my Payment in my bank account on 3rd November, 2016. Here is the screenshot of my internet banking account –

People who have not received payment yet,  please stop checking payment status in your DIP account. It might keep showing status as "initiated" even after they have paid you.  Either Open your internet banking account and check all the transactions or get your bank passbook printed. Also remember, you might not get Bank Transaction SMS in your registered mobile number.
How many days you should wait to get your money from Digitize India ?
Believe me, Waiting 30 days for payment is not a big deal. Many of sites take 4 to 6 weeks in order to make payments . So have a lot of patience and keep working. This is how it works online.
---
How much money one can earn from Digitize India Platform ?
Well it depends on your typing speed, accuracy and internet connection speed. An average person can earn 2500 reward points typing 1 and half hour. As you already know 2500 reward points are worth INR 50. So at this rate, one can make about INR 8000 every month by typing 7-8 hours everyday.
---
"Snippets Have Exhausted. Please Try Again Later" Solution
Everyone is facing the same problem "snippets have exhausted. please try again later". Is there any solution to this problem? No, Because problem is at Digitize India's end which you don't have control over. They can only send you snippets when they have documents to be digitized and this will only happen when govt. agencies will be interested in putting their data online. There are not many large-scale digitization projects have been successful in India in the past. What you can do is only wait, untill they have something to offer you.
---
Solution of Your Connection is Not Private Error
First of all, You do not need to worry about error since it's not a big issue. Any https site would give this error if its SSL certificate has been expired. If you are using Chrome browser and facing this error, click on Advanced on the error page. Some additional information will be shown. Now Click on Proceed to digitizeindia.gov.in (unsafe). That's it. You will be redirected to digitize India Platform. If you are using Firefox then, click on Advanced and then click on Add Exception button.
---
A WORD OF ADVICE
Writing this in October,2015 many people have complained of not receiving enough work. This may be due to the fact that this is a new project. For any query related to Digitize India Platform contact them directly.
Update: digitizeindia.gov.in is not opening since last couple of days and Giving HTTP ERROR 500. This is a server side problem and only they can solve it. Everything is alright now. Working smoothly.