"Online Work From Home Jobs" is one of the top searched keywords in Google. People want to do their jobs in the comfort of their own homes .  You will come across numberless jobs online requiring different skill sets; of which you can choose the best one which suits your needs.
Finding a job online is not that difficult  but how sure are you about being paid , that's the main thing.  There are too many sites offering online work but most seems to be scam or not genuine. So the idea behind this article is to guide you about how to do a proper research work before trying any online work.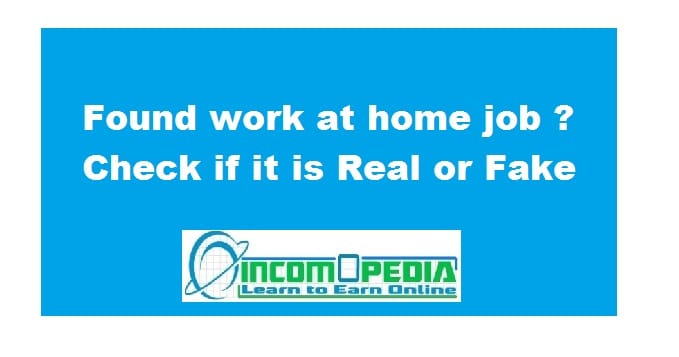 "Current scam ratio is '61 for 1′ that means you have to find that 1 legitimate site from 61."
Many people quit working from home because they cannot find a legit job. Hence, I wrote down this article to help you finding a genuine home job.
Here are some tips:
---
1.  Google Search Terms | Art of Googling
When you use an online search engine, different phrases will get you dramatically different results.
On Google, for example, the search phrase "work from home" produces over 3,38,00,00,000 hits, while the phrase "this is a telecommuting position" turns up only 5,41,000. The difference is because scammers often use the phrase "work from home" as their hook. Be specific as much as possible while searching informations on google and use advance search options if you need.
Following are just a few examples of "good" and "bad" search phrases.
Bad search terms:
"work at home"
"work from home"
"work at home jobs"
"free online jobs"
"part-time jobs"
"home business opportunity"
Good search terms:
"must have home office"
"this is a freelance position"
"this is a telecommuting position"
"will have the option to work from home"
---
2. Beware of Scams| Some clear sign of work-at-home Scams
Here are some clear signs of work at home scams-
-The offer is too good to be true
-The Next 3 People to Click… OR Free Today Only!
-You didn't contact them, they contacted you
-The pay is too high for very little work , nature of the work or the time commitment.
-You're required to pay for more information
-The ad says "no experience necessary."
-Vague Job Requirements and Job Description
-The company's website is hosted by a free hosting website
-Unprofessional Emails (spelling mistakes in emails)
-Asking for registration fee or training kit to start work
---
3. Start Discussing with the members of  Communities/forums
Forums are the  best places to check opinions of others about your finding. You could start joining forums and discussion boards where others just like you are searching for a home job.
You can ask your questions and get an insight about how other people think about home jobs. People who are already working might be able to tell you more about these jobs.
---
4. Distinguishing Between a Genuine Company and Fraud
As I said earlier you have to differentiate between a genuine site offering a home job and a fraud. Look for following informations to do that :-
– Check out company's website and look for contact page. The company must have an address with phone number to be genuine.
– Genuine websites also have some other important pages- disclaimer, terms of use, privacy policy , terms and conditions etc
– Genuine work at home jobs don't require you to pay registration fee (usually)
– Reviews are the best help . Search what other people say about company. If there are too much negative reviews , the company might be fake.
---
5. Use Google Advance Search , shortcuts and Research Each & Every Website
Now you have to get more technical and use Google search to research more about home jobs. You have to use specific keywords , combination of keywords and search everything related to home jobs. Doing this you will be more specific about your search.
Suppose if you have to check out if incomopedia.com is genuine or fake , then start searching with negative keywords such as-
"incomopedia.com is fake"
"incomopedia is fraud"  etc.
this will lead to generate search results having negative comments of people about the website. If there are too much negative comments then its a matter of concern.
Similarly you can use Google advanced search shortcuts-
operator jobs -newyork  – google will find the pages that have the word operator jobs but NOT the word newyork 
"operator jobs in london" – finds page that have the exact phrase operator jobs in london
there are many more such shortcuts, I will list them in my post some other day.
For research work , you have to read a lot of reviews online. Use reliable resources of informations. Use your mind and common sense to differentiate real and fake.
---
6. Network like Crazy , Be Proactive ,Go Out of Your Home And Enquire
Many of  job seekers today are not networking enough. Get out of the house and network like crazy. Create nice profile on professional networks like Linkedin and Monster. Contact former employers, colleagues who are familiar with your expertise and quality of work and make new friends on social media. Many of the people you meet can provide introductions to key employees at a target company. Doing this is much better than hoping that your resume will catch the employer's eye on its own.
---