Do you know you can even sell a dead phone online for cash? Yes, there are a few websites where you can sell old and used gadgets for cash. This brings up a question –
What Do They Do With Old Phones They Buy?
Here is the answer. You want to get rid of your old phone but there might be many others who are interested in buying second hand phones. These websites refurbish and rectify the issues an old device have and then resell it to retailers so that they can be sold to people who are looking for second hand phones.
But what about a dead phone? Once data is wiped, the phone is examined very closely to assess any reusability or remaining potential of electronics. Phone is tried to give a life. After thorough inspection if device is not found to be reusable and repairable then it is sent for recycling in a scientific and environmental friendly manner. 82% of India's e-waste is personal devices and must be disposed and recycled in correct way.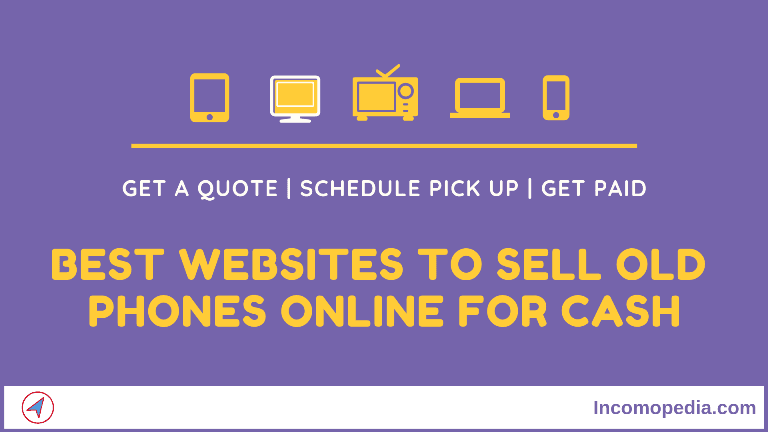 Okey. Without wasting any more time let's see how these websites work. Selling an old phone or other electronic gadget on most sites generally involves 3 steps –
Get Selling Price of Your Device – Select a device you want to sell. Select brand and model of the device. They will asks a few questions about condition of your device like how old your device is, Is wifi working, Does the device turn on, Does the body of device have any scratches or dents etc. Once the short questionnaire is complete, you will be given a price quote based on the overall condition and market price of your Device.
Schedule Pick Up – Tell them the time and date when they should come and pick up the device. Provide your address. Their representative will inspect your device at the time of pick up.
Get Paid – Different websites have different payout options. Most allow instant Cash at the time of pick up. Some websites also offer bank transfer, Cheque, gift cards etc.
Here are 5 best websites to sell used phones online for cash – 
---
1. Cashify
Cashify, with 2 million+ users has given more than 873 Crore cash for over 2 millions used gadgets, is unarguably one of the best website to sell used gadgets like Mobiles, laptops, Tv, gaming consoles etc. Some popular companies like Samsung, HP, Amazon, Apple, MI and Paytm are their exchange partners.
Selling an old phone on cashify is simple. Just answer a few questions about condition of your phone to get a price and schedule a free pick up. One of their representative will come to your address and evaluate physical condition of the phone. If it matches the condition you mentioned earlier on their website, then he will pay you in cash or you can choose to get your money via a different payment method(Paytm, UPI and Instant Bank Transfer). You can also download their app to evaluate phone price with inbuilt feature.
I prefer cashify because you get your phone priced more than on any other site and you get 6% extra if you choose to get paid via Amazon Pay. The only drawback is that their service is currently available only in 24 cities.
Sell Your Used Phone On Cashify
---
2. Instacash
Instacash is currently operating in 19 cities i.e. Jaipur, Chandigarh, Surat, Pune, Delhi, Faridabad, Gurgaon, Noida, Mumbai, Bangalore, Hyderabad, Chennai, Kolkata, Patna, Mysore, Vijayawada, Hubli, Ahmedabad and Gandhinagar. There also work in Malaysia and Singapore. You can get paid at the time of pick up via Paytm, IMPS and NEFT whatever you prefer. Instacash charges for pick up. You can install their app that have an smart algorithm to diagnose phone and it's functionality to evaluate the worth of your phone. Instacash accepts dead phones too.
---
3. Karma Recycling
Best thing about Karma Recycling is that they accept all phones no matter it's working or dead. So far they have bought more than 557133 devices and have paid out 15+ Crores Rupees to their customers. They buy old or dead Smartphones, Laptops, Iphones and Ipads. Karma Recycling is licensed collector and seggregator of electronic waste by Govt. Of India.
Once your phone is picked up, it will be sent to their warehouse and inspected. If approved, payment will be sent to you NEFT or Cheque whatever you selected with in 6-10 days. The whole process can take a maximum of 21 days. They are currently operating in major 19 cities.
recycledevice.com is another similar website which also accepts dead and bricked phones if you are looking for an alternative.
Sell Used Smartphone on Karma Recycling
---
4. Flipkart
You can not directly sell old phone on flipkart for cash but you can exchange your old phone while buying a new phone on Flipkart. It's another way to get rid of old phone. The best thing about flipkart is that they almost provide their pick up service in almost all the cities in country.
While you browse a new phone on flipkart, you will see an exchange offer. Click on it. Tell about your phone. Verify IMEI number. They will apply an instant discount on new phone. Place order. New phone will be shipped. You have to hand over the old phone to the agent at the time of delivery. Agent will perform some basic checks and if found it eligible for exchange then will give you the new phone you ordered. If not still you can get the phone you ordered by paying extra amount they discounted for your old phone.
---
5. Olx and Quikr
Both are big, popular and very much similar websites in terms of concept. Both provides a platform where seller and buyer can connect to each other. In order to sell an old phone on Olx or Quikr, you first have to list your phone on their websites with all the details about phone. Obviously you have to tell where do you live so that whenever a potential buyer living around you searches for old phones, your listing shows up and he can contact with you. Fix a meeting with buyer. Buyer examines the phone. If he likes the phone, you get the money. In other words, the olx and quikr help your product to attract potential buyers. There are some pros and cons associated with this process. Let's see cons first –
It might take longer to find a right buyer.
You will need to pick up every phone call and convince buyer
Negotiation/bargaining involved.
Now are some advantages –
Chances are that your phone will be priced more than any other website on this list
You can set your own price
You can literally sell anything
---
Best strategy will be trying out all sites in the list to get a quote for your phone and selling to whoever is offering the highest price.
This was all for now. If you loved the post, show me little love by sharing the post.