AAI in order to mitigate the chronic issue of ATC Officers' shortage, held the Junior Executive (ATC) or simply JE-ATC exam on 24 April 2016 against the advt no. 07/2015. Total 200 JE-ATC Officers are to be recruited against the Advt 07/2015. JE-ATC exam is quite different from the other PSU Exams (in which a particular branch is eligible). For JE-ATC post candidates of all branches of B.E./B.Tech. and B.Sc. (Maths. and Physics as two of the main subjects)are allowed which results in a diversified syllabus for the exam along with no clear cut directive from AAI in this regard. Candidates have to manage of their own with speculation about level of the questions to be asked in the exam. Last year the level of exam was quite okay with cut-off marks soaring to 62-76 marks (depending on the category).
AAI JE-ATC Exam 2016 Analysis:
Based on the inputs from candidates who appeared in the exam, I have following points to share:
Exam was much tougher than the JE-ATC exams held in 2015.
Candidates found the tech portion quite tougher and Physics Section, to be specific.
Rather than Theory (a trend observed in last two JE-ATC Exam) Physics portions was primarily focussed on numericals.
Because of time-consuming Technical portion candidates were running short of time and hence found it difficult to complete the non-tech portion.
Numerical Ability questions were of good level, instead of basic level that were there in Dec'2015 JE-ATC Exam.
AAI JE-ATC Exam Cut-Off Marks Analysis:
Based on all these inputs, I am expecting that there will be a dip in the cut-off marks, although I still have this premonition that reduction in marks will be small. So the category-wise cut-off analysis as per INCOMOPEDIA is as:
General: 70-74
OBC: 68-72
SC: 62-66
ST: 57-61
Note: This are the expected cut-off marks as per Incomopedia, the real cut-off may vary depending upon the requirement of AAI and performance of candidates in the exam. Incomopedia wishes good luck to all the candidates who appeared in the exam and wish to be a part of Airports Authority of India by joining one the most challenging profession in the world.
ATC Exam Final and Real Cut off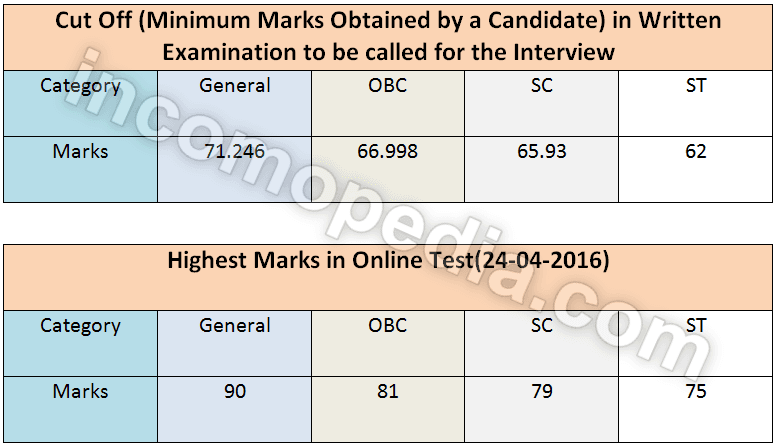 You can see there is not much difference between real and our expected cut off marks. Here are some other stats about this exam you might find useful –
2100 Students were called for the Interview
114 was the Highest score (written+Interview)
Hope you find this analysis useful.