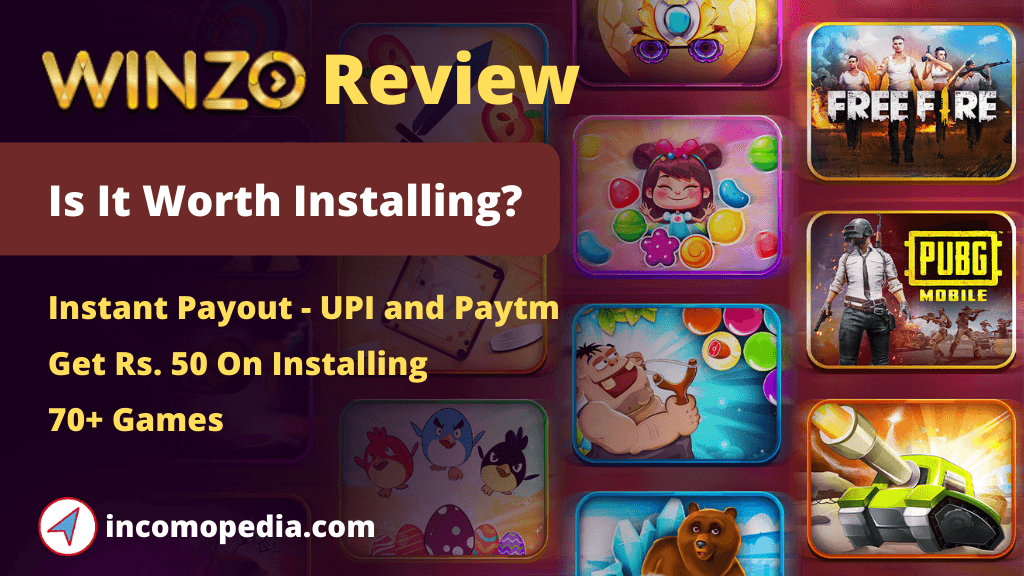 Winzo with 1.2+ Crore users is an award winning app I have been regular user of since 2018 and It has never disappointed me in terms of rewards. The app keep coming with something new regularly. Winzo have 70+ interesting and popular games like  Rummy, FreeFire, PUBG, Carrom, Cricket, Quizzes and Mr. Racer you can play and compete with others to make money. This is kind of app if you work hard can earn you up to Lakh per month. One of the best thing about this app that they pay instantly via various popular payout options like UPI, Paytm and bank transfer. In this review, we will learn following things about Winzo –
What is Winzo? Is it Genuine or Fake?
How to Download and Join Winzo to Get Joining Bonus(50 Rupees)
Winzo Game Formats
How to Make Money From Winzo
How Much One Can Make from Winzo in a Month
Winzo Payout Options and Minimum Withdrawal Amount
Winzo Payment Proofs
What is Winzo and Does it really Pay?
Winzo App is an award winning social gaming platform where you can play different interesting games, compete with other players and win real money. It is operated by TicTok Skill Games Private Limited and have more than 1.2 crore users. Winzo was founded in 2016 and since then they have paid more than 200 crores as rewards to its users. Winzo is 100% percent legal and genuine and not only once, I have been paid several times by Winzo via bank and Paytm Wallet deposit. I have also added Payment Proofs at the end of this post. In 2019 they also raised a capital of $5 million from Hike and Kalaari Capital.
How to Download and Join Winzo to Get Joining Bonus
Winzo is not on available for download on playstore. Follow these instructions to download, install and join Winzo –
Download Winzo Apk file
Allow third party app installation if you have not already.
Once the file is downloaded, tap file to Install. Open the app. Fill up your details. Verify Phone number. Use refer code SUD890DB  while signing up to get joining bonus 50 Rupees.
Winzo Game Formats
One good thing about Winzo is that they host different types of skill games in different formats users can play and win real cash. Once you are registered, log into Winzo with your phone number. You will see different game formats at homepage-
WinzoBaazi
There are 30+ games in Winzobaazi section. In this format you get a chance to compete against other players in real time. Some games can be played by only 2 players like carrom while some can have multiplayer. When you tap a game, you are assigned a table and other players can join the table. Boot amount(entry fee) is collected from all players. Game started and everyone try their best to score the highest. Total boot amount after Winzo commission is transferred to winner's(one with highest score) wallet.
World War
Three criteria represents Winzo World War Format – No. of Teams, Number of Entries and Scoring Format. Let's understand these. Scoring formats can be different. For an example – If you see High Score Counts written on a game, it means only highest score will considered and added to your team score. If you see All Score Counts, it means score in every attempt will be considered and added to your team score. Similarly No. of Teams represents how many teams are participating in a game. In a Single Entry game, you will have unlimited retries with the entry fee while in Multiple Entry game you can only play thrice. For additional retry you will need to make a small payment.
This format is somewhat similar you found in those fantasy games where Multiple teams/players across the country try to reach on the top of a leaderboard to win big cash. You can check your position and prize distributed on World War leaderboard. Your every attempt in different games will be counted to rank you on leaderboard during a day, week and month. Why don't you try it yourself? Because you can play first 2 games(where entry fee is 5 Rupees) for free. 
Versus(V/S)
As name suggests, Winzo will find an opponent for you and you are supposed to score higher to win cash. You can see players around you based on location and challenge them in a game.
How to Make Money From Winzo
Winzo offers different types of opportunities to make money. When you join, You get 50 Rupees joining bonus which you can use to begin a rewarding journey. There are 3 major ways one can earn money from Winzo –
Playing Games
What can be better than making money while playing favorite time pass games. Winzo is all about playing games and making money. You have learned about various game formats in previous point. You will need to deposit money in order to play a game against other players. But you get handsome cashback on adding money to Winzo wallet. Boot amount is the entry fee required to start a game. Since there are so many games, you should play a game you are best at. Tap on a game you want to play and select a boot amount. Winzo will find you an opponent and collect same boot amount from another player. One with highest score in the game will be declared as winner and gets total boot amount(after Winzo commission) collected from all players in the game. Winnings can be redeemed later or used to pay as boot amount for other games. I would suggest you to start with lower boot amount and goes higher once you become expert in the game.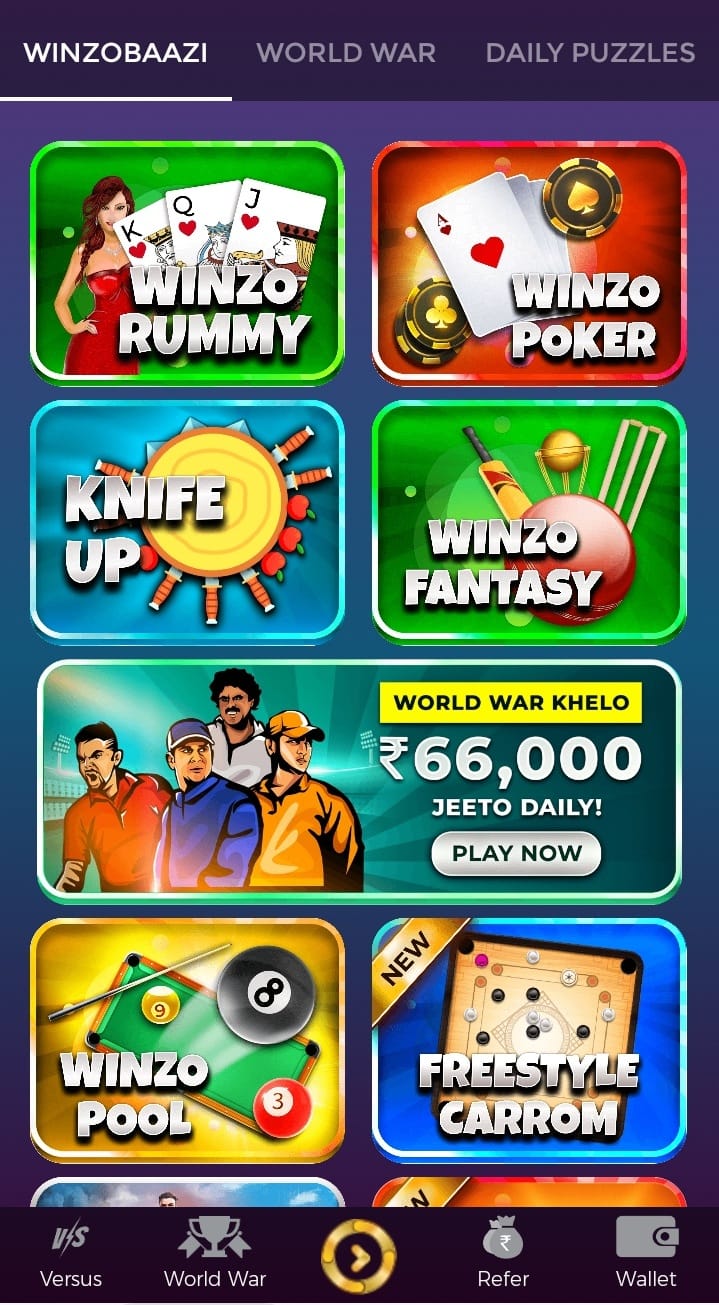 Lending Money
On lending money page, you will see public money borrow requests. If you see '10 for 5′ that means, player will return you 10 rupees if you lend him 5 rupees. There are people who are willing to play but don't have money. You can lend money to others in Winzo. Borrowers will not be able to withdraw money until they pay lenders back. Once they have enough amount in their account, borrowed amount will be deducted and deposited in lenders account. Note – If you give them your money and they lose or quit the Winzo forever, Winzo will not be responsible for recovery of your money. You can also post borrow request if you need money to play and win.
Inviting Friends
Another way to earn with Winzo is by inviting friends. When your friends install Winzo with your link/code and verify, you get referral bonus. When they add money in their Winzo wallet, you also get cash. When your friends play 10 games, you get money again. This can be a big opportunity for those who have a big network of friends.
Also Read : Best Quiz Apps In India
How Much One Can Make from Winzo in a Month
There are people who are only losing and then there are who are earning as much as a regular job from Winzo. How much you can make from Winzo pretty much depends upon your gaming skills. Only play games you are really good at with higher boot amount. Apart from this, their referral system is good if you have a strong network of friends or a medium like YouTube channel.
Winzo Payout Options and Minimum Payment Threshold
Winzo so far has paid more than 200 crore to its users. There are currently 3 withdrawal options available – Paytm, UPI and Bank Transfer . You need to have at least 3 Rupees in your Winzo wallet to place a withdrawal request. Payouts are processed instantly at least in case you use Paytm or UPI. I have not yet tried Bank Transfer. Winzo charges 5% of withdrawal amount as withdrawal fee. You can only withdraw winnings. Unplayed amount and cash bonus can only be used to play games so that you can win and later withdraw winnings.
Minimum Payout threshold for referral earning is kept 10 Rupees for Paytm and at least 30 Rupees for UPI. You can place only one payment request in 24 hours.
Winzo Payment Proofs
I have been paid more than 50 times by Winzo. Weather it's a working day or a holiday, their payment system does not need manual intervention and payouts that's why are processed instantly. Check out these payments I have received from Winzo –
Winzo Payment Proof UPI/Bank Transfer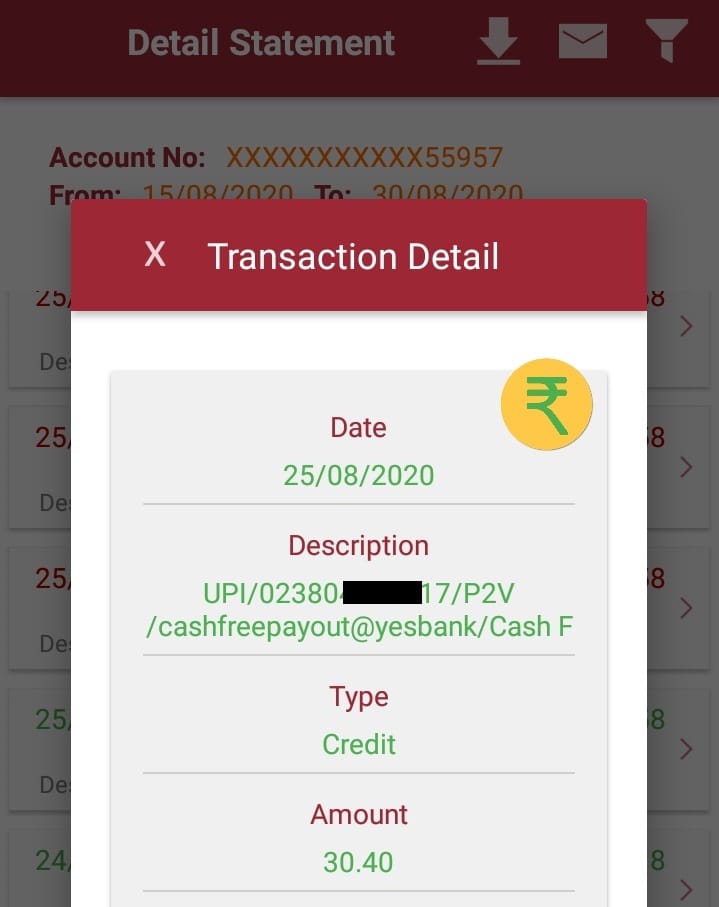 Winzo Payment Proof Paytm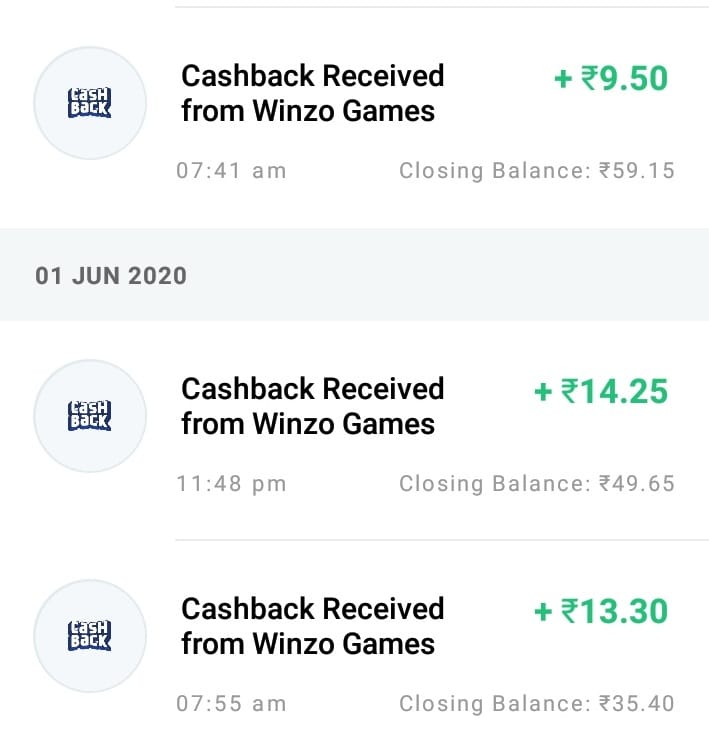 This is all for now. Share this post on social networks if you find it useful.