I have been a printing student and I know the importance of summer  training reports. The objective of training is to impart basic knowledge and skills to freshers. Students need to know how all the operations are performed in large organisations and what will be they responsible for after joining the companies.
The best thing about Industrial training is that it provides an opportunity to students where they can put the knowledge into practice they have acquired through books over the time.  At the end of the day , an engineer have to be there in the respective industry and it will be easy to identify the real work problem and troubleshooting them in a professional way.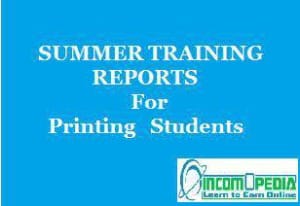 If you are going through training or have finished training in a printing press, you are at right place. Now you have to prepare a training report to present before professor to  show what have you learned in your training  and more importantly to get some marks. Usually students go for training in groups so its not hard to prepare a training report but the whole idea of uploading these reports is to show some demo's how training reports looks like and where to start and to give you a push.
Most of training reports here are of North Indian Presses but soon we will try to cover whole Indian Presses.
---
Industrial Training Reports
Azad Offset Printers (Chandigarh)
Hindustan Times/ HT Media (Noida)
International Print-O-Pac / IPP (Noida)
Infinity PrintSmith (Faridabad)
Mansa Print & Publisher Limited (Himachal pradesh)
---