It's a no matter of discussion how important an Internship is. We already have talked a lot about that. Its very difficult to choose a website when you have millions of search results for a single keyword. We have compiled a list of best 20 websites out there to find the right Internship opportunity in India.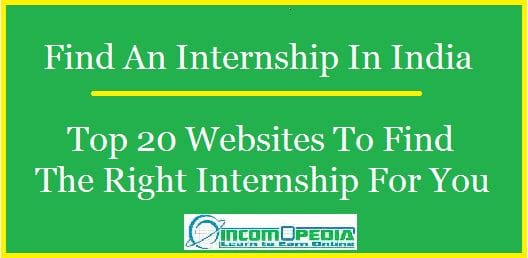 Here is my list :
One of the leading sites providing paid internships. Its unique feature is that it specializes in paid internships only. They provide both national and international internships. There virtual internships category is also a must see.
Their blog is something I never miss. Its unique feature is that you can actually see how many people have applied for the job and how many have viewed it. This helps in accounting for the competition out there.
Although the site does not look that good the sheer size of the site is amazing. Also noteworthy are the categories of internships they offer
Oyster Connect is your one stop destination if you want to do virtual internships. The site has in his listing opportunities which other sites do not have. Its uniqueness is that you will get ample opportunities even if you don't know SEO or Content writing.
Uniqueness of this site is that it is easy to navigate. Although it provides limited categories of internships their testimonials are enough to make them one of top 10 internships provider. They offer both national and international internships.
6. INTERNUP
Based in Mumbai this site offers ample opportunities for any seeking internships. Their categories are same but the companies which are listed are interesting enough for anyone to at least check them out.
Their Incard system is a nice touch on applying for internships. Although the site is not big enough yet , I am sure with the quality of both national and international internships they provide they will go a long way.
Without doubt a site every one searching for internships online should check out. Their uniqueness lies in the quantity and quality of internships listed. Besides internships you can also find information on upcoming events and unique workshops.
9. LET ME KNOW
They are unique on the fact that they provide information not only about national and international internships, they also provide details on the upcoming college competitions. Their blogs is one of the must read.
They have in their listing an amazing varieties of categories of internships. Companies who hire though them include Airbnb , Accenture , Khan academy and many more. I don't know for what reason but they don't have a search option in their site although the site is still navigable.
This site is also worth mentioning. They have a few good testimonials. They also have a wide range of categories for internships.
Unique thing about them is their pre-qualification program and aptitude tests. You may also find study material for your college course
A destination for those interested in virtual internships this site is worth trying.
As the name itself suggests this portal does not just focus on internships but much more than it.
Specializing in virtual internships this site is a must visit for anyone looking for virtual internships not just in india but from anywhere in india.
A site for those interested in working for a startup.
Another site to find a startup job.
Another average looking site for those looking for internships
19. ONLINE JOB PORTALS
Unaware of the fact that these internships portal exists many companies still posts jobs on portals like  linkedin , naukari.com , jobsearch , times jobs and others. Do keep searching and you will eventually find the one right for you.