We often register accounts on different websites and a typical sign up takes hardly 3 minutes. But did you ever know there were websites/apps offering $5 to $10 just for signing them up. Yes, you have heard it right. There are always more ways of making money online than one might think of. Sign up Bonus is free, easy and quick money given to new members when they register on a website/app.
Let me tell you how it works. You register on a website with your basic details like email Id, name, phone number etc. Doing this simple thing is enough to get you a signup bonus. Now you have to make little more money by doing various tasks like watching videos, playing games, uploading receipts, shopping and attempting surveys etc. And at the end when 'signup bonus+your earning or cashback' becomes redeemable, you can apply for withdrawal via different payment modes(PayPal in most of the cases).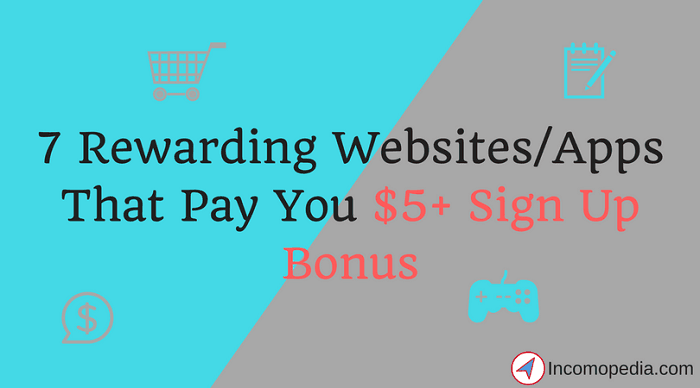 There are some popular discounted gift card selling websites around like Raise. You can buy gift cards of various stores at cheap prices and shop through referral links of following websites in the list to save considerable money.
In this article I am going to take you through 7 websites/Apps that are paying $5+ just for signing them up. These websites are absolutely free and doesn't charge a single penny. So if you are ready to collect all the easy money, lets get started –
---
1. Swagbucks 
Swagbucks is one of the best rewarding website I have ever come across. The great thing about swagbucks is that it is consistently paying since last many years and you never run out of money making opportunities here. Join this website and get $5 as a sign-up bonus. You can earn more rewards and paypal cash by watching videos, completing surveys/tasks, doing polls, shopping and participating many other interesting activities. Bonus is given only in case you accumulate a certain number of SB with in a certain period of time after sign up.
SignUp Bonus – $5
Cashout Threshold – Varies with reward type
Payout Options – PayPal, Gift Vouchers like Amazon, Flipkart etc
---
2. Ebates 
I don't find any reason to not use it. Established in 1998, Ebates gives you upfront $10 for signing up on their website. On top of that if you shop through their website you will get $5 cashback. Also, when you refer to your friend or they shop through your link, you get more rewards. Visit Ebates every time before you shop and you might save some of your hard earned money. If you can't remember this, install their browser extension. It will auto apply coupons/promo codes whenever you visit a potential shopping store.
SignUp Bonus – $10
Cashout Threshold – $5.01
Payout Options – PayPal and Checks
---
3. TopCashBack
If love saving money, you should always visit a cashback website before you shop. With over 8 million members, TopCashback is a good cashback website. They give $10 for signing up on their website during promotion only. The advantage of TopCashBack is that there is no minimum payout threshold and it offers variety of payout options.
SignUp Bonus – $10
Cashout Threshold – No limit
Payout Options – Direct Deposit, Amazon Gift Card, American Express® Reward Cards, and Gap eGiftCards
---
4. Fusion Cash
This website will reward you $5 for signing up. There are a lot of things to do on FusionCash after signing up. You get paid to watch video, listen radio, complete tasks/surveys, shop, surf internet etc. They release payments on or before 20th of every month. Whatever you earn on fusioncash is your as they don't charge any fee on payout.
SignUp Bonus – $5
Cashout Threshold – $25
Payout Options – PayPal, Direct Deposit and Checks
---
5. Ibotta
Ibotta gives $10 for signing up. Once you are registered you will be asked to complete some fun tasks before you buy a product like participating in a poll or watching a short video or writing a comment about the product. Once you have purchased the product, you have to upload the receipt on Ibotta as a proof. More the tasks you complete, more the money you make. You can transfer your money to your account after reaching $20 threshold.
SignUp Bonus – $10
Cashout Threshold – $20
Payout Options – PayPal, Venmo or One of Their Featured Gift Cards
---
6. BeFrugal
This is another cashback website that gives $10 for sign up. Browse Befrugal, choose retailers from over 5000, apply coupon and make purchase like you always do. Cashback will be automatically added to your Befrugal account which you can redeem through various payout options. You get extra cashback if you choose to redeem your money via Amazon GC.
SignUp Bonus – $10
Cashout Threshold – $25 
Payout Options – PayPal, Checks, Direct Deposit and Amazon.com Gift Cards
---
7. Mr. Rebates
Yet another good cashback website working with more than 2000+ merchants. $5 is being given to new users. You might have to make purchase to become eligible for the bonus. There were only 2 reasons Mr.Rebates made to this list – The low cashout threshold and featured 'store of the week' . They feature a store each week and offer higher cashback than usual on it.
SignUp Bonus – $5
Cashout Threshold – $10
Payout Options – PayPal, Checks and Gift Cards
---
Remember sign up bonuses might be different for different countries. Earlier I was planning to include 20 sites in the list but I had to left those unreliable websites out of this list. I just can't afford misleading my readers. If you are an online shopper, these sites can save you considerable money. That's all for now.