SEO has been around for a while, but it changes so often that is hard to keep up with it. When we think that we have fully understood what we have to do so to make our blog show up on the first results of Google Search, they change their algorithm, and we are all reviewing our strategies.
But while it can be very frustrating and unsettling, it doesn't mean that we are back to square one every time that it happens. There are a few things that are mandatory to any successful SEO strategy, and if you still aren't aware of them, you probably are losing traffic and subscribers.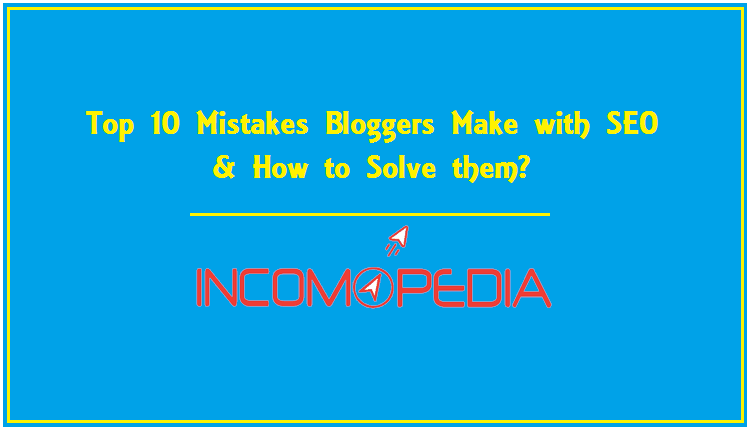 So let's see what are the ten most common SEO mistakes that bloggers still make and, of course, how to solve them.
---
1. Writing Bad Headlines
The first thing that your visitor will read is your headline. It is like your business card, your call-to-action. That is to say that it has to be exciting and engaging enough so to make your visitor think that your post worthies their time and click on it.
As you know, you are competing with several other blogs but not only with it. You are competing with phone notifications, apps calling for attention, full inboxes, and all the other noise buzzing around the internet. So you must stand out and spend a good amount of time crafting the best headline that you can.
---
2. Doing Little (or none) Keyword Research
Keywords are the heart of your SEO strategy. It is through them that people will find you online and that Google will understand what you are up to. So if you don't give enough attention to it or just guess which are the keywords that you must add to your content and blog settings, you are at risk of losing a lot of traffic due to it.
So, make the most of the free tools available, such as KeywordTool.io, or get a paid service if you can afford it and stop being an amateur here. It just takes typing on a search bar your main keyword to get several long-tail suggestions that will improve your results in no time.
---
3. Adding Too Many Keywords
OK, so you are sure you aren't guilty of tip number two above. But what about this one? Are you constantly tempted to add all possible keywords to every single post that you have? Then you aren't doing it right either.
If you keep doing it, Google will consider you are a spammer or desperate person, which in neither case qualify you as a valuable and reliable source. So be careful about the density of your keywords per articles – there many calculations that you can use to get it right, but the simple and easy way to do it is by adding your keywords naturally instead of forcing them on the text.
---
4. Not Caring About Your Target Audience
Your target audience is to whom you are writing, not yourself. Except if you are not taking your blogging seriously and as a business, of course. But if you are expecting to be considered as a professional blogger, then you should start seeing your visitors as clients, not just a number on your reports.
So before writing anything, make sure that you think first about what your target audience wants to read and which format is best for them. This way, you will not only decrease your bounce rate but also increases your conversions. And talking about reports…
---
5. Ignoring Your Analytics
Google offers you several free tools that you can add to your blog and get detailed reports about how it is doing online. Google Webmasters Tools and Google Analytics are so good to be true that you might get lost and overwhelmed there.
But it shouldn't be an excuse just to ignore them. Just go online and find posts, articles, or classes about them both and learn everything you need to know to make the most of them. And start applying their insights to your blog from now on.
---
6. Publishing Poor Content
No matter how much you understand of SEO and tweak around it, content still is the king. If you offer poor content in your blog, you won't be in the top search results for very long – if you ever make it in the first place. And this is because people will be attracted to your blog but leave it very quickly, which looks pretty bad in Google's eyes.
So make sure that you offer valuable and original information on your texts. Stay away from any form of plagiarism and invest in great visual resources so keep your audience engaged. Be creative and try different posts formats so that you can make the most of each post.
---
7. Leaving Broken Links Behind
You wrote a post and added a few links to it, as a good SEO strategy requires. But you never get back to check it and see if the links are still pointing in the right direction. As a consequence, you end up with posts full of broken links that do no good to your ranking.
Your readers also probably hate clicking on things that take them nowhere. So make sure that you click on your links regularly, and you will know if they are still working or not.
---
8. Not Adding Title Tags and Meta-Descriptions
Title Tags and meta-descriptions are essential to your SEO strategy. They are the text that shows up on Google Search when your blog is displayed there.
If you don't customise them to your liking, Google will grab your headline and part of your text (usually something from the first paragraph) and adjust it as they want. And as there is a set number of characters that fit on their results, Google might cut your text in the middle and show something that will make no sense to your target audience.
So make sure that you create your own title tag and meta-description to each one of your posts. If your theme didn't come with this option as default, you should get a plugin for it, such as Yoast, but never leave it undone.
---
9. Adding Too Many Links
Going back on the links subject, you should know that links shouldn't be too many. How many is too many will depend on the length of your post, but they are getting too distracting, and all that you can see is a sea of links, you know that you have overdone it.
You also should balance internal with external links and take care of your anchor texts. And talking about anchor texts…
---
10. Poor Anchor Texts
As you know, anchor text is the word or sentence on which your visitor clicks so to go to the link you have suggested. So you can see how important is that it is optimised so to catch your reader attention.
Writing "click here" is quite dull and doesn't really add value to your text. Instead, write "reviews of companies" so you can let them know what they are going to get. Also, avoid repeating the same keyword over and over, or you might be penalised as spam.
---
The Takeaway
As you can see, it doesn't take much time for you to find out if you are still making any of these mistakes. If you are, doesn't waste any time crying over it or blaming yourself. Just get it fixed as soon as possible so that you can get better results from now on.