Buying a smartphone is quite a hassle and due to the advent of operating systems such as ios, windows, and android, we end up in confusion about what should we buy and what might turn up wrong decision or bad taste in the mouth.  Since 2012, I am buying smartphones those offers better value over the time. Initially, I was not aware of these things and ended up in buying smartphones just because of their looks and brand value. After few mistakes, I started researching about phones and this guide will provide you the basic knowledge about smartphones if you understand it properly then you will be able to tell which smartphone is better than the other. Specifications tell a lot about smartphones and end user get much better to hold over the technology if one has a basic understanding of various parts and technology used in phones.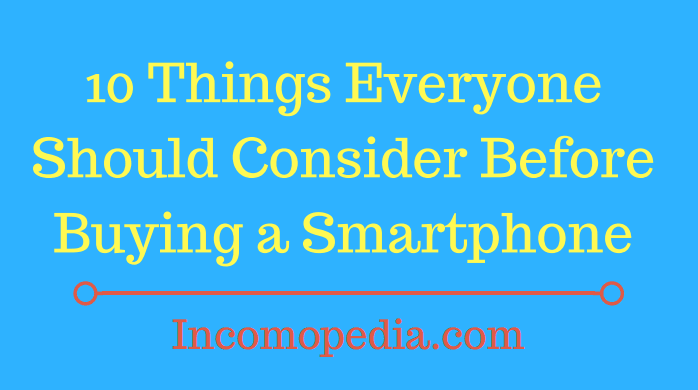 This guide is not an advanced guide so anyone who can understand English and remember few new terms will have no difficulty while buying next Smartphone. This guide is just about internal hardware of a smartphone so do not judge if smartphone looks cool but fails in this specification test.
Let's have a look on these 10 factors below you should consider before purchasing a Smartphone-
---
1. Processor
It is a vital component of your smartphone and just knowing about cores of the processor is an immature behavior. You should have basic knowledge about it like the company who made it such as snapdragon and MediaTek. Clock speed and process by which it is made. Whether processor is of flagship grade or not. These factors will help you buy a smartphone with good support by applications. In other words, smartphone won't hang by applications in its later year. This is one of the common reasons why Apple iPhones do not crash and get slow down.
If you are buying a smartphone and want to know more about processors, than here are some tips –
Look into Snapdragon or MediaTek website with the model number of your processor and check respective websites. There are Wikipedia articles about most of the processors but they might be confusing for beginners.
Here is the quick overview
SnapDragon Processors
Snapdragon 200 series– lowest end processor (good for low memory games, browsing internet and regular social media application), it usually lasts for two years after it might not be as snappy for the basic applications. If you are a gamer or an advanced user then you should not go for it. Best deal for a smartphone having this processor is between 4000-7000 INR.
Snapdragon 400 series – It is the best processor for entry level smartphones as it provides better value in terms of performance and gaming experience. You will get support by applications as it is a very popular series of processors. It is highly recommended series, many high end smartphones are going for it. Best deal for this series is between 6000-12000 INR. Exceptional case: If you are happy with looks and other features of your desired phone but the price is higher to the point of 19999 INR then you can go for it.
Snapdragon 600 series – It is quite unusual series. Processor in this series were used to come into flagship series smartphones such Samsung s3, note, HTC flagships, other initial androids. Now it is the second most important series of processor. Usually these are more powerful, performing and efficient than 400 series. There are few processors in this series(625, 626, 630 and 660) built with 14nm finFET manufacturing  process, which in laymen terms makes these two processors superior than their counterparts by improving power efficiency.
Snapdragon 800 series – It is a flagship series made by snapdragon, at present all android flagships have a snapdragon 800 series chip inside them. They provide best and latest features inside them. If your smartphone have a chip from this series then you don't need to look twice over it unless chip is '810', which has been a disaster as it has severe heating-related issues. For others, you don't need to think too much. If you want best in class gaming, virtual reality support and other cut throat features then go for the latest and cheapest smartphone that has snapdragon 800 series chip. Recently snapdragon 820,821 and 835 were so good that they even managed to get ahead of latest apple chips.
MediaTek Chips
I myself generally ignore Mediatek chips as they tend to overheat or simply don't have applications support to them. Cheap smartphones usually from Indian or Chinese smartphones manufactures use them. They do have some good chips too such as Helio x and p series. If you are confused about between Snapdragon400 or helio chips, than you should go for Mediatek chip, because performance is better in Mediatek chips compared to snapdragon low end chips. You won't get extreme battery life because they have many cores such as quad, Hexa, Octa and Deca cores. More cores usually have many drawbacks like they consume more power and produce heat, single cores are weak so phone might hang or lag for games and graphics intensive applications. Only thing that's better with more cores is multi tasking. So when we sum it up, we should avoid mediate generally but if your beloved smartphone have Helio chip rather than regular Mediatek then there are fewer things to worry about.
Exynos (Samsung Chip), Kirin(Hisilicon chips)
Exynos has been a good alternative to snapdragon chips as they are quite good for daily tasks, do not have heating issues and provide good performance as well. Only drawback is lack of support by developers in general. HiSilicon kirin's line is quite impressive and similar to Samasung exynos. Kirin chips are also very power and performance friendly. Recently they are making chip specifically for some models(p10, mate9) and applications (pokemon go).
Intel Atoms and Other
Only a few smartphones have these chips and usually they aren't received well such zenfone c(intel atoms), mi pad 2, etc. they have heating issues as well but most important problem might be lack of advanced features as well as applications might hang up on them. Tigra chips and nvdia chips are examples of wrong implementation of chips in phones. Only handful of smartphone oems uses such chips. Recently MI also launched surge s1 processor.
---
2. Ram
Just check whether it DDR3 or later. More the number better is the deal. But you don't need a ton of ram for your smartphone. More ram means you will get better multitasking.
---
3. Display
There are number of Factors you should look for such as
Type of display
LCD panel – Most common type in cheap smartphone, consumes more battery and might have a yellowish hue in it. According to me you should not go for it.
IPS panel – Most of the smartphone, laptops and tv in these days have IPS panel in them. Reason is quite simple. They produce excellent colors. Don't think too much if the smartphone you are purchasing have a IPS technology behind it.
AMOLED panel – This is the most power efficient panel in the market today. Not many smartphones have it and the reason is that they are quite expensive and made by only one company named Samsung. I am not a Samsung fan but truth is that these panels produce perfect black color by turning off pixels to save power, contrast levels are perfect. They might have some kind of primary color (RGB) hue in them. But there overall performance is perfect.
Pixel Density
It is a number that defines the sharpness o the display. In laymen terms if a smartphone have a pixel density more than 270. Than it will look like a paper to human eye. You won't be able to notice grids or black lines if pixel density is good. In expensive or a good smartphone, pixel density is more than 400.
Resolution
There are 4 types of resolutions
SD – standard definition where picture quality is just ok. It is the basic resolution where everything is good enough for us, going lower than that you won't be able to enjoy your content properly.
HD or 720p – high definition is just more pixels. More pixels simply means better experience.
Full HD or 1080p or beyond it are just numbers as your human is not capable beyond it.
Quad HD and so on they are just numbers.
Size
It is a personal preference and keeps on changing. Nowadays bezels the black area around your screen) are reduced so much that even 5.7 inch can be compact. Consider screen to body ratio if are buying your smartphone online. High the body ratio, better will be the deal.
Brightness
Just check highest brightness that can be achieved by your smartphone. It is measured in a nits. More nits will help you see pictures on display under direct sunlight. 400nits is a good number as a reference.
Viewing angles
Make sure it is more than 120.
Screen protection
Gorilla glass is good but not perfect so keep a tempered glass or some sort of lamination over your smartphone.
---
4. Sensors
Few sensors are very important for your smartphones other doesn't matter a lot.
Important sensors – ambient light sensor, accelerometer, proximity, gyroscope, and magnetometer.
Useful but less important – barometer, heart rate sensor, pedometer, infrared, ois and eis, fingerprint reader, additional noise cancellation microphones, etc.
---
5. Battery
It depends and there is not much choice here as more than 98% batteries are lithium based either ion or poly. The amount of battery required by you depends upon screen size, type and processor you have. iPhones have less amount of battery but offer good screen on time because of superior software and processor they use. Same thing is true if your phone a has good processor and good software.
2 more things related to the battery should be considered while researching about your phone.
1st is charging speed because a fast charger might help to get more juice in couple of minutes, it's a quite handy stuff and useful too. There is different kind of fast charging technology available today and everything works just fine for example Oneplus have dash charger, Samsung has Qualcomm based fast charging.
2nd is if the battery is removable or not. Removable battery is easy is replace so keep  that in mind, but not many good smartphones have a removable battery. So if you find a removable battery in a smartphone you like than consider yourself lucky.
---
6. Speakers
Speakers should be loud but with good base. Call quality and media experience is improved very much with boom sound or stereo speakers. There are two major points here-
1st is placement of speakers– if speakers are front facing then you will get best media experience. HTC, Motorola, Sony, ZTE, Lenovo are some companies who make smartphones with front speakers. Then there are phones with the bottom speaker. Good but not ideal as you might accidentally block them and most of these speakers are mono speakers. These speakers are not very loud either. They are still better than back side speakers. If smartphone makers don't care about media experience they put the speaker on the backside just for the convenience of manufacturing process. There are common in entry and mid range smartphones.
2nd is headphone or charging port – Headphone jack is good option of hearing good quality audio, and I am not fan of ditching it for sack of less port or superior quality audio.
---
7. Camera
You must check reviews for it as it does not make much sense to argue about which smartphone cameras are better. There are tons of sensors in market and algorithm made by software team decides whether picture quality is good or not. I would say Do not go after numbers. Check samples rather than specifications.
---
8. Bands
Check bands in case you are importing a smartphone otherwise don't waste time over it.
---
9. Software and Updates
This is completely based on the history of smartphone makers, and something that you won't be able to judge properly. Here are some references – Google updates its smartphones for a span of 3 years. Samsung about 1.5-2 years(if flagship then few more months), Chinese smartphones makers such as Oppo, Xiaomi, Vivo, Lenovo, Gionee,etc. – only once and then they will update their respective skins such as miui, color os, emui, flame os, zui, etc. Apple is the undisputed king here because it is the only smartphone maker who supports its smartphones software for more than 3 years.
In case of android if are a advanced user or tinkerer like me check custom ROMs that are available for your smartphones in xda, miui, Lenovo, leeco, Oppo and other forums in case you do not want outdated software. For noobs I have suggestion that if you can understand English well and have a PC then learn a little bit about custom ROMs as they are quite easy to use and also keeps you smartphone updated for longer time.
---
10. Price
Try to buy online but beware of few drawbacks as well. According to my own experience there are few companies specially Chinese which offer great value for money does'nt care of after sale services. Here are few good companies – Lenovo ( good value for moey but software experience is poor), Xiaomi (provide only entry value smartphones with less structural integrity but overall value for money deals), Leeco (initially they were aggressive in pricing in india but now they lost their business so no service support), HTC ( if you want to waste your money than go for it), Motorola (same as its parent company Lenovo, provide better custom roms), Samsung (you won't get sensors in their entry level smartphones and mid range in little expensive considering specifications), Apple(iphones retain there value for a longer time), Oppo and Vivo(parent company is same, I have one suggestion about them – just don't buy them), Micromax and other Indian brands(there is no sense in purchasing them as they import smartphone and don't even work over software, even if you think like you doing some favor to india by buying them just open your eyes and do not fool yourself from latest creo to late micromax not even one smartphone makes sense to me), there are few other brands but they are making any mark out there.
---
So this was all for now. This guide is written to get an understanding about specifications of a Smartphone before purchasing it. If you have any query then comment.