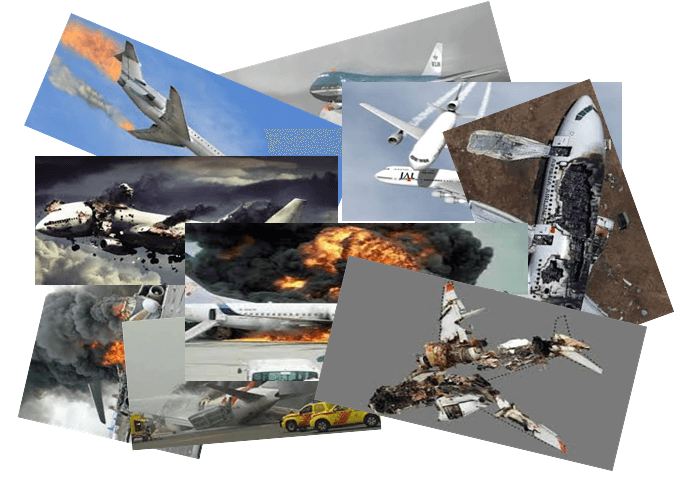 Air Transport is safest mode of travel in the world and lot of stats support this fact. According to a website there are only 0.07 deaths per one billion passenger miles. Only issue is when there is an air accident then chances of survival are almost zero. There are so many safety nets in aviation which make sure that it remains to be safest mode for transportation but disasters are triggered by a chain of critical events. In this article I have compiled world's top 10 deadliest air accidents in terms of casualties.
---
1. 9/11 Attacks:
 Place: USA  Date: 11-09-2001  Casualties: over 3000
Airlines: United Airlines, American Airlines  Aircraft: B767
Deadliest air disaster of the world is 9/11 attack in USA on September 11, 2001. 19 militants of Al-Qaeda group hijacked 4 aircrafts and used them as weapons. Out of four, two aircraft were flown into World Trade Centre Towers (New York) killing around 1800 people. Third aircraft was used to attack on Pentagon building in Washington D.C. killing 189 people and fourth aircraft crashed in Pennsylvania.  Over 3000 people lost their lives in these ghastly attacks. These terrorist attacks shocked the entire world and forced the USA to take stern action against the group responsible for this air-disaster.
---
2. Tenerife Disaster
 Place: Tenerife, Canary Island  Date: 27-03-1977   Casualties: 583
Airlines: KLM, Pan-AM Airlines  Aircraft: Both B747
Tenerife Disaster occurred on the gloomy day of March 27, 1977.  583 people lost their lives and it remains world's deadliest air accident in Aviation history. Most of people who are interested in aviation must have heard of this accident between KLM and Pan AM Jumbos (Boeing 747). Due to fog visibility was very poor and KLM Boeing 747 attempted to take off without clearance. At the same time Pan AM Boeing 747 was taxiing on the same runway. KLM could see the Pan AM flight only when it was too close to take any action to avoid collision. No passenger survived from KLM Flight but luck was with 61 Passengers and Crew of Pan AM flight who survived. In the investigation, it was concluded that Pilot-error was the main cause of Collision added with low visibility condition and no surveillance equipment available with Los Rodeos Airport Air Traffic control (ATC).
---
3. Japan Airlines Flight 123
 Place: Mt. Osutaka, Japan  Date: 12-08-1985   Casualties: 520
Airlines: Japan Airlines  Aircraft: B747
It is the most disastrous air accident involving single-aircraft with maximum causalities.  Total 520 people lost their lives when Japan Airlines Boeing 747, Flight No. JAL123 crashed into Mount Osutaka on August 12, 1985. Aircraft became uncontrollable when it suffered decompression failure destroying its vertical stabilizers. It also severed hydraulic lines of aircraft and it was impossible to control it, despite pilots' efforts for more than half an hour. Although a number of people survived in the crash but delays in rescue operations caused death of all but four survivors. All 15 crew members and 505 of the 509 passengers on board perished.
Watch this Disaster's video on Youtube
---
4. Saudia-Kazakh Mid-Air Collision:
 Place: Charkhi Dadri, India  Date: 12-11-1996  Casualties: 349
Airlines: Saudia Airlines & Kazakhstan Airline  Aircraft: B747 and IL-76
It is termed as world's deadliest mid-air collision causing death of 349 people. It occurred between ill-fated Saudia B747, Flight No. SVA763 and Kazakhstan Airline IL-76, Flight No. KZK1907 over Haryana, India on November 12, 1996. Delhi ATC cleared altitude 15000 feet to arriving Kazakh flight whereas outbound Saudia flight was cleared altitude of 14000 feet as they were on reciprocal route. But Kazakh Aircraft was flying lower than the assigned clearance altitude and it realised it too late to take any corrective action. All 349 passengers and crew on board both aircraft died in this fatal accident. Some of the causes found in the investigation were same route for arriving and departing aircraft, lack of infrastructure with Delhi ATC which at that time was dependent on Primary radar only, non-availability of TCAS in aircraft and lack of proficiency in English of Kazakh pilots.
Watch Saudia-Kazakh Mid-Air Collision's Videos on Youtube
---
5. Turkish Airlines Flight 981:
Place: Bois d' Ermenonville, France  Date: 03-03-1974  Casualties: 346
Airlines: Turkish Airlines; Aircraft: DC-10
Detachment of Cargo Door of Turkish Airlines flight 981 proved fatal for all the persons on board. Detachment of the door caused explosive decompression resulting in collapsing of the floor above the cargo section. It was a DC-10 flight that took off from Oryl Airport for London on March 3, 1974. The explosion caused loss of control over the elevators, rudders and other important controlling parts of aircraft. The flight crashed in a forest northeast of Paris, France. All 346 people on board died. At that time it was deadliest air crash in the world.
Watch Turkish Airlines Flight 981 Accident's Videos On Youtube
---
6. Air India Flight 182
 Place: Atlantic Ocean, South-West of Ireland  Date: 23-06-1985  Casualties: 329
Airlines: Air India;  Aircraft: B747
It was first of its kind attack in the civil aviation world. It was a terrorist attack which claimed 329 lives on June 23, 1985. A terrorist with the name 'M. Singh' did not board the flight but he made sure that his suitcase with bomb got loaded in the Air India Boeing 747 flight. When the aircraft was southwest of Ireland coast, the bomb exploded. In the investigation, it was found that this was a terrorist attack seeking revenge for Indian Govt's attack on Sikhs' holy place Golden Temple in Amritsar in 1984 during Operation Blue Star.
Watch this Air Accident's Videos on Youtube
---
7. Saudia Arabian Flight 183:
 Place: Riyadh, Saudi Arabia  Date: 19-08-1980  Casualties: 301
Airlines: Saudi Arabian Airlines; Aircraft: L1011
 Wrong decision of pilot caused the death of its passengers and crew in this accident. Saudia Arabian flight No. 183 became the first flight that did not got crashed yet 301 passengers and crew lost their lives on 19 August, 1980.
Pilots got fire warning lights on and requested full emergency landing from ATC. By the time aircraft landed on Runway, fire covered baggage compartment and passenger cabin. Here, Pilot took a wrong decision and instead of announcing immediate evacuation of passengers and allowing fire vehicles to extinguish the fire, he decided to vacate the runway. It took valuable time and due to fumes passengers and crew were unconsciousness, so they were not in a state to open the doors and vacate the aircraft. All the passengers and crew died.
Watch this Head on collision on Youtube
---
8. Malaysian Airlines Flight 17:
Place: Hrabove, Ukraine  Date: 17-07-2014  Casualties: 295
Airlines: Malaysian Airlines;  Aircraft: B777
It is the deadliest accident involving a state-of-art Boeing 777. On July 17, 2014, Malaysian Airlines Flight MH-17 was flying from Amsterdam to Kuala Lumpur with 298 persons on-board. The plane crashed after being hit by a Russian-made Buk missile over eastern Ukraine. Various countries have different opinion about the cause of accident like Dutch report said that it was hit by some high energy objects, US and Germany said it was a surface-to-air missile that hit the aircraft while Russia had denied such charges of its involvement in this accident. Although in September 2016, an international team of criminal investigators said evidence showed the Buk missile had been brought in from Russian territory and was fired from a field controlled by pro-Russian fighters. There were 283 passengers, including 3 infants, and 15 crew members on board MH17, all of whom perished.
Watch This untold Story's Videos On Youtube
---
9. Iran Air Flight 655:
Place: Persian Gulf  Date: 03-07-1988  Casualties: 290
Airlines: Iran Air;  Aircraft: A300
It was during the Tanker War in 1988 when the ill-fated Iran Air flight 655, an Airbus 300, was shot down by surface-to-air missiles launched from a US Navy Cruiser Vincennes. On July 3, 1988, Iran Air Flight 655 was in climbing phase after its departure from Bandar Abbas Airport when US Navy Carrier misinterpreted it to be an Iranian Fighter aircraft. US Navy gave warning (with wrong altitude and position of Iranian aircraft) to the aircraft on emergency frequency 121.5 which were not replied by Iranian Aircraft as they thought it was meant for some other aircraft. When US Navy did not get any response, they shot down the aircraft. All 290 passengers and crew perished in this attack which was due to a wrong interpretation by US Navy Carrier.
Watch what happened with Iran Air Flight 655 on Youtube
---
10. Iranian Military IL-76:
Place: Shahdad, Iran  Date: 19-02-2003  Casualties: 275
Operator: Islamic Revolution's Guard Co.  Aircraft: IL-76
The accident of Iranian Military's Islamic Revolution's Guard aircraft occurred on February 19, 2003. Aircraft was operating from Zahedan to Kerman. It was a Russian made IL-76 aircraft which got stuck into the bad weather. Strong winds were reported in the region of crash when aircraft disappeared from radar screens. It crashed 330 feet below the Peak of Sirach Mountain approximately 35NM southeast of Kerman. All the 275 people on-board were perished in this deadly accident. Investigation reports concluded bad weather to be the reason of accident.
Watch This Disaster's Videos On Youtube
---
I hope you like this article. Thank you.