It will not be wrong to say that the world revolves around the money. Money plays an important role in our lives. So we should always thrive to save or use the hard-earned money wisely or we will keep whining later on. I never realized importance of money until I got myself involved into earning it. I personally have tried different things or tricks in the past one year to save money and have been successful. Obviously, it's not going to make you millionaire but like they say a penny saved is a penny earned.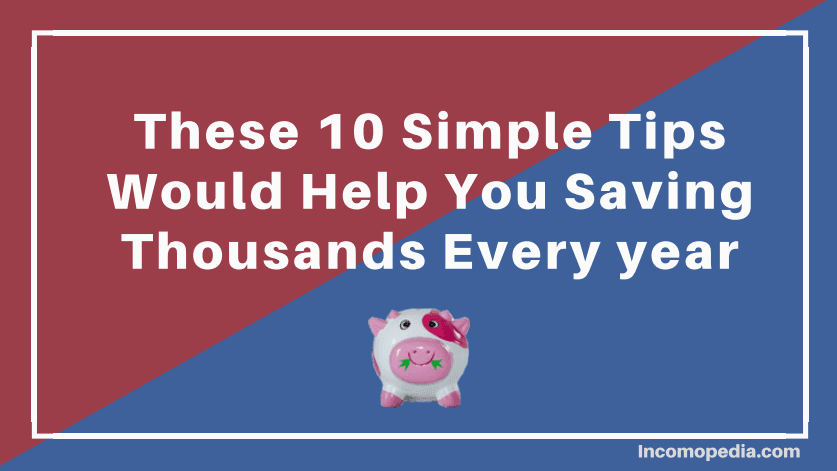 Here are 10 small but effective tips which can save you thousands of bucks every year. These tips will help you using your money in a more effective way –
---
1.  Flipkart.com Vs Amazon.in Gift Card
Have you ever faced a situation where you have to redeem your money and you need to choose one from these 2 withdrawal options – Flipkart and Amazon.in gift card. Which one is the better option? My suggestions would be that without thinking too much, just go for amazon.in gift-card. The simple reason is that when you add a gift card to your amazon account, the balance of gift card goes to your amazon pay balance and here are few other good things you can do with Amazon pay balance –
You can recharge your mobile with amazon pay balance. Currently Amazon.in is offering a huge cash-back on mobile recharges/bill-payments. You get INR 99 cash-back if you are recharging JIO with Rs. 399 or above. Flat Rs. 75 on Airtel Prepaid , flat 50 on first recharge above Rs. 100 and 20% up to Rs. 20 on all subsequent recharges.
Amazon has variety of products to choose from.You can make payment for any product on amazon using amazon pay balance and guess what, you will get 10-15% cash-back.
If you are member of survey sites then probably you already have faced similar situation. Hope now you can use your money more effectively.
If you are member of survey sites then probably you already have faced similar situation. Hope now you can use your money more effectively.
---
2. Paid Hosting is Now Free
Do you want to start your own blog like this one you have currently landed on? If you can't afford paid hosting, no worries. I have a good news for you. You do not need to compromise with quality now. Yes, you can start a full fledged self hosted blog for free. Let me show how. Only requirement is that you should have a Student Identity Card.
Go to www.znetlive.com/student-web-hosting/ and click on order.
Fill up all your details. Upload important documents like Student Id Card and Address Proof.
They will verify your details (usually with in 2 days) and give you login credential for your free hosting account.
Znetlive's student hosting plan includes 500MB Webspace, Unlimited Data transfer, 5 E-Mail ID, 1 MYSQL Database, PHP Support, Cpanel Control Panel and Softaculous script installer. Usually you get these specifications on paying around INR 1200. You can use this account for 1 year. Now its up to you what software(like wordpress, drupal etc) you want to install. You can make good extra money in 1 year with a blog.
---
3. Go Cashless, Use Digital Wallets
I don't remember when was the last time when I went to a retailer to get my phone recharged. This simple thing has not only saved me time but also a lot of money. Using Digital Wallets, on an average you can save around Rs. 15 on every Rs. 100 you spend. There are so many good digital wallets out there like PhonePe, Paytm, Freecharge etc which offer good cash-back deals, from time to time, on phone recharges, electricity Bill payment and online shopping. You no longer need to queue up for ATM withdrawals now. Ease of making payment, discounts and Tax benefits make digital wallets a must have stuff for everyone.
Install Phonepe and Get Up to Rs. 150 (Flat Rs. 100 when you make first UPI payment of Rs. 200 to any of the friend)
UPI is the cheapest and simplest way to transfer money across Indian Bank accounts. UPI apps have several advantages over any other traditional payment method. Bank strike, banking time, holidays have no effect on UPI. You can make instant payment 365*24*7. Since You making payments from home and not going outside so you are saving travel fares in a way.
---
4. Shop Online
Shopping online can save good money especially during festival seasons like Deepawali when most of the e-Commerce websites like Amazon, Flipkart etc offer all the available items with lots of discounts and cash-back offers.
Recently I bought a Campus Sutra's Sweatshirt for only Rs. 240 through Paytm website whereas same sweat-shirt is being sold at INR 850 by local shopkeeper. Another example, a couple of days ago, my neighbour bought a Standard 32 inch LED TV from a local offline store spending Rs. 15500 while Paytm is selling the same TV for an effective price of INR 11000.
There are several other pros of buying things online like you get a lot reviews to read before you decide to buy, products get delivered at your doorstep and if something is wrong with the product you can return it easily. No crowd, no queue. Shopping online saves both money as well as time and time is money today's world.
---
5. Webmoney Or Payza?
I am sure there are not many who would recommend webmoney over payza because you can't withdraw your webmoney balance to Indian Bank account directly like Payza. But doing this has saved me a few dollars. Let me tell you with an example how it works.
Say you have to withdraw $10 from 2captcha.com (a captcha entry website that let me earn by doing typing work). When you withdraw it using payza you get around $9.41 (fee=2.90%+$0.30). Further pay flat Rs. 60 in order to withdraw this money into your bank account and you get finally around Rs. 540 in your bank account. The whole process takes 4 to 5 days.
On the other hand when you withdraw the same money using Webmoney, you get $10 since there is no fee. There is no way to withdraw this money directly into Indian bank account but don't worry. Create an account on exchangezones.co.in and once your account is created login and click on withdraw, choose WMZ as E-Currency, Enter amount and proceed to make payment using Webmoney. That's it. You get around Rs.620 into your bank account. Exchangezones usually processes the payment on the same working day.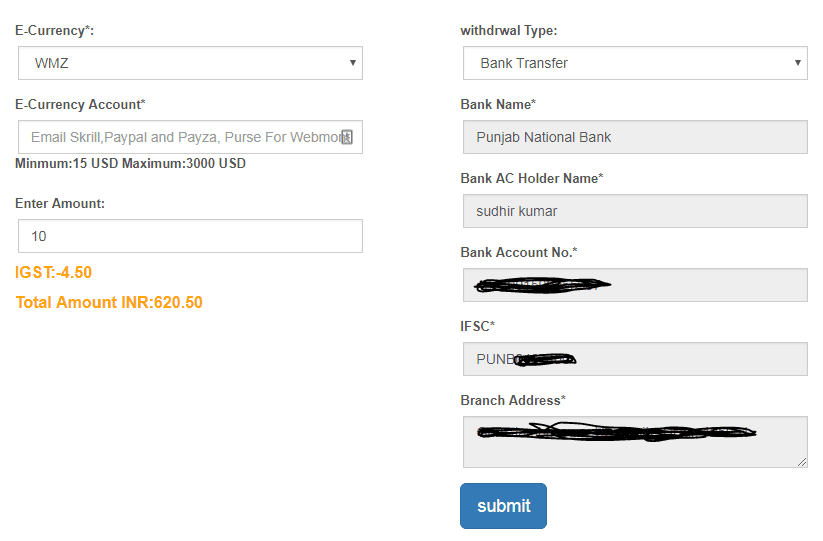 Saving $1 on every $10 might be lesser than what you were expecting but still you are getting money into your bank account much faster. Exchangezones has several other features like you can recharge mobile, withdraw your money from any popular wallet like Payeer, Payza , Paypal, bitcoin, OKPAY, Litecoin, EPay, SpeedCoin etc.  You can also exchange money between any of these 2 wallets.
---
6. Stop Wasting Food
Food waste has always been a serious issue in India. You won't believe it but we waste as much as food as whole UK consumes. 40 Percent of the food produced in India is being wasted according to a report. So I believe it can be an area where you can save money. Here are simple tips to eliminate food waste and save money –
Always Plan your meal
Buy things that you can consume
Avoid Impulse buying
Always finish your plate and make it habit
Refrigerate left overs and Reuse
There are a lot of videos on YouTube where you can learn about how to reuse food scraps.
---
7. Make Budget
Budgeting is the process of planning how you are going to spend your money on various items/needs. If you are spending more than your income then you are going to be in trouble. Don't let your money control you, make a budget and control your money. Beginners can give a try to 50/20/30 Rule of budgeting which says –
If you are earning 100 Rupees a month then-
Spend 50 Rupees on Your necessities like shelter, food, utilities, clothing and Transportation etc.
Spend 30 Rupees on Your Desires like Eating out, entertainment, hobbies, vacations etc.
Save remaining 20 Rupees for future or use for debt repayment if you have any
You can make your own rule too after accessing your income,requirements and priorities. Making budget can cut costs and save money you are spending on unnecessary things. Make a budget and stick to it.
---
8. Negotiate
Negotiation is an art and People who not good at this art, often end-up paying more than fair price. More you do the negotiation, the better you become at it and more you save at the end. You can open negotiation by saying something like this – "It's beautiful and I really want to buy it but it's little beyond my budget."
My younger brother uses walk away technique and it works most of the time. Walking away saying something like "this is the most I can pay for this item" can be very effective.
---
9. Use Idle Money Effectively (Invest)
Money attracts money. When you invest money, it works for you and bring more money to you. If you have idle money at home, at least put it into some saving instrument to earn interest.
---
10. Miscellaneous
We often neglect small things(or savings) but never forget that small savings can make a big difference. Here are some very simple,quick and actionable ways to save money for everyone –
Stop Smoking because it saves both money and health.
Develop Saving Habits
Switch off light, TV and Fans when you don't need
Don't buy bottle of water. Buy a reusable water bottle and keep it with you.
Make a list before you go shopping and avoid impulse buying.
Buy less but buy good. I mean spend on quality products that will last long.
Price comparison is important
Cancel Newspaper subscription if you use internet.
Take your own lunch box to the office
Carpooling
---
This was all for this post. Share it with your friends if you found it useful.