SocialTrade.biz is creating a lot of buzz these days. It is at no. 181 in the list of most visited website in India and attracts more than 417893 unique visitors every day. Almost a year ago I wrote an article on "how to search legitimate work from home jobs". In the second point there I described some clear signs of work at home jobs scams and SocialTrade.biz is fulfilling some of those criteria. Some are saying socialtrade.biz is another money circulating scheme while others are calling it fraud. Although there are some positive reviews too on the web but all those are given by users of socialtrade.biz to get referrals. I myself don't know social trade biz is a scam or not but let me put all the equations in the order to help you understanding this business more clearly and you will be able to make a decision at least whether to join or avoid it.
The first question that comes in the mind when you encounter any business like socialtrade.biz, is too good to believe is – if it is genuine or another scheme. Let's have a look on few points –
---
What a Company Do With TDS They Deduct From Someone's Salary?
You must have seen that companies often deduct some certain amount from their employees as TDS and directly pay that amount to Income Tax Department on employee behalf. This is how they make sure employees are not evading Tax. Deducted TDS which is credited against your PAN number can be accessed through form 26AS online through https://incometaxindiaefiling.gov.in/ website. So let's discuss what Socialtrade.biz is doing with TDS they cut from their users' salaries –
I have 26AS form of someone who has purchased a plan from socialtrade.biz. Have a look –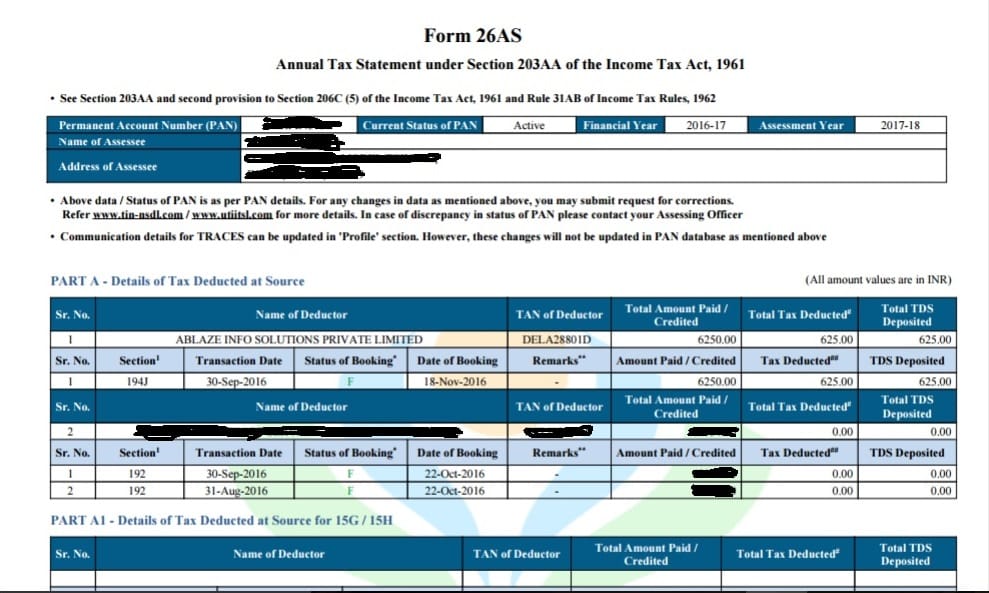 Now what is right here –
They are submitting TAX (proportionate to earned money) on behalf of their users at right time. So deducted TDS is submitted to income tax department against user's PAN Card. So a thumbs up here from my end. This can be claimed by User at the end of financial year by filing Income Tax Returns (ITR).
What is wrong here –
Note: Money circulation without involvement of a real product is considered as an illegal activity in India. Also Illegal activities remain illegal even if tax is being paid on right time.
---
Legal Documents – The Connection Between Socialtrade.biz and Ablaze Info Solution Pvt. Ltd.
People often get confused between socialtrade and Ablaze Info. Solution Pvt Ltd, especially when they look at legal documents provided at www.socialtrade.biz . The reason is obvious no document are provided in the name of socialtrade.biz. Have a look on this screenshot –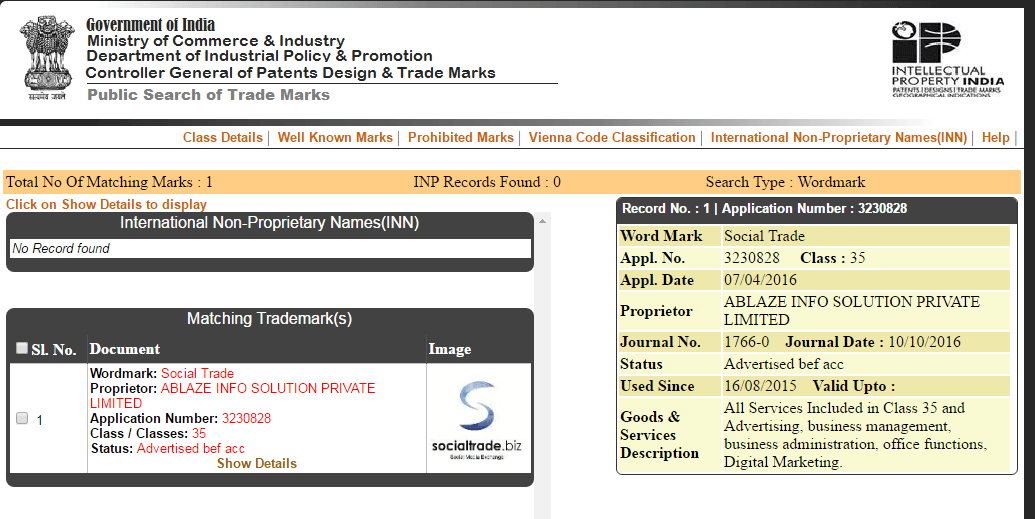 I have taken this screenshot from trademark public search directory. According to this social trade can be a product/Service of Ablaze Info Solution Private Limited. Think for a moment – I have a company named "sudhir". Does it indicate that my domain name should be sudhir.com. No I can business through any domain name.
Socialtrade.biz have all the documents in the name of Ablaze Info Solution Pvt Ltd. This should not be problem in my opinion because when you purchase a digital marketing package on socialtrade.biz, you need to transfer money in ablaze bank account. When you work they pay through Ablaze's bank account. Also TDS is submitted through Ablaze Sol. Pvt Info's TAN account. Everything is done in the name of Ablaze except you work on a domain name not matching with name "Ablaze". So it can be understood as socialtrade.biz is a brain child of Ablaze Info Solutions Pvt Ltd.
What's right here?
All documents are legal according my CA friend.
What's wrong here?
Nothing except domain name. If they had bought a domain name similar to "Ablaze", no one have questioned about legal documents.
---
Business Model of Socialtrade.biz
I don't know. Some people I have heard saying company is just circulating the money and will run with people's hard earned money. Some are questioning  its sustainability. Most strange thing is that even employees of Ablaze are not allowed to reveal its business model. In my opinion no business is sustainable. Where there is business, there is always some risk involved. I bought some shares of Idea cellular @168 almost a year or 2 year ago and now they are priced at 68. You never know what is going to be happen tomorrow.
Being a blogger I know how advertising works. No one would be willing that someone open his website for 30 seconds and  then close. This will affect bounce rate adversely. But We just can't compare it will google adsense and other advertising networks. Socialtrade.biz works on SME concept. I also believe that if everyone start thinking in same way, we will never see new things.
Demonetization of currency has affected whole India recently. Govt. is looking into everyone's account. If SocialTrade.biz had have something wrong with their bank accounts or if they were doing inappropriate financial activities, they must have disappeared on 8th November's night.
Business model of Social Trade Biz is beyond my understanding. Suppose three persons join Social trade with a plan STP-100. Each will pay one time membership fee of Rs. 57500. So total amount paid to company is Rs. 172500, in return company need to pay them Approx. Rs. 5,52000 in a year. Are they investing our money further in other businesses to make more money and then paying us back from profit? If they are investing then what businesses are out there ensuring such consistent returns? Or Are they just circulating money from new users to old users? So these are some questions I am unable to understand, how company pays such huge amount to its members. It is "addition" method if we talk about membership fee received by company, however the payment given by company to its users is based on "multiplication" method. In my opinion, such model cannot sustain in long run. But again, this is my interpretation of company's business model.
---
So these were some questions people often think of  before joining any company or business model. Now let's talk about What happens once you have decided to join socialtrade.biz?
1. Who Can Join Socialtrade.biz
A person who is above 18 years can join this portal. He/She must be having following KYC documents to join Social Trade business:
Proof of Identity: Voter Card, Aadhaar Card, Passport, Driving License.
PAN Card
Bank details proof: Scanned copy of Bank Passbook or Cheque (bearing user's name on it)
A person can open three accounts with one PAN Card. If you do not have a PAN Card then also you can join it but apply for PAN card as soon as possible because you will not get paid if you do not provide PAN details within 30 days of joining.
2. What Plans Are Available ?
Social Trade offers 4 plans to users.
1. STP-10:
Fees: INR 5750 including all taxes
Approx. Monthly Earnings:  2500 when you are having a team of two people under you and 1250 when you do not have anyone under you
2. STP-20:
Fees: INR 11500 including all taxes
Approx. Monthly Earnings:  INR 5500 if you sponsor two people with in 19 days after your id is activated and INR 2500 when you do not have anyone under you
3. STP-50:
Fees: INR 28750 including all taxes
Approx. Monthly Earnings:  INR  11500 when you are  having a team of two people under you and INR 5500 when you do not have anyone under you
4. STP-100:
Fees: INR 57500 including all taxes
Approx. Monthly Earnings: INR 23000 when you are having a team of two people under you and INR 11500 when you do not have anyone under you.
Each plan comes with a validity of one year. You must be thinking by the time now, why should I pay the money to Social Trade Biz/Ablaze Info Solutions Pvt Ltd? Answer lies in the fact that it is a Social Media Exchange (SME) Portal. In SME concept, a user is both a consumer as well as a provider. It facilitates you to increase your/your brand/ product or company's popularity on internet, thus causes much-required social penetration. On the other side, it gives you a chance to earn money for promoting others on social media.
3. How to Join Socialtrade.biz?
Once you have selected a plan, make a payment to Ablaze Info Solutions Pvt Ltd's account no. (bank details are given on their website). Remember to save a copy of this transaction as it will be required to be uploaded on portal while purchasing digital marketing package.
Visit socialtrade.biz and click on sign-up. Fill all the required details and submit it. After submission you will get a user ID on your registered email and mobile. Just validate your email ID by clicking on the link received on your email. After login to social trade, you need to enter your details like Name, city, nominee, profession, address etc.
Click on "buy/purchase digital plan". In the popup window, enter details of transaction you made like transaction date, your account details, transaction reference number etc. Upload the proof of transaction.
After verification of transaction your ID is activated in a day or two, You will receive a message when your ID gets activated.
Now enter your other details like KYC documents, bank details (where you will get earnings), your website/product page you want to promote. Everything is ready now.
4. What is the Nature of Work A Socialtrade.biz's User is Expected to Do?
Once you are done with all details submission, you can request for work by clicking on Today's Task. Depending on the plan you have selected you will get some web-links that you need to click. When you click on a link, a pop window will open and get closed automatically after 30 seconds. Or in second case you may have to like someone's Facebook page.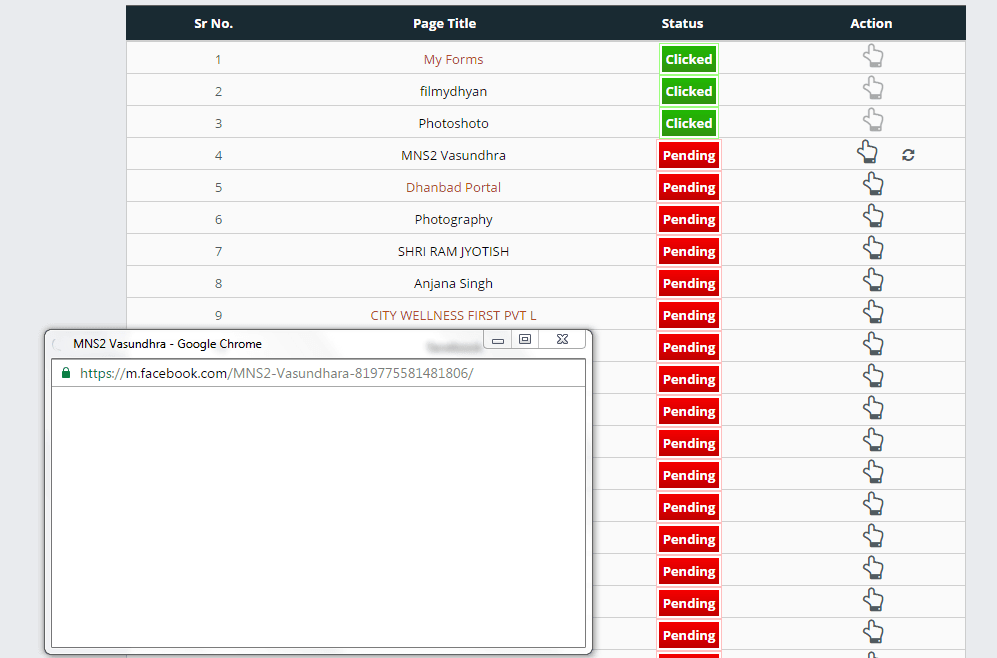 Per click company gives you 5 Rupees. Once you have clicked on all the links, just submit your work.
Tasks are provided only 5 days a week. Saturday, Sunday and National Holidays remain off. If somehow you can't submit your work on a working day, you can request for tasks on a holiday.
5. What After Submitting Work?
As soon as you click "submit today's work", You will get an invoice of your work which has details like date, amount, TDS deducted, administration charges etc and net amount that will be deposited to your account. Payments are made usually with in next 2 working days through bank NEFT after your work. You can choose to get daily, weekly or monthly payment by setting up payment mode.
Payment Proof of SocialTrade.biz
So far, socialtrade.biz is paying consistently to its user.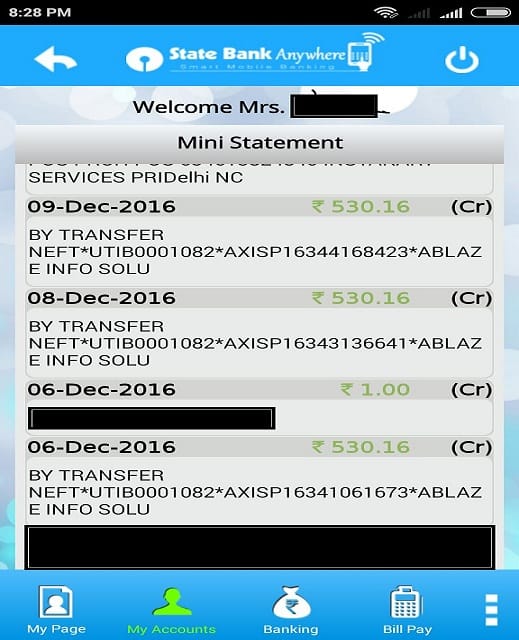 ---
Conclusion:  Who Should Join it and Who should Avoid it
One can value design the most while other can value specifications the most while purchasing a mobile phone. Everyone uses his own parameters to judge. Based on what parameter I have used, Socialtrade.biz is genuine and working flawlessly at least so far and I have not heard a single complaint against it from its users. Everything is on it's place so far. Anyone who can take risk and willing to work from home can join. My opinions can be right or wrong. At the end of the day you have to decide yourself.
That's it. I hope this article will help you to get insights of Social Trade Business.